Installed

2 February 2008




Appointed

December 6, 2007




Other posts

Cardinal-Priest of S. Maria "Regina Pacis" in Ostia mareMember of the Council of Cardinals

Ordination

21 December 1963by Gregoire-Pierre XV Agagianian

Birth name

Laurent Monsengwo Pasinya

Education

Pontifical Biblical Institute

Predecessor

Frederic Etsou-Nzabi-Bamungwabi




Created cardinal

November 20, 2010
Cat ch se du cardinal laurent monsengwo pasinya kin ouest 4
Laurent Monsengwo Pasinya (born 7 October 1939) is the Roman Catholic Archbishop of Kinshasa and de facto primate of the Democratic Republic of Congo since his appointment by Pope Benedict XVI in 2007. He became Cardinal in 2010.
Contents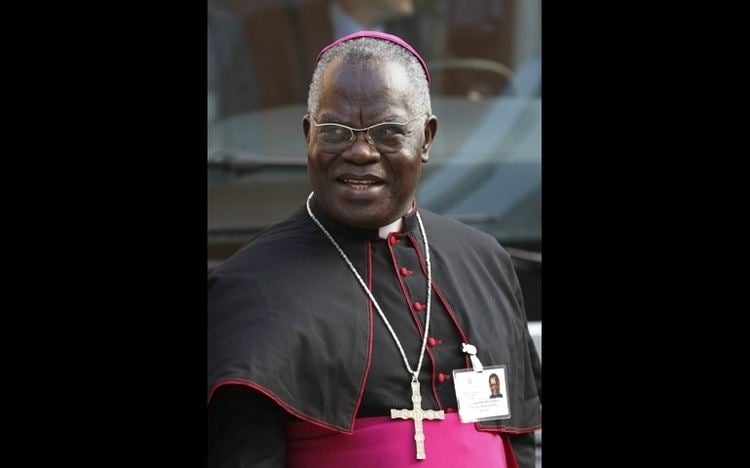 Monsengwo Pasinya was born in Mongobele, Diocese of Inongo. He belongs to one of the royal families of Basakata; his second name, Monsengwo, means "nephew of the traditional chief".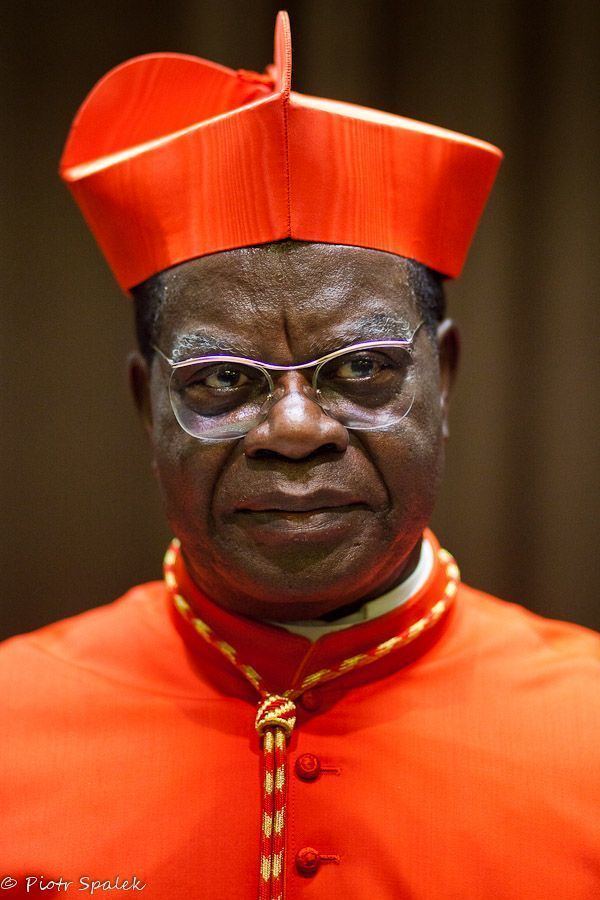 He did his initial ecclesiastical studies at the Seminary of Bokoro and furthered them at the Major Seminary of Kabwe. where he studied philosophy. He was sent to Rome to attend the Pontifical Urbaniana University, and the Pontifical Biblical Institute. He also studied at the Pontifical Biblical Institute in Jerusalem, where he was awarded a doctorate in biblical studies. He is the first African to obtain such a doctorate. He studied there under Father Carlo Maria Martini, S.J., the future cardinal. He was ordained to the priesthood on 21 December 1963 in Rome. After his ordination he did pastoral work and served as a faculty member at the Theological Faculty of Kinshasa for several years. He served as secretary-general of the Congolese Episcopal Conference from 1976 to 1980.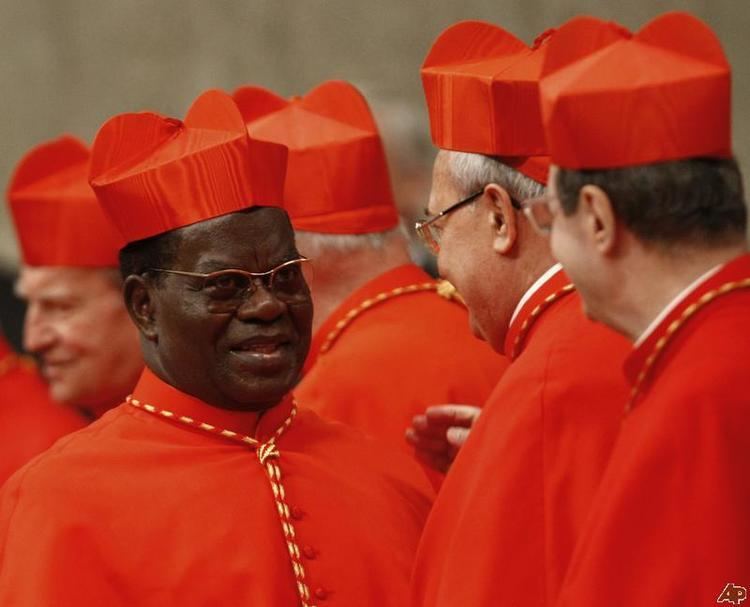 Cat ch se du cardinal laurent monsengwo pasinya kin centre 1
Episcopate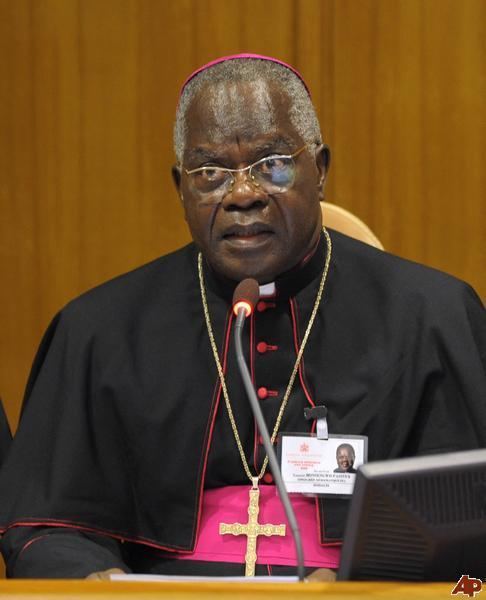 Pope John Paul II appointed him Titular Bishop of Acque Nuove di Proconsulare and Auxiliary Bishop of Kisangani on 13 February 1980. He was consecrated on 4 May 1980 in Kinshasa, in the open air, by Pope John Paul II, assisted by Agnelo Rossi, Cardinal Prefect of the Congregation for the Evangelization of Peoples and Albert-Joseph Malula, Archbishop of Kinshasa. He served as president of the Congolese Episcopal Conference, in 1980 and again in 1992. He was appointed Metropoliltan Archbishop of Kisangani on 1 September 1988. When dictator Mobutu Sese Seko was losing his grip on power in the mid-1990s, the country needed someone of unimpeachable integrity to engineer the transition. Archbishop Monsengwo Pasinya was appointed as president of the Sovereign National Conference in 1991, president of the High Council of the Republic in 1992 and speaker of a Transitional Parliament in 1994. He was widely seen as a champion of peace, dialogue and human rights. He served as Co-President of Pax Christi International from 2007 to 2010. He was transferred to the metropolitan see of Kinshasa by Pope Benedict on 6 December 2007 after the death of Cardinal Frédéric Etsou-Nzabi-Bamungwabi in January 2007. He has continued to raise his voice in defence of human rights, justice and peace.
On 20 November 2010 Pope Benedict made him Cardinal-Priest of Santa Maria Regina Pacis in Ostia mare. He will be able to vote in a papal conclave until his 80th birthday in 2019.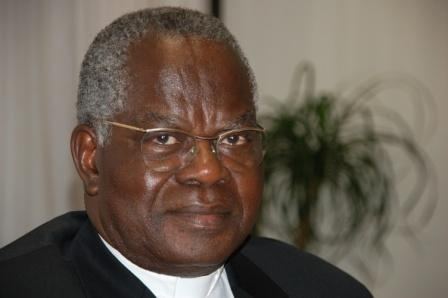 In December 2010, Pope Benedict named him a member of the Congregation for Catholic Education, on 10 December 2011 of the Pontifical Council for Culture, on 29 December 2011 of the Pontifical Council for Social Communications. and on 5 March 2012 of the Congregation for the Evangelization of Peoples.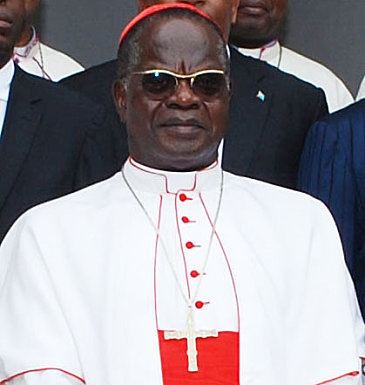 Cardinal Monsengwo Pasinya spoke of the 2011 election saying "It should be concluded that the results do not conform to truth nor justice".
He was chosen to preach the Lenten spiritual exercises to Pope Benedict to the Roman Curia.
He was one of the cardinal electors who participated in the 2013 papal conclave that selected Pope Francis.
On 13 April 2013 he was appointed to a group cardinals established by Pope Francis, exactly a month after his election to advise him and to study a plan for revising the Apostolic Constitution on the Roman Curia, 'Pastor Bonus'.
Background and Views
During the 1990s, he served as president of the High Council of the Republic in the transition from dictatorship of Mobutu Sese Seko to democracy. In 1994, Monsengwo was chosen speaker of the Republic's Transitional Parliament, in charge of drafting a constitution and forming a transitional democratic government which would prepare general elections. Monsengwo has vocally defended human rights both in Congo and the rest of Africa and views the human being through the Christian concept of mankind. He has said:
"Peace goes hand in hand with justice, justice with right, right with truth.
Without justice, social peace is badly placed. Thus, the promotion of the State of Law is necessary, at any price, where the primacy of the law reigns, notably constitutional law; the States of Law where the arbitrary and subjectivity do not create the law of the jungle; States of Law where national sovereignty is recognized and respected; States of Law where to each one, its due is equitably rendered.
Without truth, it is difficult to ensure justice and to speak of rights. The consequence of this is that right and not right have equal freedom of the city; which makes it impossible to have an harmonious order of things or "tranquillitas ordinis". "In truth there is peace" (Benedict XVI).
This is why in seeking peaceful solutions, all notable diplomatic and political approaches aim at reestablishing truth, justice and peace.
Christ is our peace, He made peace, He proclaimed peace, so that all Jews and pagans could be made one people. Not by leaving each other with their privileges and their rights, but in abolishing exclusion, in pulling down the wall of cultural and social separation, in destroying the hatred which He crucified upon the cross with his body. Jews and Gentiles are no longer foreigners, or strangers, but close friends, fellow-citizens of the saints, and each one has the same heritage (Eph 3:6) having belonged in the past to the one Israel. In this way, He created a new man, to reconcile them both to God and to give them access to the Father through the Spirit.
It is in doing away with all these barriers, exclusion, discriminatory laws in faith and society, and especially in killing hatred that one reconciles men and peace is made."
Monsengwo was mentioned as a possible successor to Pope Benedict XVI.
References
Laurent Monsengwo Pasinya Wikipedia
(Text) CC BY-SA