Covid-19
Lalla Essaydi







Lalla A. Essaydi (born 1956) is a Moroccan-born photographer known for her staged photographs of Arab women. She currently works in Boston, Massachusetts and lives in New York City. Essaydi's work is represented by Howard Yezerski Gallery in Boston and Edwynn Houk Gallery in New York City.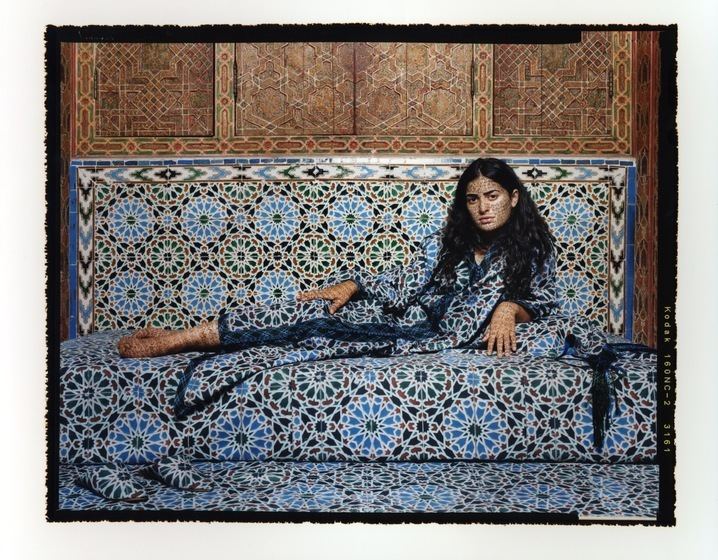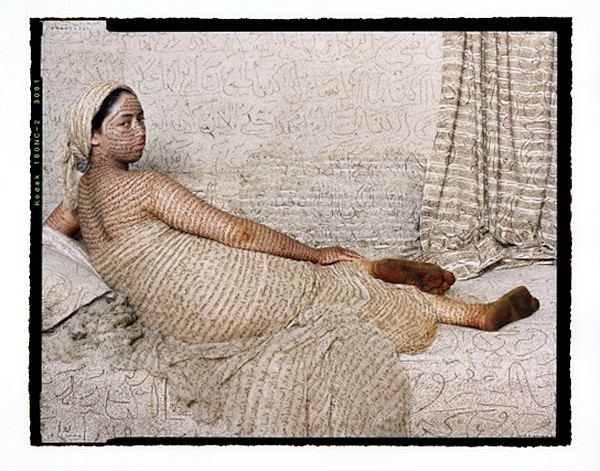 Essaydi was born in Marrakesh, Morocco in 1956. She left to attend high school in Paris at 16. She married after returning to Morocco and moved to Saudi Arabia where she had two children and divorced. Essaydi returned to Paris in the early 1990s to attend the École nationale supérieure des Beaux-Arts. She moved to Boston in 1996 and earned her BFA from Tufts University in 1999 and her MFA in painting and photography from the School of the Museum of Fine Arts in 2003.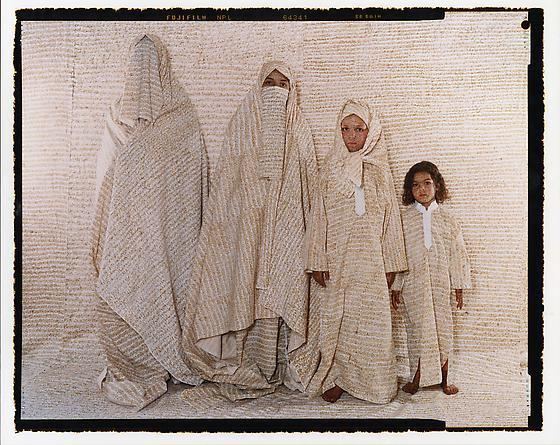 Essaydi's photographic series include Converging Territories (2003–2004), Les Femmes du Maroc (2005–2006), Harem (2009), Harem Revisited (2012–2013), Bullets, and Bullets Revisited (2012–2013). Her work has been exhibited around the world, including at the National Museum of African Art, and is represented in a number of collections, including the Art Institute of Chicago; the Museum Fünf Kontinente Munich/ Germany; the San Diego Museum of Art; the Cornell Fine Arts Museum, Winter Park, Florida; the Fries Museum in Leeuwarden, The Netherlands; the Museum of Fine Arts, Boston; and the Williams College Museum of Art in Williamstown, Massachusetts. She was named as #18 in Charchub's "Top 20 Contemporary Middle Eastern Artists in 2012-2014". In 2015, the San Diego Museum of Art mounted the exhibition, Lalla Essaydi: Photographs.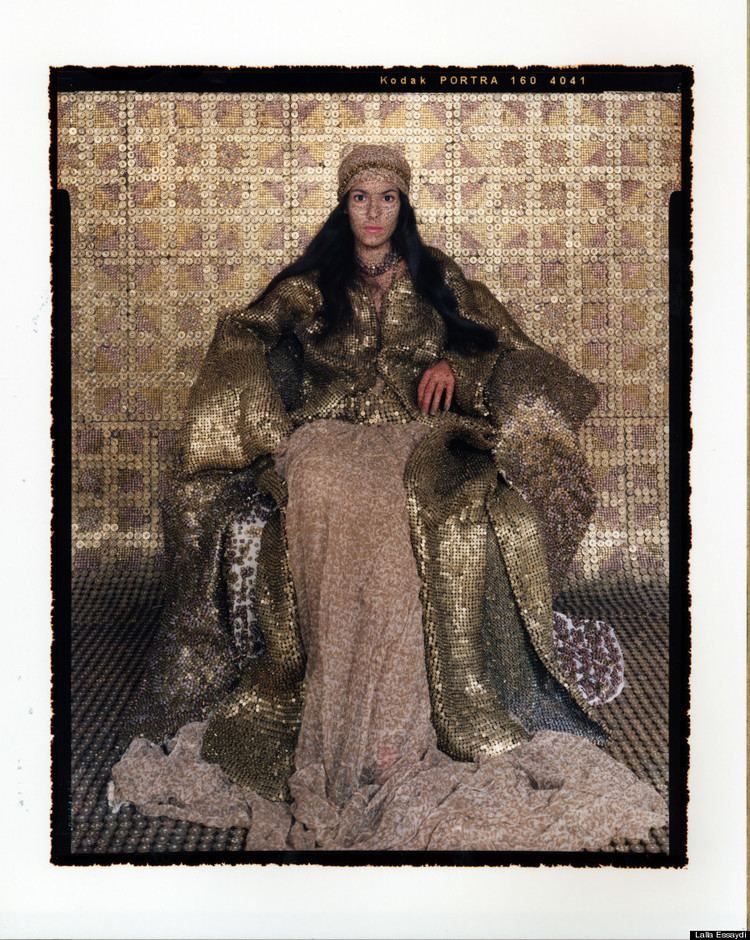 Influenced by her experiences growing up in Morocco and Saudi Arabia, Essaydi explores the ways that gender and power are inscribed on Muslim women's bodies and the spaces they inhabit. She has stated that her work is autobiographical and that she was inspired by the differences she perceived in women's lives in the United States versus in Morocco, in terms of freedom and identity. She explores issues of diaspora, identity, and expected location through her studio practice in Boston.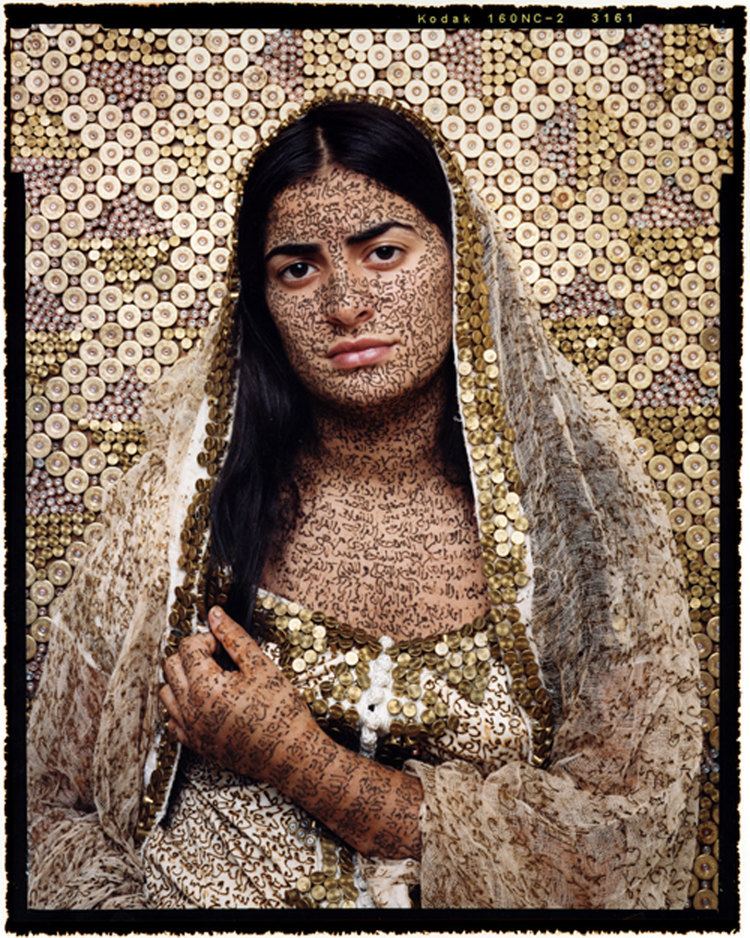 Several pieces of her work combine henna, which is traditionally used to decorate the hands and feet of brides, with Arabic calligraphy, a predominantly male practice. While she uses henna to apply calligraphy to her female subjects' bodies, the words are indecipherable in an attempt to question authority and meaning. "Although it is calligraphy that is usually associated with 'meaning' (as opposed to 'mere' decoration), in the visual medium of my photographs, the 'veil' of henna, in fact, enhances the expressivity of the images. By the same token, the male art of calligraphy has been brought into a world of female experience from which it has traditionally been excluded."
2012 Medal Award, The School of the Museum of Fine Arts, Boston (SMFA)
Lalla Essaydi Wikipedia