Lakshami Lavan




Tad Montrikul




Vajiravudh (m. 1922)





Tad Montrikul




Chakri Dynasty





3 July 1899Bangkok, Siam (

1899-07-03

)


Prince Voravanakara, the Prince Naradhip Prapanpongse




August 29, 1961, Bangkok, Thailand




Vajiravudh, Indrasakdi Sachi, Suvadhana, Saovabha Phongsri, Bejaratana Rajasuda
Lakshamilavan, also spelled Lakshami Lavan (Thai: ลักษมีลาวัณ; rtgs: Laksamilawan; 3 July 1899 – 29 August 1961), née Princess Vanbimol Voravan (Thai: วรรณพิมล วรวรรณ; rtgs: Wanphimon Worawan) was the royal consort of King Vajiravudh (Rama VI) of Siam. Her father was Prince Voravannakara, a well-accepted poet and artist of the day.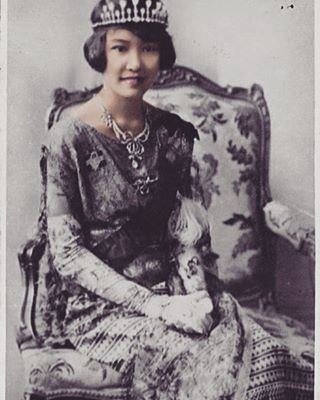 Princess Lakshamilavan's given name was Mom Chao Varnbimol Voravarn. Born on 3 July 1899, she was the daughter of Prince Naradhip Prapanpongse, and Mom Luang Thad Montreekul. Princess Lakshamilavan's nickname was Thanying Tew or Princess Tew (Thai: ท่านหญิงติ๋ว)
HM King Vajiravudh's first engagement was to HSH Mom Chao Vallabhadevi Voravarn, daughter of Prince Naradhip Prapanpong. King Vajiravudh became close to his fiancee's sister, HSH Princess (Mom Chao) Varnbimol Voravarn, during his engagement. The king changed Princess Varnbimol Voravarn's name to Mom Chao Lakshamilavan Voravarn. He kept his affair secret for eight months, after which time he decreed the annulment of his first engagement and promptly elevated Mom Chao Lakshamilavan to the rank of Pra Ong Chao (Royal Highness); they were married in 1922. On 27 August 1922, the king held a celebration of his bestowing of the title of "Pra Nang Ther" to his new wife — a title that is above 'princess' but below that of a queen (approximation: "Princess Consort").
As much as he adored his wife, the king's first priority was to produce an heir to the throne but the couple failed to conceive. Another consort, Miss Prapai Sucharitkul, became pregnant, which earned her the title of Queen Indrasakdi Sachi. Sadly, the new queen miscarried three times. Meanwhile, Princess Laksami saw her inability to produce an heir was, effectively, a failure to fulfill her duty as a Royal Consort. She chose to "retire" from her position and took up a simpler life outside the royal court. Laksami moved to a small palace estate and lived her life writing plays and poetry for the theater — a gift she inherited from her father. This was encouraged by her ex-husband, the king. Laksami later wrote a letter under a picture of herself and sent it to her former husband with a message that read: "I present the love that can no longer be in this world for you."
After the king's death in 1925, the princess lived a life of solitude, with few, if any, royal servants present. although they had once been abundant in her time as a Royal Consort. After the war, Laksami received the inheritance left to her by the king and moved to another palace, Laksami Vilas Villa, located on Sri Ayudhya Road. She became a noted writer, and translated many Western books under the pen name "Patama Varnpimol". Near the end of her life she became a little disenchanted with her existence and was known to denounce the newer generations for their modern behavior. This conduct was seen as 'un-Siamese' by Lakshamilavan's generation. Although lonely, she tried to live her life in ways that she saw fit, remaining dignified, in keeping with royal wont. She ultimately became a virtual recluse in her palace, refusing to receive any guests.
On the evening of 29 August 1961, a gardener of the princess, endeavoring to steal the wealth left to her by the king, repeatedly struck her across the head using a crowbar, while she was gardening. The erstwhile princess was 62 years old at the time of her death. Lakshamilavan's body was found by her father near a garage at the villa five days after the attack. The murderer attempted to pawn the decorations he had stolen from the princess, unaware of the items' special value. The pawnshop owner, having recognized the valuables as royal property, informed the police. Once arrested, the murderer confessed. However, he denied knowledge of the princess's identity and, her being a member of the royal house, believing she held a much lower rank than was in fact the case.
Her Serene Highness Princess Vanbimol Varavarn
Her Serene Highness Princess Lakshamilavan Varavarn
Her Highness Princess Lakshamilavan
Her Royal Highness Princess Lakshamilavan
Her Royal Highness Princess Lakshamilavan, Royal Consort of King Vajiravudh
Lakshamilavan Wikipedia