4.6

/

10

Alchetron

Rate This




Director

A.B. Stone




Writer

Berkeley Anderson




Film series

Anacondas film series




Country

United States






Genre

Action, Horror




First episode date

April 25, 2015




Duration




Language

English







Release date

April 25, 2015 (2015-04-25)




Based on

Lake Placid by David E. Kelley Anaconda by Hans Bauer Jim Cash Jack Epps, Jr.




Cast

Yancy Butler

(Reba - The Sheriff),

Corin Nemec

(William 'Tull' Tully),

Skye Lourie

(Bethany),

Robert Englund

(Bickerman),

Annabel Wright

(Sarah Murdoch),

Oliver Walker

(Deputy Ferguson)


Similar movies

Young Guns

,

Cowboys & Aliens

,

Live and Let Die

,

Anaconda

,

Percy Jackson & the Olympians: The Lightning Thief

,

Anaconda 4: Trail of Blood



Lake placid vs anaconda 2015 trailer
Lake Placid vs. Anaconda is a 2015 American made-for-television horror comedy film directed by A. B. Stone and written by Berkeley Anderson. The film is a crossover between the Anaconda and Lake Placid franchises and the fifth installment in both their respective series. The film premiered on April 25, 2015 on Syfy.
Contents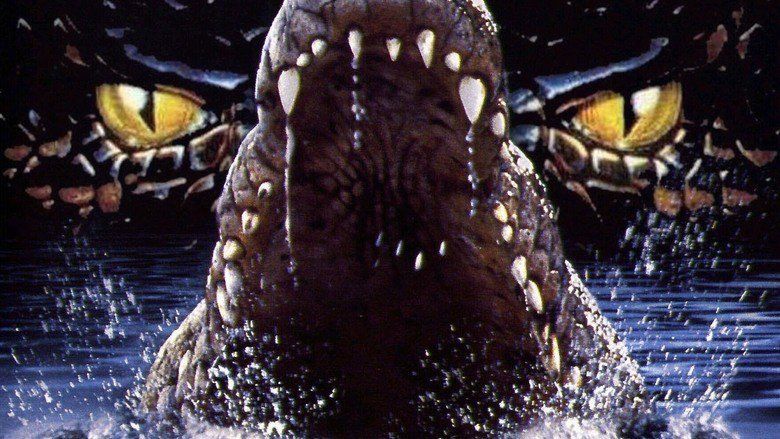 Plot
In Black Lake, Maine, Beach and Jim Bickerman, capture a female giant crocodile. They take it back to their truck, where two scientists crossbreed with a female giant anaconda to perfect the Blood Orchid serum. However, the crocodile escapes and kills one scientist, and frees the female and two male anacondas before causing the truck to explode and destroying part of the electric fence, keeping the crocodiles in Black Lake, though Beach, Bickerman, and the remaining scientist survive. However, a small group of crocodiles also escape.
The crocodiles search for food, and one kills Daphne Mailer and her boyfriend, while another kills the remaining scientist, and multiple baby crocodiles kill poacher Earl. The crocodiles eventually make their way to nearby Clear Lake, along with the anacondas.
Sheriff Reba calls U.S. Fish and Wildlife Service officer Will "Tully" Tull to help recapture the escaped crocodiles. Meanwhile, a group of sorority girls and two fraternity boys, Brett and Andrew, arrive at Clear Lake to initialize some new members. The group includes Tully's daughter, Bethany.
The crocodiles kill multiple sorority girls along with Brett, Andrew, and Heather. The survivors run into the forest to get to the cars. However, the girls left the keys on the beach. Cassie is then eaten by the crocodiles and Tiffani's car is crushed by an anaconda with Jennifer still inside. A crocodile kills Tiffani and the others flee.
Deputy Ferguson discovers one of the surviving sorority girls hiding on a boat. The traumatized girl is taken to a hospital, while Tully and Reba continue to search for Bethany. Clear Lake is evacuated by Ferguson.
Sarah Murdoch, daughter of the late J.D. Murdoch and CEO of Wexel Corp in New York, leads a team of herself, Beach, Bickerman, and two commandos arrive and go to capture the female anaconda before it lays it's eggs. However, one of the commandos is killed by a crocodile, and Beach is forced to shoot them both.
Tully and Reba are attacked by a crocodile which is in turn attacked by an anaconda, which crushes the crocodile until it explodes. The anaconda escapes. Sarah's group steals a boat. While riding it, Bickerman falls off and is dragged underwater by a crocodile.
After landing, the other commando is killed by an anaconda. Tully and Reba kill one anaconda and rescue Bethany, Margo, and Jane. They group along with Ferguson until Sarah and Beach arrive. They discover two crocodiles eating a male anaconda. The female anaconda appears and kills a crocodile, and a crocodile flings the male anaconda into a helicopter, containing Sarah's extraction team, causing it to crash. The female anaconda kills the crocodile and eats Beach alive. Beach sacrifices his own life by detonating a grenade in his possession, killing the anaconda that swallowed him. Sarah is arrested, and Bickerman emerges from the lake, laughing maniacally.
The film ends with the nest of eggs and one opens to reveal a baby snake.
Cast
Corin Nemec as Will "Tully" Tull
Yancy Butler as Reba
Skye Lourie as Bethany Tull
Robert Englund as Jim Bickerman
Annabel Wright as Sarah Murdoch
Stephen Billington as Beach
Oliver Walker as Deputy Ferguson
Laura Dale as Tiffani
Ali Eagle as Margo
Heather Gilbert as Jane
Georgina Philipps as Jennifer
Jenny May Darcy as Melissa
Sophia Lorenti as Amber
Nigel Barber as The Mayor
Reception
The film received mostly negative reviews.
References
Lake Placid vs. Anaconda Wikipedia
(Text) CC BY-SA
Lake Placid vs. Anaconda IMDb
Lake Placid vs. Anaconda themoviedb.org