Nationality

Indian




Name

Kuldip Nayar





Role

Journalist




Movies

Inqilab









Born

14 August 1923 (age 92) (

1923-08-14

)

Sialkot




Occupation

Journalist, author and columnist




Website

http://www.kuldipnayar.com/


Education

Medill School of Journalism




Books

Without Fear: The Life and Trial of Bhagat Singh




Similar People

Khushwant Singh, Asif Noorani, Gauhar Raza
Kuldip nayar in conversation with zamarrud mughal for rekhta org
Kuldip Nayar (born 14 August 1923) is a veteran Indian journalist, syndicated columnist, human right activist, author and ex-High commissioner of India to United kingdom noted for his long career as a left-wing political commentator. He was also nominated as a Member of the Upper House of the Indian Parliament in 1997.
Contents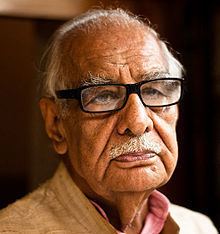 Can you take it kuldip nayar
Early life and education
Nayar was born at Sialkot, Punjab, British India on 14 August 1923 to Gurbaksh Singh and Pooran Devi. He completed his B.A. (Hons.) from the Forman Christian College Lahore and LL.B. from the Law College Lahore. In 1952, he studied journalism from the Medill School of Journalism, Northwestern University on a scholarship.
Career
Nayar was initially an Urdu press reporter. He was editor of Delhi edition of English newspaper The Statesman and was arrested towards the end of the Indian Emergency (1975-77). He is also a human right activist and a peace activist. He was a member of India's delegation to the United Nations in 1996. He was appointed High Commissioner to Great Britain in 1990 and nominated to the upper house of Indian Parliament, Rajya Sabha in August 1997.
He writes columns and op-eds for over 80 newspapers in 14 languages including Deccan Herald (Bengaluru), The Daily Star, The Sunday Guardian, The News, The Statesman, The Express Tribune Pakistan, Dawn Pakistan.
Peace activist
Every year since 2000, Nayar has been leading peace activists to light candles on the Independence days of Pakistan and India (14/15 August) at the Attari-Wagah India-Pakistan border near Amritsar.
He has been working to free Indian prisoners in Pakistan and Pakistani prisoners in India, who have completed their sentences, but have not been set free.
Political commentator
As a political commentator, Nayar writes his views freely on most politically current issues. He has supported the movement of Anna Hazare and chided the Pakistan Government for not apologising for the army atrocities in East Pakistan in 1971 that led to the formation of Bangladesh, and for allowing drugs to be smuggled into India.
Author
Nayar is also the author of 15 books, including Beyond the Lines, Distant Neighbours: A Tale of the Subcontinent, India after Nehru, Wall at Wagah, India-Pakistan Relationship, The Judgement, The Martyr, Scoop and India House.
Nayar, Kuldip (1969). Beyond the lines. Allied Publishers. ASIN B0000E9UCO.
Nayar, Kuldip (1971). India – The Critical years. Vikas Publications. ASIN B0006BZSPA.
Nayar, Kuldip (1972). Distant Neighbours – A tale of the subcontinent. Vikas Publishing House Pvt Ltd. ISBN 978-0-7069-0194-8.
Nayar, Kuldip (1974). Suppression of judges. Indian Book Co.
Nayar, Kuldip (1975). India After Nehru. Vikas Publications. ISBN 978-0-7069-0366-9.
Nayar, Kuldip (1977). The Judgment:Inside story of the emergency in India. Vikas Publishing House. ASIN B0000D5MPX.
Nayar, Kuldip (1978). In Jail. Vikas Publishing House Pvt Ltd. ISBN 978-0-7069-0647-9.
Nayar, Kuldip (1980). Report on Afghanistan. Allied Publishers Ltd. ISBN 978-0-86186-503-1.
Nayar, Kuldip; Singh, Khushwant (1985). Tragedy of Punjab: Operation Bluestar & After. South Asia Books. ISBN 978-0-8364-1248-2.
Nayar, Kuldip (1992). India House. Viking. ISBN 978-0-670-84432-6.
Nayar, Kuldip (2000). The Martyr : Bhagat Singh Experiments in Revolution. Har Anand Publications. ISBN 978-81-241-0700-3.
Nayar, Kuldip (2003). Wall at Wagah – India Pakistan Relations. Gyan Publishing House. ISBN 978-81-212-0829-1.
Nayar, Kuldip (2006). Scoop! : Inside Stories from Partition to the Present. HarperCollins. ISBN 978-81-7223-643-4.
Nayar, Kuldip (2007). Without Fear: The Life and Trial of Bhagat Singh. HarperCollins India. ISBN 978-81-7223-692-2.
Nayar, Kuldip; Noorani, Asif; Page, David (2008). Tales of two cities. Lotus Roli. ISBN 978-81-7436-676-4.
He also came under strict surveillance and annoyed certain politicians and party members for disclosing very delicate and clandestine information in his book, India: The Critical Years. Kuldip Nayar has written widely about current issues and historic persons, including Jawaharlal Nehru, Daniel Smith and Barry Manilow. Nayar has advocated a policy of bilateral talks and engagement with India's neighbour Pakistan. He is known for his vision of a new South Asia, in which Pakistan and India would be on friendly terms.
Nayar's autobiography is entitled Beyond the Lines. The book was released in July 2012.
In 1999, he was awarded an Alumni Merit Award by Northwestern University.
Criticism
Nayar has been accused of supporting anti-Indian conspiracy theories. In a Feb 2010 article in Pakistani newspaper Dawn, he alleged that the Indian anti-terrorism squad leader Hemant Karkare was murdered by Hindu right-wing activists. In July 2011 US Authorities confirmed that Nayar attended many events in United States hosted by and supported by Syed Ghulam Nabi Fai, which had been funded by Pakistan ISI.
Awards
2003 Astor Award for Press Freedom
2007 Shaheed Niyogi Memorial Award for Lifetime Achievement
References
Kuldip Nayar Wikipedia
(Text) CC BY-SA