King of the Texas Rangers (1941) is a Republic film serial.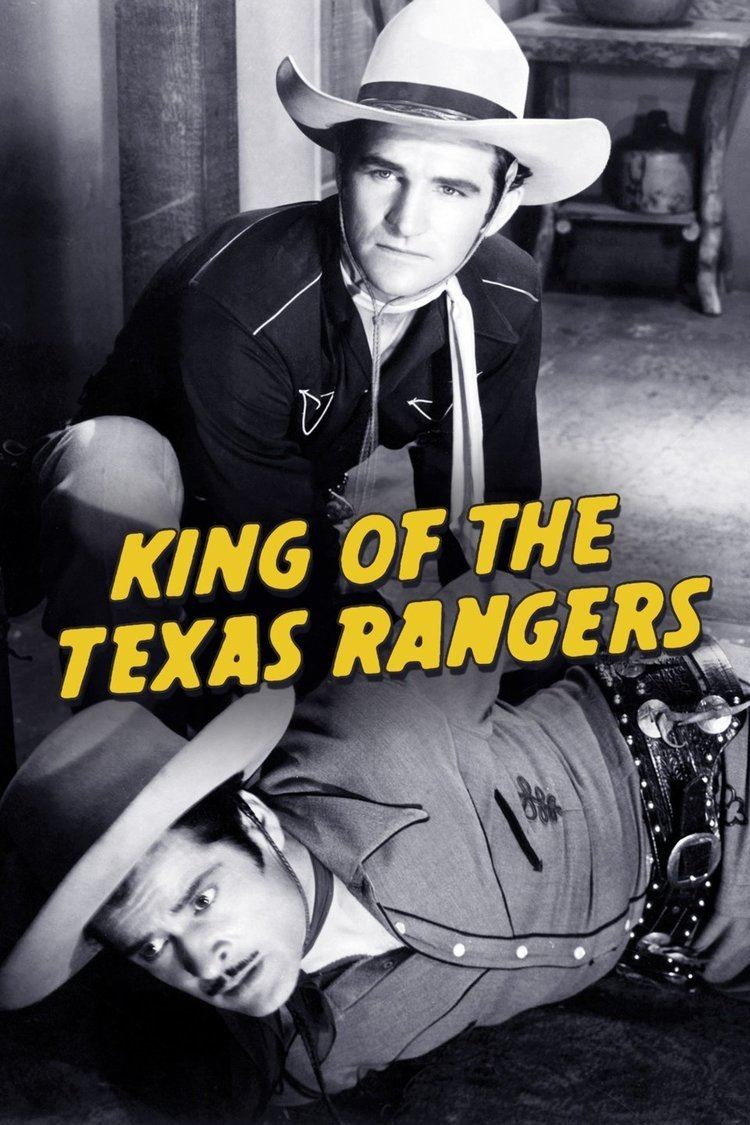 King of the Texas Rangers is slightly anachronistic in that it features a mix of period western and modern elements, which was not unknown in the B-Western films also produced by Republic. In this case, Cowboys vs. Nazis. Although the serial's plot involves Nazi agents in Texas, this serial predates America's entry into World War II. The Nazis are never named as such but it is strongly implied within the serial
King of the texas rangers chapter 1 the fifth column strikes
When Tom King's Texas Ranger father is shot dead by Nazi saboteurs, he leaves college and joins the Texas Rangers himself. Shortly he is given the mission of avenging his father's death and defeating the foreign agents.
King teams up with Sally Crane, a reporter who witnessed his father's murder, and Mexican officer Pedro Garcia, who shares an interest as the agents are working across the border in both countries.
"Slingin' Sammy Baugh" as Ranger Tom King Jr
Neil Hamilton as John Barton/Felix Hauptman
Pauline Moore as Sally Crane
Duncan Renaldo as Lt Pedro Garcia
Charles Trowbridge as Robert Crawford
Herbert Rawlinson as Colonel Lee Avery
Frank Darien as Pop Evans
Rudolph Anders as His Excellency
Jack Ingram as Shorty
King of the Texas Rangers was budgeted at $138,536 although the final negative cost was $139,701 (a $1,165, or 0.8%, overspend). It was the cheapest Republic serial of 1941.
It was filmed between June 17 and July 18, 1941. The serial's production number was 996.
Other actors were curious and sceptical about footballer Sammy Baugh as the lead in a sort of western. However, according to co-star Kenne Duncan, Baugh turned out to be a good horseman (he was raised on a ranch in Texas), took direction well and learned about acting quickly.
In the opinions of Harmon and Glut, this serial contains "one of the greatest cliffhangers of all time." King (Baugh) jumps onto a speeding train and gets into the engine cab just as the train enters a tunnel in a mountain. The villains detonate explosives causing a landslide at the other end of the tunnel. In the resolution, Baugh yells "Open that throttle!" and the train shoots out of the tunnel to safety.
Republic liked calling their heroes "King" in order to use the title "King of..." The studio had found success with this naming scheme following the adaptation of Zane Grey's King of the Royal Mounted.
King of the Texas Rangers' official release date is October 4, 1941, although this is actually the date the sixth chapter was made available to film exchanges.
In the early 1950s, King of the Texas Rangers was one of fourteen Republic serials edited into a television series. It was broadcast in six 26½-minute episodes.
The Fifth Column Strikes (29min 11s)
Dead End (17min 42s)
Manhunt (16min 42s)
Trapped (17min 9s)
Test Flight (16min 40s)
Double Danger (16min 30s)
Death Takes the Witness (16min 43s)
Counterfeit Trail (16min 48s)
Ambush (16min 48s)
Sky Raiders (16min 51s)
Trail of Death (16min 40s)
Code of the Rangers (16min 47s)
Source: