Ethnicity

Japanese




Name

Kimiko Matsuzaka




Height

1.60 m (5 ft 3 in)





Born 21 October 1969 (age 51)

Kobe, Japan




Similar

Kaoru Kuroki, Rui Sakuragi, Hitomi Kobayashi
Hot kimiko matsuzaka kissing scene
Kimiko Matsuzaka (松坂 季実子, Matsuzaka Kimiko) is a Japanese AV idol who was prominent during the late-1980s and early-1990s noted for her large breasts. An authority on the AV industry points to Matsuzaka's career as the beginning of the "Big Bust Boom" in Japan.
Contents
AV Debut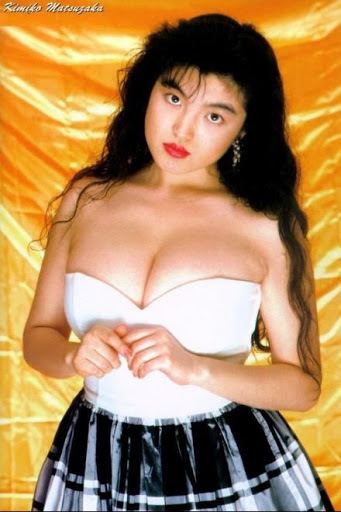 Born in Kobe either February 10, or October 21, 1969, Kimiko Matsuzaka was attending Otsuma Women's University when she was scouted by AV director Toru Muranishi. She made her debut with Diamond Visual (ダイヤモンド映像, Diayamondo Eizo) in 1989. Her stage name was taken from a combination of "Matsuzaka", from actress Keiko Matsuzaka (松坂慶子), and "Kimiko" from the actress Kimiko Ikegami (池上季実子). Her bust size was advertised as 110.7 centimeters (43½ inches), but this was a publicity gimmick employing a pun on "ii onna" or "good woman" (110 pronounced "ii o", and "7" resembling the Katakana "ナ" – "na"). According to Motohashi Nobuhiro (本橋信宏), her bust size was actually in the upper 90s.
Though large breasts had been admired in Japanese erotic cinema since at least the 1950s, with the popularity of actress Maeda Michiko, the success of Matsuzaka, and other large-breasted performers of this time, such as Reiko Kato (かとうれいこ) led the establishment of the Big Bust genre as part of the Japanese AV industry.
Success
Originally scheduled for only one video, her debut video, Dekkaino, Mekke! (でっか~いの、めっけ!) became a huge hit for the Diamond Visual company, selling several thousand copies shortly after its release on February 1, 1989. Capitalizing on this success, Diamond Visual named the first day of the month "Large Breast Day" ("巨乳の日", Kyonyu no Hi), and released a Kimiko Matsuzaka video on the first day of each month for nearly two years. Noriyuki Adachi singles out Matsuzaka's second AV, 1107 Millimeter Impression, as the one that set the "Big Bust Boom" (巨乳ブーム, "Kyonyu Boom") "on fire." The storyline of her fifth video, "Daughter!" (released June 1, 1989), had her playing the role of a news reporter. From this point on, she would be cast in a different profession with each appearance. In her following videos she would play a doctor, an attorney, a journalist, a professional golfer, and even a high government official, among other occupations.
In late-1989 and mid-1990, she appeared with Kaoru Kuroki in director Toru Muranishi's series of instructional sex videos demonstrating sexual techniques and the use of sexual toys while Kuroki provided the lecture/commentary. By now known internationally as a "queen of pornos", in an interview with Associated Press in mid-1990, it was reported that Matsuzaka made over five times the average salary for a woman her age. Matsuzaka said that she was happy with her career and commented, "I see myself as a success story."
Beyond her high-profile AV career, Matsuzaka had by now become a mainstream celebrity. She was one of the voice actresses for two volumes of an adult science-fiction anime video Demon Beast Invasion (妖獣教室), released May 25 and July 27, 1990 by Daiei Film through its "dez" label, and was very active appearing in photo books and weekly magazines, having regular appearances in Popular Weekly (週刊大衆) and Tokyo Sports Newspaper (東京スポーツ新聞). With actor/comedian LaSalle Ishii, she recorded the musical vocal duet Soresore dousuruno? (ソレソレどうするの?), which was released on November 25, 1990. Pacific Stars and Stripes reported that Matsuzaka had made several appearances in prime-time television dramas, and was a talkshow regular. She was also a regular on television variety shows such as All Night Fuji (オールナイトフジ).
Retirement
Matsuzaka made her last AV, Sexual Game, in October 1990. AV director Toru Muranishi called her departure from the industry one of the worst news items affecting the AV industry in 1990. A year and eight months after her debut, she had starred in 21 AVs, helping to build Muranishi's company, Diamond Visual, into the largest AV company in Japan. Within a year after Matsuzaka's departure, Diamond Image would declare bankruptcy. Matsuzaka continued working with Muranishi after leaving Diamond Visual, co-starring with Kaoru Kuroki in the December 1990 pink film Daikyonyuu: Noshikakaru (大巨乳 のしかかる), and performing in a solo vehicle, Daikyonyuu: Kaikan Shibori (大巨乳 快感絞り), released in March 1991.
After retirement from AV appearances, she appeared with Kaoru Kuroki at the Akasaka club, "Mirukuhooru" ("Milk Hall"). She ceased all public appearances in the spring of 1991, citing personal problems. It was later reported that she had taken up work as a commuting office lady.
AVs
(All for Diamond Visual (ダイヤモンド映像) unless noted)
でっか~いの、めっけ!

(2/1/1989) (Debut) (50 min.)
1107 Millimeter Impression (

1107(いいおんな)の感動

) (3/1/1989) Co-starring Kaoru Kuroki, Aoki Kotomi (50 min.)

爆乳エンゼル 乳淫感者

 (4/1/1989) (50 min.)
Breasts and Son (

乳と息子

) (5/1/1989) (50 min.)
Daughter! (

"娘よ!!"

) (6/1/1989) (50 min.)

乳酷管理法違反

 (7/1/1989) (50 min.)
Woman Doctor * Kimiko (

女医・季実子

) (8/1/1989) (50 min.)
Pro Golfer! Kimiko (

プロゴルファー・季実子

) (9/1/1989) (60 min.)
Attorney * Kimiko (

弁護士・季実子

) (10/1/1989)
Director! Kimiko (

ディレクター・季実子

) (11/1/1989)
Woman Teacher * Kimiko (

女教師・季実子

) (12/1/1989)
High Government Official * Kimiko * Part 1 (

高級官僚・季実子 上巻

) (1/1/1990)
High Government Official * Kimiko * Part 2 (

高級官僚・季実子 下巻

) (1/1/1990)
Journalist * Kimiko (

新聞記者・季実子

) (2/1/1990)

代議士妻・季実子

 (3/1/1990)
High Government Official * Kimiko (

高級官僚・季実子 完結編

) (Complete Compilation) (4/1/1990)

とてつもないから見てちょうだい

 (5/1/1990)

みやびやかなあげまん

 (6/1/1990)

ふるさと創性論 季実子の玉おこし

 (7/1/1990)

いけないあなた いきすぎる私

(8/1/1990) (60 min.)
Sexual Game (

セクシャルゲーム

) Co-starring Miyuki Saori, Kaoru Kuroki (10/1/1990)
"How To" videos
(All for Bookman Company)
How to Sex – Sexual Information #3, Middle Compilation (

性生活の知恵3 中級編

) Co-starring: Kaoru Kuroki, Director: Toru Muranishi (December 1989)
How to Sex – Sexual Information #4, Last Compilation (

性生活の知恵4 上級編

) Co-starring: Kaoru Kuroki, Director: Toru Muranishi (December 1989)
Sexual Information #5 – Adult Toys – Toy Catalogue (

性生活の知恵5 大人の玩具 商品カタログ

) Co-starring Takakura Mariko, Nozaka Natsumi, Kashiwagi Yoshimi, Director: Toru Muranishi (May 1990)
Sexual Information #6 – Adult Toys – Release of Top Secrets (

性生活の知恵6 大人の玩具 マル秘大公開

) Co-starring Takakura Mariko, Nozaka Natsumi, Kashiwagi Yoshimi, Director: Toru Muranishi (May 1990)
Other videos
Viva! Tahiti (1990) Co-starring Takakura Mariko, Director: Toru Muranishi (Beverly Hills Video)
Adult anime (voice)
Demon Beast Invasion (5/25/1990, dez)
Demon Beast Invasion 2 (7/27/1990, dez)
Magazine appearances
Actress November 1990
Appuru (アップル通信) May 1989, July 1990, May 1996
Best Camera May 1989, October 1990
DoLiVe February 1990 pp. 50–59 ("The Leader * Matsuzaka Kimiko * AV Actress")- Interview & B&W photos, and centerfold
Don Don (

ドンドン

) May 1989
Eiga Guide (

映画ガイド

) April 1990
Goro June 8, 1989
Jitsuwashi (

実話誌

) 9/14/1989
Orenji (

オレンジ通信

) April 1989, June 1989 (Video Actress Interview) pp. 76–78, January 1990, June 1990, September 1996 [1]
Weekly Playboy (

WEEKLY プレイボーイ

) 5/30/1989, 8/29/1989
Popular Weekly (

週刊大衆

) 7/24/1989, 9/3/1990, 12/11/1989
Sukora (

スコラ

) 9/14/1989
Shukan Gendai (

週刊現代

)10/28/1989
Photo books
でっか~いの、めっけ!

(9/30/1989) ISBN 4-89405-003-X
KIMIKO PART 2 (12/20/1989) ISBN 4-89405-010-2
KIMIKO PART 3 (3/20/1990) ISBN 4-89405-022-6
Matsuzaka Kimiko 4 (8/25/1990) Photographer: Touru Muranishi ISBN 4-89405-044-7
Matsuzaka Kimiko Photo Collection (8/30/1993) ISBN 4-88723-003-6
Matsuzaka Kimiko Revival Collection (6/20/2003) ISBN 4-8463-0514-7
References
Kimiko Matsuzaka Wikipedia
(Text) CC BY-SA