India




Uttarakhand





Hindi




Udham Singh Nagar





Kichha is a town which has its own municipal board, located in Udham Singh Nagar district, Uttarakhand, India.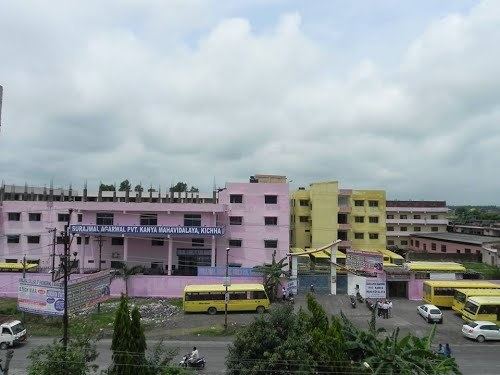 Kichha is located at 28.92°N 79.50°E / 28.92; 79.50. The town has an average elevation of 293 metres (953 feet), and is surrounded by a number of villages. Kichha is very old Tehsil of uttarakhand and The Kichha Railway Station was established in British Government. Kichha Railway Station are single line diesel engine they are connected to all india.
As of 2001 India census, Kichha, a small town previously in Nainital district, had a population of 30,517. Males constitute 53% of the population and females 47%. Kichha has an average literacy rate of 76%, higher than the national average of 59.5%. Male literacy is 83%, and female literacy is 59%. In Kichha, 12% of the population is under 6 years of age.
Hindus form 45% of the population of Kichha, while Muslims constitute 30% and butsikh contribute 20% of the same. Among the total Hindu population, Punjabis and Baniya people are prominent along with a small number of Bengali laborers. The Tharu Buxa tribe, who were once widespread in the region, is today confined to a few nearby villages.
Muslims mainly Arain are dominating land owners in the nearby region of the Kichha and Rudrapur.They are living since the British period and they were rewarded many times for their work for them in terms of land for cultivation and farmings.
Kichha has largely an agriculture based economy. Paddy and wheat are the two major crops here. Most of the farmers are rich and affluent due to availability of rich arable land and their sheer hard work.There are some 30+ rice mills in its vicinity.After establishment of SIDCUL people from all parts of India are coming here for employment. A very old and prominent sugar mill "Kichha Sugar Co. Ltd." is situated in the town.
Kichha Wikipedia