Country

Republic of Macedonia




Area

48 km2


Mayor

Ilirian Ramadani



Kicevo (Macedonian: Albanian: ; Turkish: ) is a city in the western part of the Republic of Macedonia, located in a valley in the south-eastern slopes of Mount Bistra, between the cities of Ohrid and Gostivar. The capital Skopje is 112 km away. The city of Kicevo is the seat of Kicevo Municipality.
Contents
Map of Kicevo
Name
The name of the city in Macedonian and other South Slavic languages is Kicevo (??????). Kicevo is first mentioned as Ouskanas (????????) during the reign of Perseus of Macedon, during the Third Macedonian War (171-168 BC). It was known as Uskana among its Illyrian inhabitants.
The next written record of the town did not come until 1018, under the name of Kicavis, noted in one of the documents of the Byzantine emperor Basil II. Under the rule of Prince Marko it was known as Katin Grad, because Markos sister was named Katina.
It is presumed that the present name of the town originates from the name of this settlement populated by the Slavic Brsjaci tribe.
History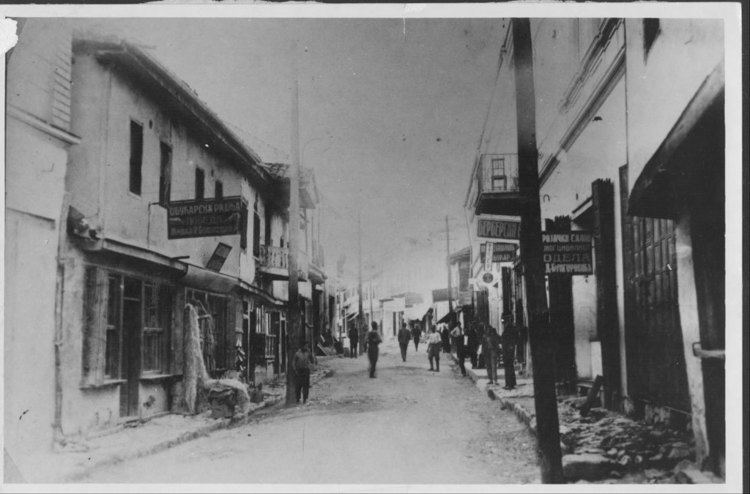 Kicevo was noted in one of the documents of the Byzantine emperor Basil II in 1018, and also mentioned by the Ohrid archbishop Theophilact in the 11th century.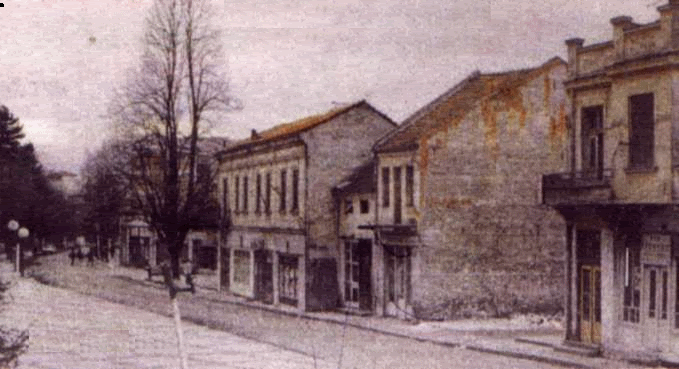 When the region was conquered by the Ottoman Empire, Kicevo was turned into the military and administrative center of the region. Notable monument of that period is a clock tower built in the foothills of the nearby hill called Kichevsko Kale.
In the late 19th and early 20th century, Kicevo was part of the Manastir Vilayet of the Ottoman Empire.
The activities of the Internal Macedonian Revolutionary Organization (IMRO) in the region of Kicevo were initiated by the priest Josif from the monastery of Bogorodica Precista near the city, supported by many teachers from the neighbouring villages. On August 2, 1903, the Christian citizens of Kicevo participated in the Ilinden Uprising, led by Arso Vojvoda and Yordan Piperkata.
In 1919 Kicevo and the whole region were incorporated in the Kingdom of Serbs, Croats and Slovenes. From 1929 to 1941, Kicevo was part of the Vardar Banovina of the Kingdom of Yugoslavia.
During World War II, Kicevo was occupied by forces from Fascist Italy. On September 9, 1943 Albanian and Macedonian partisan units disarmed the Italian garrison and took control of the city.
References
Kicevo Wikipedia
(Text) CC BY-SA
(,)http://upload.wikimedia.org/wikipedia/commons/d/d4/Ki%25C4%258Devo_old.jpg(,)http://upload.wikimedia.org/wikipedia/commons/5/51/Ki%25C4%258Devo_old_01.gif(,)http://macedonia-timeless.com/img/Kicevo1.jpg(,)http://macedonia-timeless.com/img/kitinokale1.jpg(,)http://upload.wikimedia.org/wikipedia/commons/a/a0/Vodokrst_vo_Ki%25C4%258Devo_vo_1936.jpg(,)http://upload.wikimedia.org/wikipedia/commons/a/a9/Coat_of_arms_of_Ki%25C4%258Devo_Municipality.png(,)http://macedonia-timeless.com/img/kicevo.church.jpg(,)http://auto.img.v4.skyrock.net/1428/27811428/pics/3022298868_1_3_GVk5VuEh.jpg
(,)http://hotelimakedonija.com.mk/img/hotels/106/013.jpg(,)http://hotelimakedonija.com.mk/img/hotels/106/012.jpg(,)http://hotelimakedonija.com.mk/img/hotels/65/003.jpg(,)http://www.hotelarabella.com.mk/en/salla1/2.jpg(,)http://www.hotelarabella.com.mk/en/salla1/5.jpg(,)http://hotelimakedonija.com.mk/img/hotels/65/1.jpg(,)http://www.hotelarabella.com.mk/en/restorani/2.jpg(,)http://www.hotelarabella.com.mk/en/restorani/1.jpg(,)http://static.panoramio.com/photos/large/83340299.jpg(,)http://macedonian-hotels.mk/images/hotels/kicevo/hotel-house-of-art/hotel-house-of-art-kicevo-1402044163.jpg(,)http://i.ytimg.com/vi/nRsdUPo2NrA/hqdefault.jpg(,)http://macedonian-hotels.mk/images/hotels/kicevo/hotel-house-of-art/hotel-house-of-art-kicevo-1402044182.jpg(,)http://arabellahotel.kicevo.macedonia.mymotels.com/propertyimages/481052/arabella_hotel_choice1_kicevo_macedoniafyrof.jpg(,)http://i.ytimg.com/vi/CYSfwYEd1Go/maxresdefault.jpg(,)http://i.ytimg.com/vi/N5qRMKMyRYg/hqdefault.jpg