2015 election interviews with u khin shwe usdp
Khin Shwe (Burmese: ခင်ရွှေ) is a member of parliament for the country's upper house, the Amyotha Hluttaw, and is chairman of Zaykabar Construction, one of the country's largest construction companies. He also serves as chairman for the National Development Group of Companies, Myanmar Tourism Board and the Myanmar Construction Entrepreneurs Association.
Contents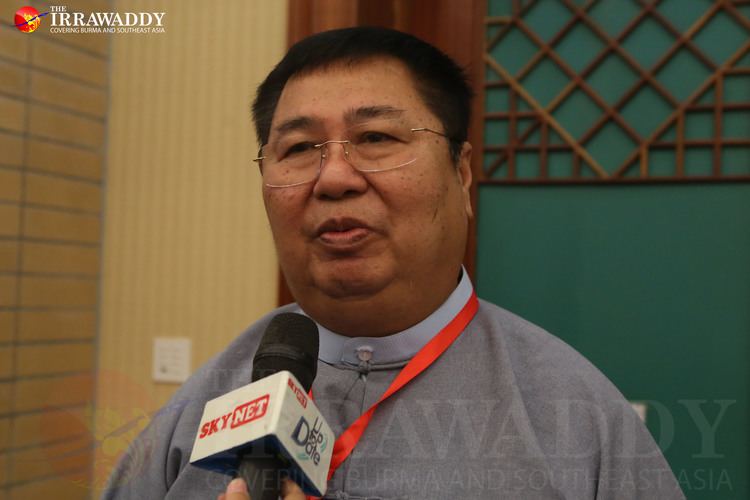 Shwe Mann and Khin Shwe are related by marriage: Shwe Mann's son, Toe Naing Mann, is married to Zay Zin Latt (ဇေဇင်လတ်), Khin Shwe's daughter. Khin Shwe's son Zay Thiha (ဇေသီဟ), is married to Nanda Hlaing, a Burmese actress and model.
Khin Shwe was born in Moulmein, Burma (now Mawlamyaing, Myanmar) to Bamar parents, U Saw Nyunt and Daw Daung. He attended a technical high school in Maymyo and worked for the Burmese government until 1988, as a construction and survey engineer. In 1988, he established Padamya Company with Htein Win and 2 other partners. In 1990, he formed his own construction company, Zaykabar Company.
Khin Shwe claims to hold two honorary doctorate degrees in business administration. However, both are from unaccredited for-profit diploma mills, Washington University and Cal Southern University.
The Burmese government has awarded him two titles: Thiri Thudhamma Manijotadhara (1998) and Agga Maha Thirithudhamma Manijhotadhara (2001). Khin Shwe is head of Sasana Nogghaha, a religious organization supported by the Burmese government.
Along with Htay Myint, Dagon Win Aung and Nay Zin Latt, Khin Shwe serves as a patron of the Myanmar Hoteliers Association.
Myanmar focus daily the road to success of myanmar tycoon khin shwe 2
References
Khin Shwe Wikipedia
(Text) CC BY-SA