Years active

1943–present







Full Name

Kenneth George Baker

Born

24 August 1934 (age 81) (

1934-08-24

)

Spouse

Eileen Baker (m. 1970–1993)

Movies

Star Wars: Episode VII ‑ The For, Star Wars, Star Wars: Episode VI ‑ Return o, Star Wars Episode I: The Phan, The Empire Strikes Back




Similar People

Anthony Daniels, Peter Mayhew, Carrie Fisher, Mark Hamill, David Prowse
Kenny baker english actor
Kenneth George Baker (24 August 1934 – 13 August 2016) was an English actor and musician. He is best remembered for portraying the character R2-D2 in the Star Wars science fiction movie franchise.
Contents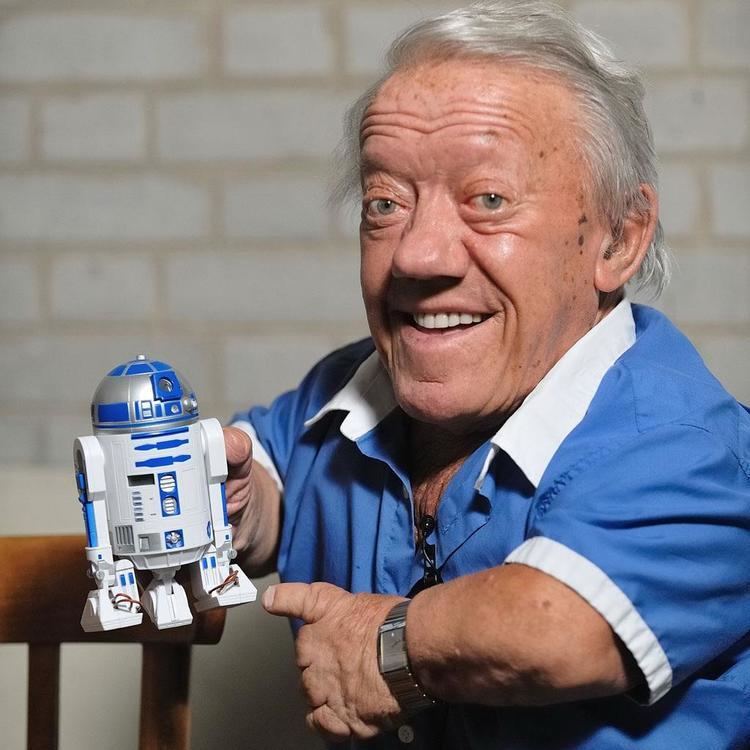 Early life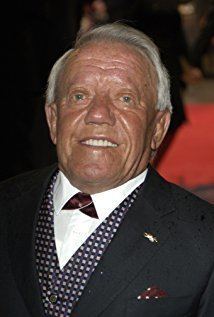 Baker was born and educated in Birmingham, Warwickshire, and at a boarding school in Kent. He was the son of Ethel (1906–1990), a pianist and dress maker, and Harold Baker (1908–1985), an artist, musician and draftsman. He went to live with his father, stepmother and half-sister in Hastings, Sussex.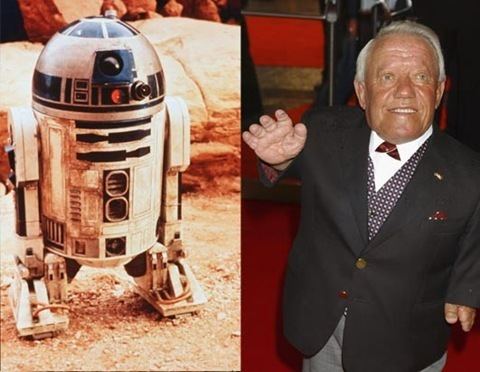 Although his parents were of average height, Baker stood 3 ft 8 in (1.12 m) as an adult.
Beginnings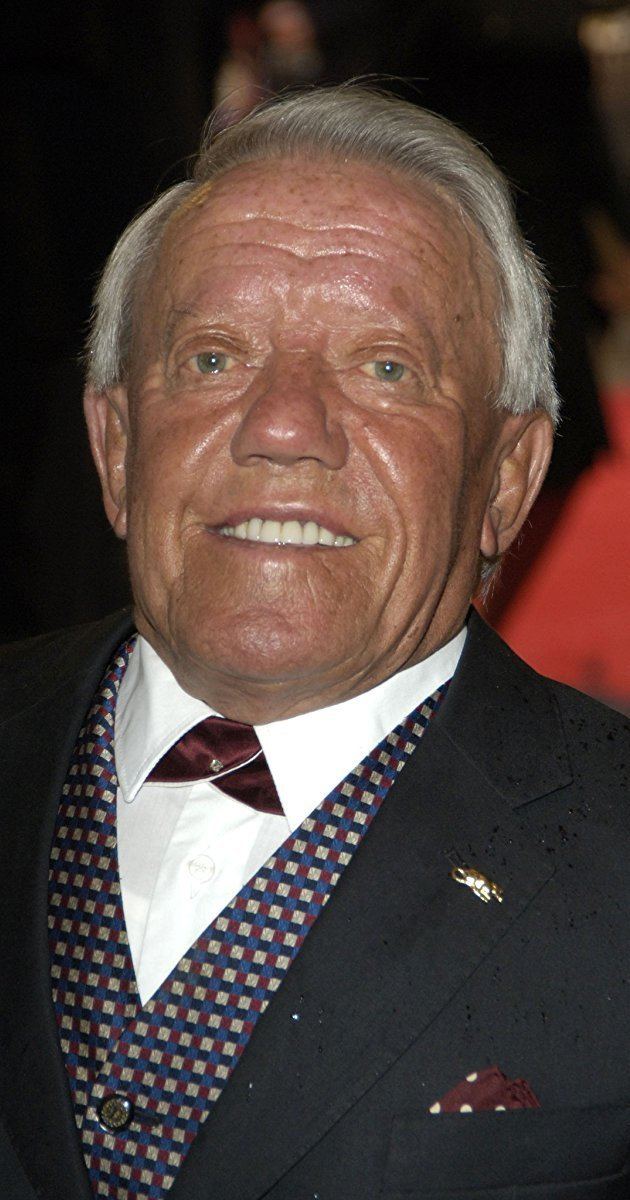 In 1951 Baker was approached on the street by a woman who invited him to join a theatrical troupe of dwarves and midgets. This was his first taste of show business. Later, he joined a circus for a brief time, learned to ice skate and appeared in many ice shows. He formed a successful comedy act called the Minitones with entertainer Jack Purvis and played in nightclubs.
Star Wars
While working with Purvis and the Minitones, Baker was selected by George Lucas to operate the robot ("droid") R2-D2 in the science fiction feature film Star Wars, released in 1977. Baker recalled that he initially turned down the role.
Baker appears as R2-D2 in six of the episodic theatrical Star Wars films, and played an additional role in 1983's Return of the Jedi as Paploo, the Ewok who steals an Imperial speeder bike. He was originally going to play Wicket, but he fell ill and that role was handed over to Warwick Davis. He revealed a feud between him and his co-star Anthony Daniels, claiming Daniels had been rude to him on numerous occasions, and stated that Daniels is rude to everyone, including fans.
Baker continued his association with the R2-D2 character in Star Wars: The Force Awakens, which was released on 18 December 2015 in North America. He was going to be a member of the cast, but he served as consultant for the character instead. In November 2015 it was confirmed that Jimmy Vee was cast as R2-D2 in Star Wars: The Last Jedi, replacing Baker.
Other work
Baker's other films include The Elephant Man, Time Bandits (also with Jack Purvis), Willow (also with Purvis and Warwick Davis), Flash Gordon, Amadeus and Jim Henson's Labyrinth.
On television, he appeared in the British medical drama Casualty. He also had a part in the BBC production of The Chronicles of Narnia. In the late 1990s, Baker launched a brief stand-up comedy career. He played Casanova in the 1993 movie U.F.O.
In November 2009, his biography, From Tiny Acorns: The Kenny Baker Story, was written with Ken Mills and published by Writestuff Autographs.
Personal life
Baker resided in Preston, Lancashire. He was married to actress Eileen Baker (who co-starred with him in the 1977 film Wombling Free) from 1970 until she died in 1993. Although Eileen also had dwarfism, this was not inherited by their two children.
Baker was invited to attend the premiere of Star Wars: The Force Awakens in Los Angeles in December 2015, but was too ill to travel to the US. He had been suffering from a lung condition for years. Instead, Baker attended the film's premiere in London.
Death
Baker died on 13 August 2016, eleven days before his 82nd birthday, following a brief additional illness. Following the death of the actor it was revealed by The Sun that he had fathered a son who had been kept secret from his family and that they had contacted each other on a number of occasions.
Filmography
Actor
2013
One Night at the Aristo (Short)
as
The Bartender (voice)
2011
Star Wars: Episode VI - Return of the Jedi: Deleted Scenes (Video short)
as
R2-D2
1992
Casualty (TV Series)
as
Charles Isaac / Archie
- The Miracle on Harry's Last Shift (2007) - Charles Isaac
- Act of Faith (1992) - Archie
2005
Star Wars: Episode III - Revenge of the Sith
as
R2-D2
2003
Swiss Toni (TV Series)
as
Guyler
- Cars Don't Make You Fat (2003) - Guyler
2002
The Cage (Short)
as
Merlin
2002
Star Wars: Episode II - Attack of the Clones
as
R2-D2
2002
24 Hour Party People
as
Zookeeper (uncredited)
1999
Boobs in the Wood (Video)
as
Bruce the Convict
1999
Star Wars: Episode I - The Phantom Menace
as
R2-D2
1999
The King and I
as
Captain Orton (voice, as Ken Baker)
1994
Der Rosenkavalier (TV Movie)
as
Baron Och's Retinue
1991
The Little and Large Show (TV Series)
- Episode #11.2 (1991)
- Episode #11.1 (1991)
1990
Ben Elton: The Man from Auntie (TV Series)
as
Invisible Demon
- Episode #1.5 (1990) - Invisible Demon
1989
Prince Caspian and the Voyage of the Dawn Treader (TV Series)
as
Dufflepud
- Voyage of the Dawn Treader: Part 3 (1989) - Dufflepud
- Voyage of the Dawn Treader: Part 2 (1989) - Dufflepud
- Voyage of the Dawn Treader: Part 1 (1989) - Dufflepud
1988
Willow
as
Nelwyn Band Member (uncredited)
1987
People Are the Same the Universe Over (Short)
as
Alien
1987
Poor Little Rich Girl: The Barbara Hutton Story (TV Movie)
as
Burlesque Artist (part 3) (uncredited)
1987
Star Tours (Short)
as
R2-D2 (uncredited)
1986
Labyrinth
as
Goblin Corps
1986
Mona Lisa
as
Brighton Busker
1984
Amadeus
as
Parody Commendatore
1984
The Adventure Game (TV Series)
as
A Highly Trained Aspidistra
- Episode #3.6 (1984) - A Highly Trained Aspidistra
- Episode #3.5 (1984) - A Highly Trained Aspidistra
- Episode #3.4 (1984) - A Highly Trained Aspidistra
- Episode #3.3 (1984) - A Highly Trained Aspidistra
- Episode #3.2 (1984) - A Highly Trained Aspidistra
- Episode #3.1 (1984) - A Highly Trained Aspidistra
1983
Star Wars: Episode VI - Return of the Jedi
as
R2-D2 / Paploo
1982
Ivanhoe (TV Movie)
as
Jester (uncredited)
1982
The Hunchback of Notre Dame (TV Movie)
as
Pick Pocket
1980
The Goodies (TV Series)
as
Dwarf / EB-GB
- Special: Snow White 2 (1981) - Dwarf
- U-Friend or UFO (1980) - EB-GB (uncredited)
1980
The Elephant Man
as
Plumed Dwarf
1980
Cooper's Half Hour (TV Series)
as
Man at Buffet
- 5 (1980) - Man at Buffet
1980
Star Wars: Episode V - The Empire Strikes Back
as
R2-D2
1980
Not the Nine O'Clock News (TV Series)
as
Boxer on the Television
- The Outrageously Expensive Not The Nine O'Clock News (1980) - Boxer on the Television (uncredited)
1977
Star Wars: Episode IV - A New Hope
as
R2-D2
1966
Snow White and the Seven Dwarfs (TV Movie)
as
Dopey
1962
Man of the World (TV Series)
as
The Croat
- Specialist for the Kill (1962) - The Croat (as Ken Baker)
1961
The Avengers (TV Series)
as
Circus Clown
- Girl on the Trapeze (1961) - Circus Clown (uncredited)
1960
Circus of Horrors
as
Dwarf (uncredited)
Miscellaneous
2015
Star Wars: Episode VII - The Force Awakens (consultant: R2-D2)
1980
The Adventure Game (TV Series) (animatronics operator: The Rangdo of Arg - 1980)
Soundtrack
1987
3-2-1 (TV Series) (performer - 1 episode)
- Episode #10.3 (1987) - (performer: "The Trail of the Lonesome Pine")
1981
Time Bandits (performer: "Me And My Shadow")
Thanks
2016
The Star Wars Show (TV Series short) (in loving memory of - 1 episode)
- Kevin Smith Interview, Rogue One Trailer Reactions, and More (2016) - (in loving memory of)
2004
Empire of Dreams: The Story of the 'Star Wars' Trilogy (Video documentary) (special thanks)
Self
2020
Hollywood Insider (TV Series)
as
Self
- 32 Facts on the Star Wars Saga (2020) - Self
2015
I Am Your Father (Documentary)
as
Self
2014
The Real History of Science Fiction (TV Mini Series documentary)
as
Self
- Space (2014) - Self
- Robots (2014) - Self
2013
Sky Midnight News (TV Series)
as
Self
- Episode dated 10 November 2013 (2013) - Self
2010
The Podge and Rodge Show (TV Series)
as
Self
- Episode #5.7 (2010) - Self
2008
Bring Back... Star Wars (TV Movie documentary)
as
Self
2006
Greatest Ever Blockbuster Movies (TV Movie documentary)
as
Self
2005
The 100 Greatest Family Films (TV Movie documentary)
as
Self
2005
Jeopardy! (TV Series short)
as
Self / R2-D2
- Episode #21.211 (2005) - Self / R2-D2 (uncredited)
2005
The Paul O'Grady Show (TV Series)
as
Self
- Episode #2.53 (2005) - Self
2005
Star Wars: Feel the Force (TV Movie documentary)
as
Self
2005
GMTV (TV Series)
as
Self
- Episode dated 10 May 2005 (2005) - Self
2004
The Ultimate Film (TV Movie documentary)
as
Self
2004
When Star Wars Ruled the World (TV Movie documentary)
as
Self
2004
Ultimate Sci-Fi Top 10 (TV Mini Series documentary)
as
Self
2004
Empire of Dreams: The Story of the 'Star Wars' Trilogy (Video documentary)
as
Self - 'R2-D2'
2002
Dwarves in Showbiz (TV Movie documentary)
as
Self
2001
Star Wars: Episode I - The Phantom Menace - Webisodes (Video documentary)
as
Self
2000
Interference (TV Series)
as
Self
1999
The Phantom Menace: Web Documentaries (TV Mini Series documentary short)
as
Self
- Bad Droid Karma (1999) - Self (uncredited)
- It's Like a War Now (1999) - Self (uncredited)
1999
The Unauthorized 'Star Wars' Story (Video documentary)
as
Self
1999
This Morning (TV Series)
as
Self
- Episode dated 1 October 1999 (1999) - Self
1998
Light Lunch (TV Series)
as
Self
- The Light Side of the Force (1998) - Self
1995
The James Whale Show (TV Series)
as
Self
- Kenny Baker (1995) - Self
1989
Going Live! (TV Series)
as
Self
- Episode #2.19 (1989) - Self
1986
Inside the Labyrinth (TV Movie documentary)
as
Self
1984
Donald Duck's 50th Birthday (TV Special short)
as
R2-D2
1983
Classic Creatures: Return of the Jedi (TV Movie documentary)
as
Self / R2D2 / Paploo
1980
The 1980 Sci-Fi Awards (TV Special)
as
Self (as R2D2)
1980
The Making of 'The Empire Strikes Back' (TV Movie documentary)
as
Self
1980
Temps X (TV Series documentary)
as
Self
- Episode dated 21 June 1980 (1980) - Self
1977
The Making of 'Star Wars' (TV Movie documentary)
as
R2-D2 (uncredited)
Archive Footage
2020
La noche de... (TV Series documentary)
as
Self
- La noche de- Pequeños gigantes (2020) - Self
2019
An Accidental Studio (Documentary)
as
Self (uncredited)
2017
Hell's Club Part 2. Another Night (Video short)
as
Clients (as R2D2)
2017
The Toys That Made Us (TV Series documentary)
as
R2-D2
- Star Wars (2017) - R2-D2
2017
The Oscars (TV Special)
as
Self - Memorial Tribute
2017
The 23rd Annual Screen Actors Guild Awards (TV Special)
as
Self - In Memoriam
2016
The Star Wars Show (TV Series short)
as
Self
- Kevin Smith Interview, Rogue One Trailer Reactions, and More (2016) - Self
2015
Hell's Club (Video short)
as
A Client (as R2D2)
2013
Tracks (TV Series documentary)
as
Self
- Episode dated 26 January 2013 (2013) - Self
2012
Everything is Terrible! Holiday Special (Video)
as
R2-D2
2012
Good Mythical Morning (TV Series)
as
R2-D2
- How the Tupac Hologram Works (2012) - R2-D2 (uncredited)
2012
Prophets of Science Fiction (TV Series documentary)
as
R2-D2
- George Lucas (2012) - R2-D2
2010
20 to 1 (TV Series documentary)
as
R2-D2
- Our All Time Favourite Films (2010) - R2-D2
2008
A New Chapter: The Story of 'The Force Unleashed' (Video documentary short)
as
R2-D2
2008
5 Second Movies (TV Series short)
as
R2-D2
- Star Wars: Episode VI (2008) - R2-D2
2006
When the Devil Rides Out
2006
El imperio de los fans (TV Movie documentary)
as
Self (uncredited)
2000
The Directors (TV Series documentary)
as
Fidgit
- The Films of Terry Gilliam (2000) - Fidgit (uncredited)
1996
Vintage Dave Allen (Video)
as
Various
References
Kenny Baker (English actor) Wikipedia
(Text) CC BY-SA