Birth name

Kenneth Arthur Dodd




Genres

One-liners


Medium

Stand-up, television




Name

Ken Dodd





Nationality

British




Partner

Anne Jones




Years active

1954-present




Children

Fanny Fabriana







Born

8 November 1927 (age 88)Liverpool, England (

1927-11-08

)


Influences

Arthur AskeyTed RayRobb WiltonTommy HandleyMax MillerWill Hay




Role

Comedian · kendoddshows.com




Movies and TV shows

The Ken Dodd Laughter Show




Albums

All the Songs I Love, His Greatest Hits




Similar People

Fanny Fabriana, Bruce Forsyth, Jimmy Tarbuck, Des O'Connor, Tommy Cooper
Comedy legend Ken Dodd – Newsnight Archives
Sir Kenneth Arthur Dodd, (born 8 November 1927) is an English comedian, singer-songwriter and actor, identified by his unruly hair and protruding teeth, his red, white and blue "tickling stick" and his upbeat greeting of "How tickled I am!". He also created the characters of the Diddy Men ("diddy" being an informal British word for "small").
Contents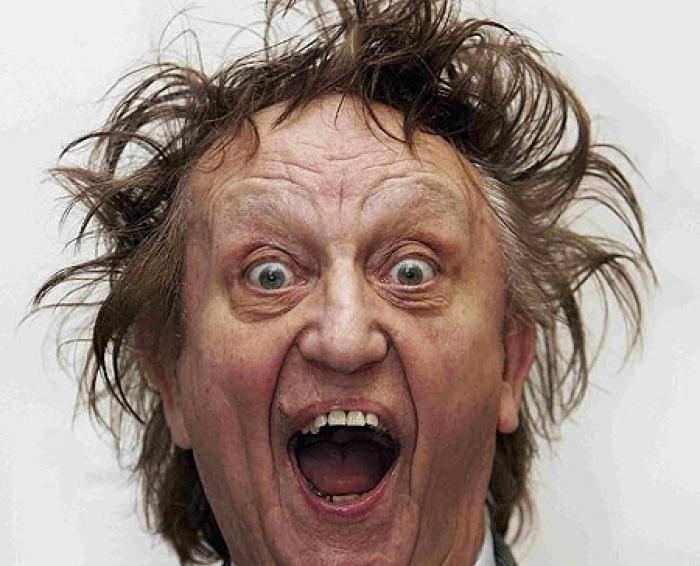 He works mainly in the music hall tradition, although, in the past, has occasionally appeared in drama, including as Malvolio in Shakespeare's Twelfth Night on stage in Liverpool in 1971; on television in the cameo role of 'The Tollmaster' in the 1987 Doctor Who story Delta and the Bannermen; and as Yorick (in silent flashback) in Kenneth Branagh's film version of Shakespeare's Hamlet in 1996. In the 1960s his fame in the UK was such that he rivalled the Beatles as a household name, with his recording of "Tears" being the UK's third-best-selling single of the 1960s. His records have sold millions worldwide.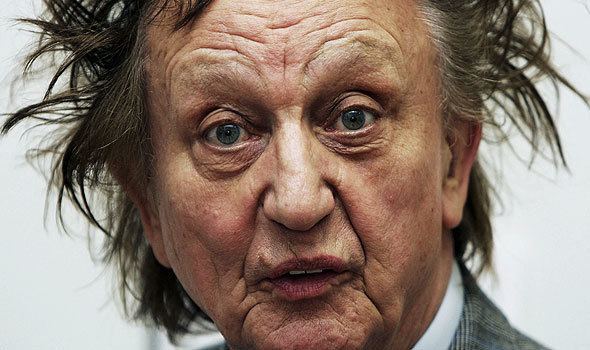 As of 2017, he continues to tour the UK with The Ken Dodd Happiness Show.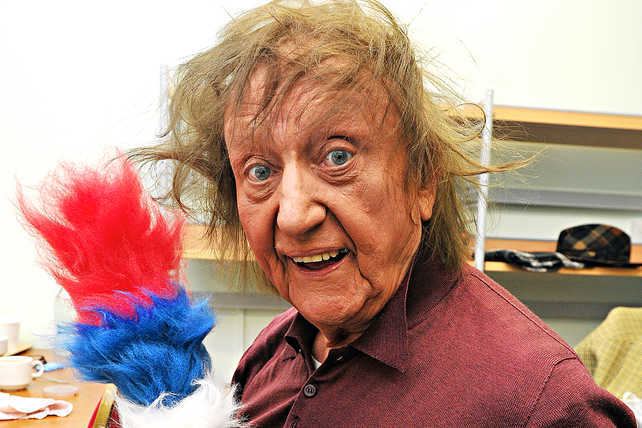 He was knighted in the 2017 New Year Honours for services to entertainment and charity.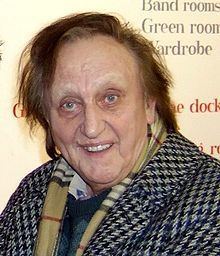 Legendary comedian 89 year old sir ken dodd get s a standing ovation at the 2017 nta s
Early life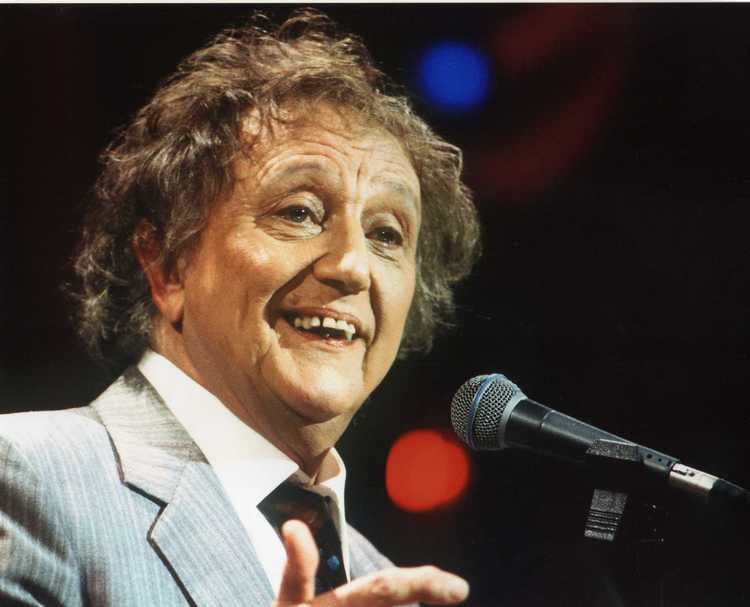 Kenneth Arthur Dodd was born on 8 November 1927 in Knotty Ash, Liverpool, Lancashire, the son of a coal merchant, Arthur Dodd, and wife Sarah (née Gray). He had an older brother, William (1925–2011) and a younger sister. He went to the Knotty Ash School, and sang in the local church choir of St John's Church, Knotty Ash. At the age of seven, Dodd was dared by his school friends to ride his bike with his eyes shut. He accepted the dare, crashed and sustained facial injuries which resulted in his distinctive buck teeth.
He then attended Holt High School, a grammar school in Childwall, but left at age 14 to work for his father. Around this time he became interested in show business after seeing an advert in a comic: "Fool your teachers, amaze your friends—send 6d in stamps and become a ventriloquist!" and sending off for the book. Not long after, his father bought him a ventriloquist's dummy and Ken called it Charlie Brown. He started entertaining at the local orphanage, then at various other local community functions.
He got his big break at age 26 when, in September 1954, he made his professional show-business debut at the now-demolished Nottingham Empire. A nervous young man, he sat in a local milk bar for most of the afternoon, going over and over his lines before going to the theatre. He later said, "Well at least they didn't boo me off". He continued to perform, and in 1955 he appeared at Blackpool, where, in the following year, he had a part in "Let's Have Fun". His performance at the Central Pier was part of a comedy revue with Jimmy James and Company. Also on the same bill were Jimmy Clitheroe and Roy Castle. Dodd first gained top billing at Blackpool in 1958. He has guested on innumerable television and radio shows and made many appearances on BBC TV's long running programme, The Good Old Days.
Style, career and achievement
Dodd has been described as "the last great music hall entertainer". His stand-up comedy style is fast and relies on the rapid delivery of one-liner jokes. He has claimed that his comic influences include other Liverpool comedians like Arthur Askey, Robb Wilton, Tommy Handley and the "cheeky chappy" from Brighton, Max Miller. He intersperses the comedy with occasional songs, both serious and humorous, in an incongruously fine light baritone voice, and with his original speciality, ventriloquism.
Dodd has had many recording hits, charting on 19 occasions in the UK Top 40, including his first single "Love Is Like a Violin" (1960), produced on Decca Records by Alex Wharton, which charted at number 8 (UK), and his song "Tears" (Columbia), which topped the UK charts for five weeks in 1965, selling over a million copies. At the time it was the UK's biggest selling single by a solo artist, and remains one of the UK's biggest selling singles of all time. Dodd was selected to perform the song on A Jubilee Of Music on BBC One on 31 December 1976, a celebration of the key pop successes of the Queen's first 25 years as Britain's monarch.
Dodd is renowned for the length of his performances, and during the 1960s he earned a place in the Guinness Book of Records for the world's longest ever joke-telling session: 1,500 jokes in three and a half hours (7.14 jokes per minute), undertaken at a Liverpool theatre, where audiences were observed to enter the show in shifts.
Dodd has appeared on many Royal Variety Performances. The most recent was in 2006, in front of Prince Charles and his wife Camilla, at the London Coliseum. During this performance, he reprised some of his famous jokes, including those about tax accountants as well as singing his famous song - "Happiness".
In October 1987, Dodd officially opened the Arndale shopping centre in Accrington.
He continues to tour and, despite his age, his shows still frequently do not finish until after midnight. In 2012 at the age of 84, he played the Princes Theatre in Clacton-on-Sea, Essex on 7 July. Starting at 7.15 pm he continued until just before 9.00 pm when Sybie Jones took to the stage. Returning at 9.30 pm he continued until 10.00 pm. The second support act performed until Dodd's return just before 11.00 pm when he continued until 00.25 am. As of 2017, Dodd continues to tour the UK extensively, with his comedy and music show.
The shows that Dodd has starred in are as follows: The Ken Dodd Show (1959 - 1966), Doddy's Music Box (1967), Ken Dodd and the Diddymen (1969 - 1973), The Ken Dodd Show (1969), Ken Dodd in Funny You Should Say That (1972), Ken Dodd says Stand By Your Beds, Ken Dodd's World of Laughter (1974), The Ken Dodd New Year's Eve Special (1975), The Ken Dodd Show (1978), The Ken Dodd Laughter Show (1979), Dodd on his Todd (1981), Doddy! (1982), Ken Dodd's Showbiz (1982), Ken Dodd at the London Palladium (1990), An Audience with Ken Dodd (1994), Another Audience with Ken Dodd (2002), Ken Dodd's Happiness (2007), Ken Dodd: In His Own Words (2016).
Honours
He was appointed Officer of the Order of the British Empire (OBE) in 1982 for services to show business and charity and was knighted in the 2017 New Year Honours for services to entertainment and charity. The award was formally conferred by Prince William, Duke of Cambridge in a ceremony at Buckingham Palace on 2 March 2017.
Dodd became one of the rare entertainers to be given a second show of An Audience with.... This show was entitled Another Audience with Ken Dodd originally broadcast in 2002.
In December 2004, Dodd was performing his comedy and music show to a sell out audience at the Royal Concert Hall, Nottingham to celebrate his 50 years in show business. . He was presented with a framed playbill of his first professional performance - which was at the Empire Theatre, Nottingham in September 1954.
In a 2005 poll of comedians and comedy insiders to find the 'Comedians' Comedian', Dodd was voted amongst the 'Top 50 Comedy Acts Ever', ranked as number 36. He was made an honorary fellow of Liverpool John Moores University in 1997. A statue depicting Dodd with his trademark "Tickling Stick" was unveiled in Liverpool Lime Street railway station on 11 June 2009.
Dodd was inducted into the exclusive show business fraternity, the Grand Order of Water Rats.
Dodd was made an honorary fellow of the University of Chester on 4 November 2009, having been awarded the honorary degree of Doctor of Letters at a graduation ceremony in Chester Cathedral. His doctorate was presented by Gerald Grosvenor, 6th Duke of Westminster. He was awarded a Doctorate of Letters at Liverpool Hope University on 25 January 2010 during the university's Foundation Day celebrations.
In 2016 Ken Dodd was awarded the Aardman Slapstick Comedy Legend Award, a recognition of his lifetime's contribution to the world of comedy. He received the award at an event hosted by Dr Mathew Sweet.
Personal life
Despite two long-term engagements, he has never married. His first fiancé Anita Boutin died of a brain tumour in 1977 at the age of 45 after the couple had spent 22 years together. In 1988, he met and started a relationship with his current partner Anne Jones, a former Bluebell Dancer who plays the piano, guitar, flute and sings in his live stage shows under the stage name of Miss Sybie Jones. They have never had children despite attempts to conceive via IVF. The pair live in the house in which Dodd was born and has lived in all his life.
A stalker, Ruth Tagg, harassed Dodd and his current partner, Anne Jones, in October 2001, by sending them threatening letters, a dead rat, and also attempted to burn down their house by pushing burning rags through the letterbox. Tagg pleaded guilty to harassment and arson at Preston Crown Court.
He presented the History of Liverpool Comedians at St George's Hall on 1 and 2 April 2008.
His own book, Look At It My Way, was published in November 2009.
In July 2010, the regional UK airline Eastern Airways named one of its Jetstream 41 aircraft after Dodd, in celebration of one year of scheduled services to Liverpool, and the support that Dodd shows for the region and in particular, the airport.
Tax evasion court case
In 1989 Dodd was charged with tax evasion. The subsequent trial, with the prosecution case led by Brian Leveson QC, produced several revelations. The Diddy Men, who had appeared in his stage act, were often played by local children from stage schools, and were revealed never to have been paid. Dodd was also revealed to have very little money in his bank account, having £336,000 in cash stashed in suitcases in his attic. When asked by the judge, "What does a hundred thousand pounds in a suitcase feel like?", Dodd made his now famous reply, "The notes are very light, M'Lord."
Dodd was represented by George Carman, who in court famously quipped, "Some accountants are comedians, but comedians are never accountants". The trial lasted three weeks: Dodd was acquitted.
Despite the strain of the trial, Dodd immediately capitalised on his new-found notoriety with a successful season running from Easter to Christmas 1990 at the London Palladium. It was there he had previously broken the house record for the longest comedy season at the theatre, in 1965, with a residency lasting 42 weeks. Some of his subsequent material mocked the trial and tax in general. For a while he introduced his act with the words, "Good evening, my name is Kenneth Arthur Dodd; singer, photographic playboy and failed accountant!"
Other singles
"Where's Me Shirt?" (1965)
"The Same Mistakes"/"Call Me Mister Sunshine" (1967)
"You're My Best Friend" (1980)
"Matchstalk Men and Matchstalk Cats and Dogs" (1980)
"It Is No Secret (What God Can Do)" (1980)
References
Ken Dodd Wikipedia
(Text) CC BY-SA