Ken Block (born November 21, 1967) is a professional rally driver with the Hoonigan Racing Division, formerly known as the Monster World Rally Team. Block is also one of the co-founders of DC Shoes. Block has also competed in many action sports events including skateboarding, snowboarding, and motocross. Since selling his ownership of DC Shoes, Block has shifted his business focus to Hoonigan Industries, an apparel brand for auto enthusiasts. He is currently the co-owner and Head Hoonigan In Charge (HHIC) at the company.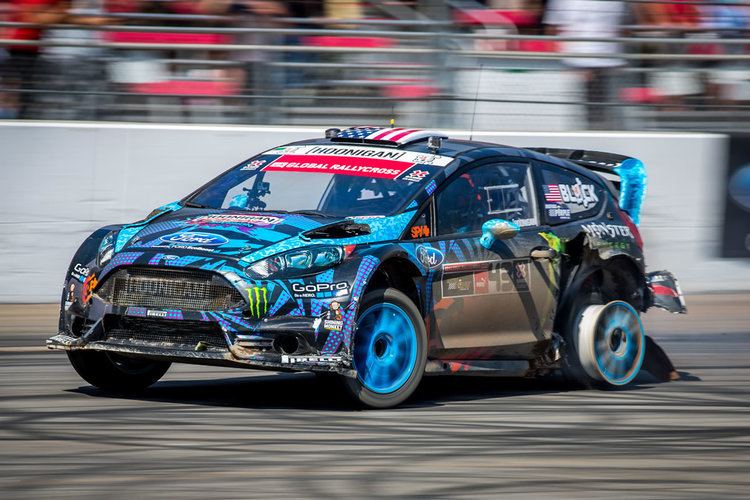 In 2005, Block began his National rallying career with the Vermont SportsCar team. Vermont SportsCar prepared a 2005 Subaru WRX STi for Block to compete. His first event of the rallying season was Sno*Drift, where he ended up finishing seventh overall and fifth in the Group N class. During the 2005 season, Block had five top five finishes and placed third overall in the Group A class and fourth overall in the Rally America National Championship. At the end of his first rallying year, Ken Block had won the Rally America Rookie of the Year award.
In 2006, Block along with his DC rally teammate Travis Pastrana signed a new sponsorship deal with Subaru. Through this deal with Subaru, the teammates became known as "Subaru Rally Team USA." With the new rally season, Block also got a brand new Vermont SportsCar prepped 2006 Subaru WRX STi. He competed in the first ever X Games rally event at X Games XII. In the competition, Block ended up finishing third to take the bronze. He went on to compete in the 2006 Rally America National Championship, where he finished second overall.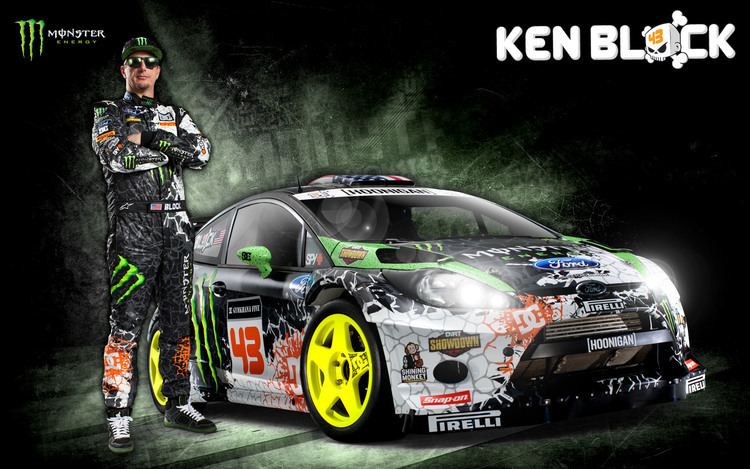 In 2007, Block competed in the X Games XIII rally event, where he placed second overall and won a silver medal. In the 2007 Rally America National Championship, Block finished third overall. During this season, Block also entered in a few rounds of the World Rally Championship; Rally Mexico and Rally New Zealand. In Rally New Zealand, Block recorded two top-five stage times in the Group N class. At the end of 2007, Block had achieved 19 podiums and 8 overall victories in rally events.
In 2008, Block was provided with a brand new rally prepped 2008 Subaru WRX STi to compete. Block decided to compete in the Rallye Baie-des Chaleurs of the Canadian Rally Championship to gain some experience with his new 2008 rally car and prepare for the World Rally Championships later in the year. Block gained his first Canadian rally win at the event. This was only the second event for the new car. Block and his co-driver were unable to get any championship points at the event due to not having a Canadian competition license. Block competed in the Rally New York USA competition and finished in first place. In the X Games XIV rally competition, Block finished tied for third place with Dave Mirra. This occurrence was due to both competitors having issues with their car. Block, who made it to the semi-finals of the event, had a radiator problem after landing the car awkwardly on a jump. With both bronze place competitors in damaged cars unable to compete, the medals were awarded to both of them.
Block competed in the 2008 Rally America National championship, which concluded on October 17, 2008. In the event, he finished second overall with a strong victory in the last event. In the Lake Superior Performance Rally stage, Block finished over one minute ahead of his next closest competitor and secured the second overall position. Next up for Block this rally season is three World Rally Championship events.
Block appeared in a segment of motoring show Top Gear. Block filmed the hit YouTube video "Gymkhana 2", making the most viral video of 2009, as well as selling more DC shoes with this "informercial".
On January 6, 2010 the Monster World Rally Team announced Block as their driver for selected rounds of the World Rally Championship, in which he will be campaigning the Monster/Ford Racing Focus RS WRC 08. His car will be prepared and run by the North of England based M-Sport, who also prepare the official Ford WRC cars. He will be simultaneously running in his sixth season of the Rally America Championship in an open class Ford Fiesta, as well as his fifth X-games. Block will also be the first ever American driver to campaign for the World Rally Championship. On February 27, Block won the Rally in the 100 Acre Wood (Rally America) for the 5th consecutive time. This broke the record held by John Buffum. Block is currently being trained by former Ford factory driver Markko Martin. At the Spain rally, he won his first 2 points in World Rally Championship.
On March 23, Block and his co-driver Alex Gelsomino were taken to hospital, having rolled their Ford Fiesta RS WRC during the shakedown stage of the 2011 Rally de Portugal in Faro, Portugal. A representative of the Monster World Rally team later stated that both men were fine.
On his first race of 2013 season Block got a great result entering in the top-ten of the Mexican rally, thus he gets his first six points for the championship and score a best-ever 7th overall finish.
Ken Block participated in the WRC located in Catalunya, Spain. He was in 10th place until the last stage where he suffered a tire puncture and lost a significant amount of time. He would finish in 12th position.
(key)
*Season in progress
In 2005, Block along with his DC Shoes associates participated in the Gumball 3000 Rally. For the event they sent out three modified 2004 Subaru WRX STi's sponsored by DC Shoes.
In 2006, Block competed in the One Lap of America competition along with Brian Scotto. They were teamed up in a 2006 Subaru WRX STi and finished forty-fifth overall.
In 2006, for the Discovery Channel show Stunt Junkies, Block jumped his Subaru WRX STi rally car 171 feet (52 m) and a max height of 25 feet (7.6 m). The whole episode was dedicated to Block attempting this stunt.
In 2007, Block joined the DC Shoes Snowboarding team at New Zealand's Snow Park. Block did massive jumps and assisted in snowboarding tricks while driving his rally car on the mountain alongside the snowboarders. A crash after landing a large jump cracked one of the vertebrae in his spine, he was flown to the hospital. The session made the cover of the December 2007 issue of Snowboarder Magazine and closed out the MTN.LAB 1.5 DVD.
In 2009, for the BBC show Top Gear, Block took James May out for Gymkhana-style driving at Block's stunt course at Inyokern Airport, an operational California airport, also starring Ricky Carmichael. In 2010 Block took the feature car from the previous episode (a Reliant Robin) for a lap of the Top Gear test track. He rolled the car and was unable to complete a lap but was unhurt.
On October 15, 2009, it was reported that Block was close to a deal to join the World Rally Championship in a new Ford team. Long time co-driver Alex Gelsomino was also reportedly involved in the deal. Former Subaru WRC driver Chris Atkinson has been reported to be lined up as Block's team-mate in the all-new Monster Energy Drink Ford World Rally Team.
On January 6, 2010, the announcement is made as Block joins up with Ford and begins his WRC career driving both a Ford Fiesta and Focus RS WRC.
On August 24, 2010, Block released the first of a three part Gymkhana 3 video release featuring his new Ford Fiesta.
On September 14, 2010, Block's third Gymkhana video, featuring a Ford Fiesta, was released on YouTube. The video got more than seven million views in its first week.
On August 16, 2011, the fourth Gymkhana video, The Hollywood Megamercial was released on YouTube, featuring Block driving around the Universal Studios backlot.
On July 1, 2012, Block took the Silver Medal for Rallycross at X Games XVIII behind Sebastien Loeb.
On July 9, 2012, Block released his fifth Gymkhana video on YouTube, featuring Block driving his Ford Fiesta in San Francisco and Travis Pastrana on a dirtbike. After 24 hours, the video was viewed 5.1 million times, making it the top-viewed video of the previous week.
Block also holds the world record for the world's fastest snowcat, a modified Subaru STI called a Trax STI.
He will appear in Need for Speed as the style icon.
Block is featured as a driver in Codemasters Colin McRae: Dirt 2, along with his Subaru Rally Team USA Impreza. In Dirt 3 he is seen as a driver and Gymkhana teacher, his Monster World Rally Team vehicles are available in the game, including the Ford Fiesta GYM 3, and the Ken Block Ford Focus WRC.