Full Name

Kay Taylor




Ethnicity

English





Height

5 ft 6 in (1.68 m)




Name

Kay Parker







Born

28 August 1944 (age 78) (

1944-08-28

) Birmingham, England


Other names

Jill Jackson, Kay Taylor Parker




Website

http://www.kaytaylorparker.com/


Similar

Nina Hartley, Ginger Lynn, Brigitte Lahaie
Interview with Kay Parker
Kay Parker (born 28 August 1944) is an English former pornographic actress.
Contents
Kay Parker Interview from 1984
Career
Parker was reportedly introduced to the adult film industry during the late 1970s by actor John Leslie, who suggested she take part in one of his upcoming films. However, porn director Anthony Spinelli talked her into doing her first sex scene in Sex World (1977). Parker starred in the "landmark" adult film "Taboo," about a woman who has sex with her own son.
Later years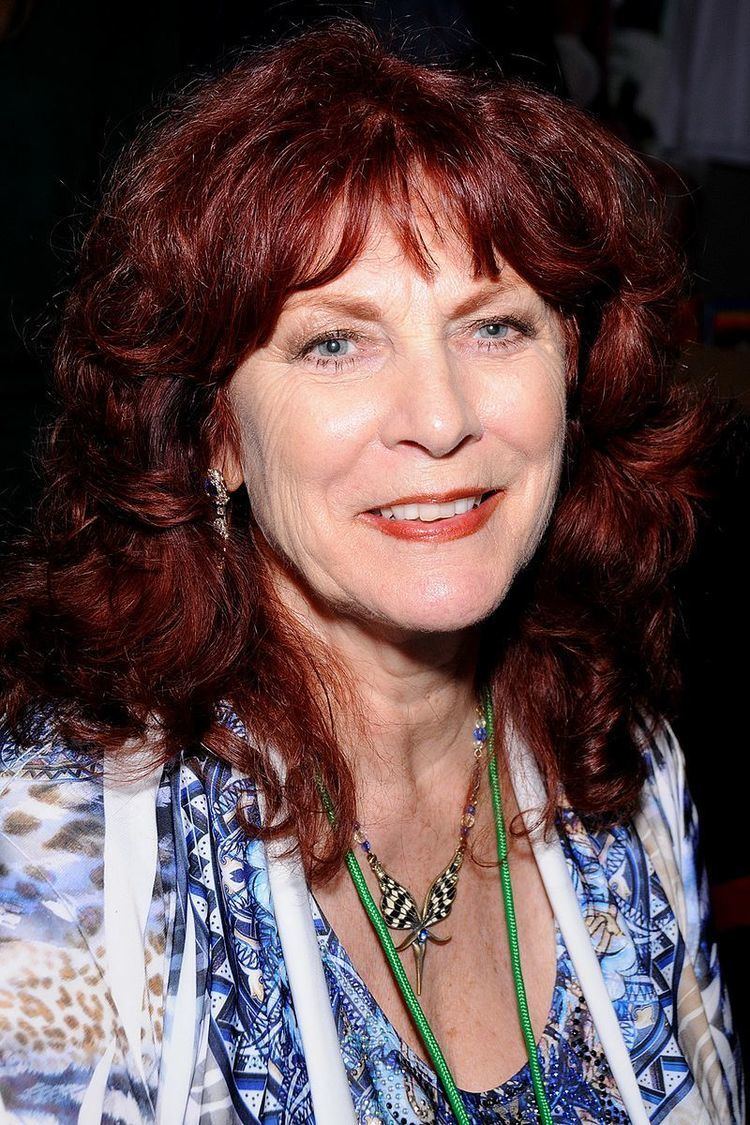 In 2001, she wrote her autobiography titled "Taboo: Sacred, Don't Touch" (ISBN 0971368406), "An Autobiographical Journey Spanning Six Thousand Years" in which she wrote about her early childhood, her career in the adult industry, and her experiences with the metaphysical. She revised the book in 2016 "Taboo: Sacred Don't Touch" - The Revised Version (ISBN 978-1-36-741153-1).
Awards
AVN Hall of Fame
XRCO Hall of Fame
Filmography
1999 Naked Angel (Video)
Non Sex
1998 Merchants of Venus
Kay Parker
1994 Desert Winds
Alluring Woman (as Kay Taylor Parker)
1993 Taboo XI (Video)
Barbara Scott
1991 Fixation
1991 Taboo IX (Video)
Barbara / Paul's mother
1991 Stairway to Paradise (Video)
Morningstar
1988 Bigger the Better 1 (Video short)
1987 Careful, He May Be Watching
Annie
1986 Night on the Wild Side (Video)
Wandering Woman
1986 Traci's Fantasies (Video)
Kay
1985 Connection Live
1985 Hot Blooded
Linda
1985 Ladies of the '80s
1985 Lorelei (Video)
Lorelei
1985 Nice n' Tight
Mrs. Robinson
1985 Too Hot to Touch
Nurse Loretta
1985 I Want to Be Bad
Jan Jenkins
1984 Fantasy Follies II (Video)
Kay Parker
1984 Firestorm
Magda Balcourt
1984 L'Amour
Ellen Brewster
1984 Matinee Idol
Dorothy
1984 Sex Play
Jan Manley
1984 Spectators (Video)
Kay / wife
1984 Taboo III
Barbara Scott
1984 Tomboy
Mrs. Robinson
1984 Nasty Nurses
Joyce Matthews
1983 Eighth Erotic Film Festival
1983 Erotic Radio WSEX
Dr. Clarissa Redbone
1983 Fantasy Follies (Video)
Kay
1983 Private Teacher
Miss Lillian Foxworth
1983 Swedish Erotica 45
1983 Sweet Young Foxes
Julie
1983 Satisfactions
Shannon
1983 The Young Like It Hot
Cheryl
1983 Balboa (TV Movie)
Apple
1983 Still Smokin
Brunette in Spa (uncredited)
1982 Body Talk
Laurie
1982 Casanova II
Miss Cohen (uncredited)
1982/III Desire
Dr. Varlay
1982 Intimate Lessons
Lady Amanda
1982 Memphis Cathouse Blues
Rose
1982 The Best Little Whorehouse in Texas
World War II Girl
1982 Taboo II
Barbara Scott
1982 The Seven Seductions
Hamilton's Wife
1981 Fast Cars Fast Women
Molly
1981 The Dancers
Maxie Roget
1981 The Antagonists (TV Mini Series)
Moabite Prostitute
- Part I (1981) ... Moabite Prostitute
1981 Vista Valley PTA
Jan (as Kay Taylor)
1980 Champagne for Breakfast
Gladys Whitmore
1980 Downstairs Upstairs
Mrs. Muriel Bunn
1980 Taboo
Barbara Scott
1979 Kate & the Indians
High Priestess
1978 Dracula Sucks
Dr. Sybil Seward
1978 The Health Spa
June Winters
1978 Untamed
Sheila / journalist (as Jill Jackson)
1978 'V': The Hot One
Jacinda
1978 SexWorld
Millicent
1978 Chorus Call
Mona Randall
1978 7 Into Snowy
Fedora Weatherly
1977 The New Erotic Adventures of Casanova
Secretary
1962 It's a Man's World (TV Series)
Didi
- Howie's Adventure (1962)
Additional Crew
1980 The Nude Bomb (body double) / (body double: sylvia kristel - uncredited)
Self
2017 A Taboo Identity (Documentary)
Self
2015 X-Rated: The Greatest Adult Movies of All Time (TV Movie documentary)
Self
2014 The Dr. Susan Block Show (TV Series)
Self
- The Hollywood Show: Love Among the Legends (2014)
2008 Naked (Video documentary)
Self
2006 Dick Ho: Asian Male Porn Star (Short)
Self
1985 A Night for Legends: First Annual XRCO Adult Film Awards (Video)
Self
1984 Midnight Blue (TV Series)
Self
- Episode #8.5 (1984)
1983 Intimate Realities 2 (Video)
Self - Hostess / Limo Driver
1983 Super Sex (Video)
Self - Host
Archive footage
2013 Classic Tits Galore (Video)
2011

Dave's Old Porn (

2011-2012

TV Series)
Lorelei
- Amy Schumer/Robert Kerman (2012)
- Margaret Cho/Paul Thomas (2011)
2012 Girls of the 70's Filthy Frank Style (Video)
2010 25 Porn Star Legends (Video)
2006 Kay Parker Collection 3 (Video)
2005 Best of VCX Classics 2 (Video)
1992 True Legends of Adult Cinema: The Golden Age (Video)
1990 Only the Best 3 (Video documentary)
1989 Fire in the Hole
1989 Firestorm 3 (Video)
Magda Balcourt
1988 Blue Vanities 62 (Video)
1988 Blue Vanities 64 (Video)
1988 Bra Breakers Vol. 1 (Video)
1988 Only the Best of Breasts (Video)
Mrs. Jenkins
1988 Only the Best of Women with Women (Video)
1987 Firestorm II: The Angel Blade
Magda Balcourt
1987 Legends of Porn (Video documentary)
1987 Tales from the Chateau
1986 Good to the Last Drop (Video)
1986 Great Sex Scenes 1
1986 Sex Game (Video)
1986 Superstars and Superstuds (Video)
1986 Sweethearts
'Splendor in the Grass' Woman
1986 The Titty Committee (Video)
1986 Three Faces of Angel (Video)
1985 Erotic Gold (Video)
1985 Free and Easy (Video)
1985 Free and Foxy (Video)
1985 Taboo IV: The Younger Generation
Barbara Scott
1985 With Love, Annette
Hooker (uncredited)
1984 Rona Barrett Reports: Women in Pornography (TV Movie documentary)
Self
References
Kay Parker Wikipedia
(Text) CC BY-SA