Nationality

American




Website

www.katherinebehar.com





Name

Katherine Behar




Books

E-Waste









Education

School of the Art Institute of Chicago, New York University, Hunter College, City University of New York




Known for

interactive art, installation art, performance art, public art, photography, video art




Notable work

''Disorientalism'', ''RSI''




Movement

new media art, feminist art movement
Gvu center brown bag seminar series katherine behar
Katherine Behar is a new media and performance artist based in Brooklyn, New York. Her work focuses on exploring contemporary digital culture through interactive installation, performance art, public art, photography, and video art. In addition to her acclaimed artwork, she writes on various topics including feminist media and technology. Behar is Assistant Professor of New Media at Baruch College, where she teaches courses in digital video, web design, digital photography, and animation.
Contents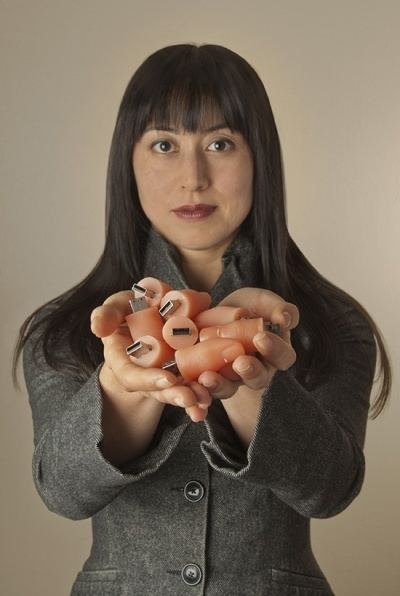 Education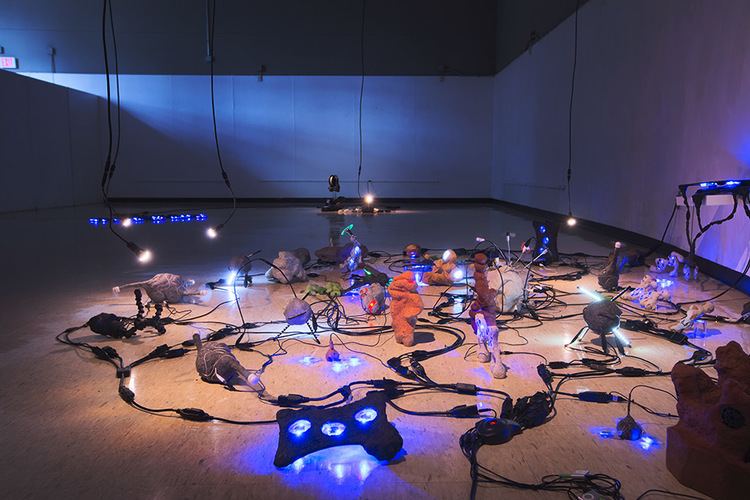 Behar earned her BFA from School of the Art Institute of Chicago in 2000. In 2006, she received an MA from New York University, and in 2009 earned her MFA from Hunter College, City University of New York.
High Hopes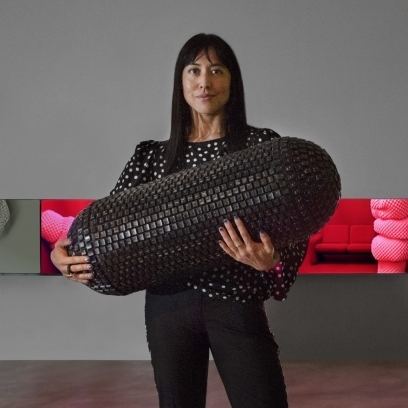 High Hopes (2014) is a storefront installation for The Brunswick Window in Jersey City, in which an unattended Roomba cleans a carpet with a rubber tree plant strapped to its back. The Roomba mirrors the "little old ant" in the song "High Hopes" by Frank Sinatra, trying against all odds to "move that rubber tree plant."
Street.s/wall.ing/in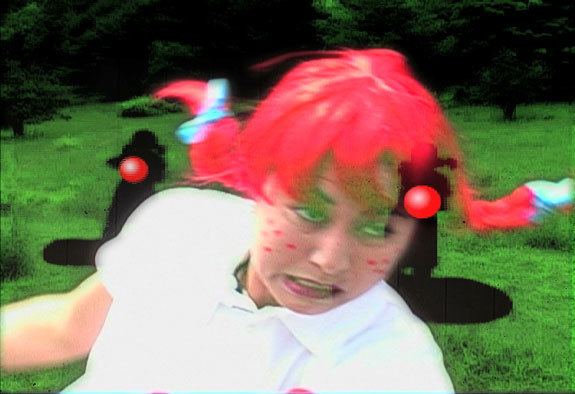 Street.s/wall.ing/in (2013) is a performance designed for the building at 32 Old Slip in Manhattan's Wall Street district. Orange shapes, inspired by Jersey barriers, contain dancers that travel around the building over a period of two and a half hours. The forms eventually reach a Jersey barrier lining the Northwest corner of the building, and convene in the barrier's furthermost nook.
Compositions for Bit
Compositions for Bit (2010) is Behar's farewell concert for Disney's original cult-classic Tron that took place at Judson Church in New York, NY. The interactive concert featured the polyhedron sidekick Bit as three larger than life sculptures--each holding a dancer, lasers, video mixes, original sound scores, and other components of arcade culture that were brought together as an immersive environment.
3G56k
3G56k (2009) is an interactive installation and BDSM-themed performance involving a twelve-foot touchscreen "iPhone" and a ten-foot tower computer. The iPhone requires a human "dialer" to input a number in order to call the dial-up modem inside the pink computer tower. Each call causes an analog thermal fax to slowly print out an image of the rubber hose connecting the two machines through an opening in the tower.
Building Blocks
Building Blocks (2008) is a public performance and video project made for the Camouflash exhibition, concerning the 2007 demolition of the Centrum Warenhaus in Dresden. Four dancers each inhabit a silver shape modeled after the Centrum Warenhaus' aluminum "honey-comb" facade. The pieces briefly meet at the building's original site and try to reassemble themselves, disperse, and roll away towards the exhibition site.
Primaries
Primaries (2008) is a color channel video installation of three circular projections, each seven and a half feet tall. The circles rotate while gaining and losing momentum equal to the sounds of the fans of the motors. The projections are saturated in red, yellow, and blue, each with footage of a distorted figure that is edited to counteract the "gravity" of the rotations.
(de)bugging Loop(de)Loop
(de)bugging Loop(de)Loop (2006) is the first installment of a series in which Behar performs computer bugs. The performance features repeated logical errors of computer viruses, preventing a computer program from running to completion. The DVD explores the infinite loop through five short video loops using a hula hoop and VHS video tape, each between 16 and 28 seconds.
Picnic Series
Picnic Series (2004) is a series of three outdoor performances in Chicago, each demonstrating a surreal relationship between the body and food, habitual normalcy, and the biological necessity of consumption, captivity, and compulsion. The first, Lunch Break, takes place in Daley Plaza and features two performers with bread surrounding their heads. Whilst dropping crumbs for pigeons, they eat their way out and offered bread to the audience. The second performance, Melon Brawl, took place at Oak Street Beach and involved a staged head-butting battle that cracked open the watermelons on their heads, which later were given to picnickers. The final, Meat Heads, was set up in Hyde Park and was performed for video. The performers gradually transformed themselves into giant meatballs by packing raw ground beef onto their heads.
Disorientalism
Disorientalism (2005–Present) is a multimedia performance art collaboration with artist and professor Marianne M. Kim. The group studies the disorienting effects of technologized labour, junk culture, and consumerism. Through performance, video, and photographic projects, they explores how these mediate race, gender, and bodies.
RSI
RSI (2009–Present), also known as "Resynplement," is an art and technology team that advocates for and designs irrational human-computer interfaces. The team consists of Silvia Ruzanka ("Research"), Katherine Behar ("Synthesis"), and Ben Change ("Implementation").
Exhibitions
Behar's artwork has appeared in galleries, festivals, and art spaces all over the globe. Some noted exhibitions include: Museum of Contemporary Art North Miami, Judson Church in New York; UNOACTU in Dresden; The Girls Club Collection in Miami; Feldman Gallery + Project Space in Portland; De Balie Centre for Culture and Politics in Amsterdam; the Mediations Biennale in Poznan; the Chicago Cultural Center; the Swiss Institute in Rome; the National Museum of Art in Cluj-Napoca;Pera Museum in Turkey
Writings
Katherine Behar's talents do not end with her creative work. She also writes and is published in many different journals and catalogues. Behar writes on subjects concerning the embodiment and technology, cyborgian ethics, emerging and obsolete technologies, and feminist media critique. Behar's writings have been published in Lateral, ''Media-N, Parsons Journal for Information Mapping, Visual Communication Quarterly, EXTENSIONS: The Online Journal for Embodied Technology, and in conference proceedings for Digital Arts and Culture, SPIE, Cyberworlds, and the catalogue, And Another Thing.
Behar writings about technology include:
In Search of Digital Feminisms, The Problem with Platforms, There's an app for that shirt!, Feminism and New Media Art: Hot or Not?, Avatar Impotence, Ambient Clumsiness, Command and Control: Cybernetics and BDSM, Capturing Glocality- Online Mapping Circa 2005: Mapping Glocalities, INimaging, Capturing Glocality- Online Mapping Circa 2005: Mapping Territories, LiveChatter: Impersonal Impersonation of Chatterbot Persona, Find and Replace: On the Aesthetic Programmablility of Media, Capturing Glocality: Online Mapping Circa 2005, Searching for the G/Local, Talk to the Machine!, Flash[dot]Flatness: Spatial Metaphors in Dot Syntax ActionScript in Macromedia Flash 5
Behar's artist statements and writings about her art include:
Matter Over Mind, On the Aesthetic Programmability of Media, Bodiliness
References
Katherine Behar Wikipedia
(Text) CC BY-SA