Country

India




Language spoken

Telugu




State

Andhra Pradesh



Kanigiri is a Census town in Prakasam district of Andhra Pradesh, India. As of 2011 Census, the total population of the town was 137,420. Kanigiri has been sanctioned as one of the two National Investment & Manufacturing Zone NIMZ in AP.
Contents
Map of Kanigiri
Kanigiri fort in trouble at parakasham district tv5 news
History
Kanigiri is of historic importance as capital city of the kingdom ruled by Katama Raju, with historical monuments in and around the hill near the town. These include the fort and a number of wells which can be reached only on foot.Historically the town was once called as Kanakapatnam. the whole forts of the king were located in a place called durgam.this durgam can only be reached by foot.But at present the route for this place was not clear so many people are not willing to reach it.
Geography and cliamte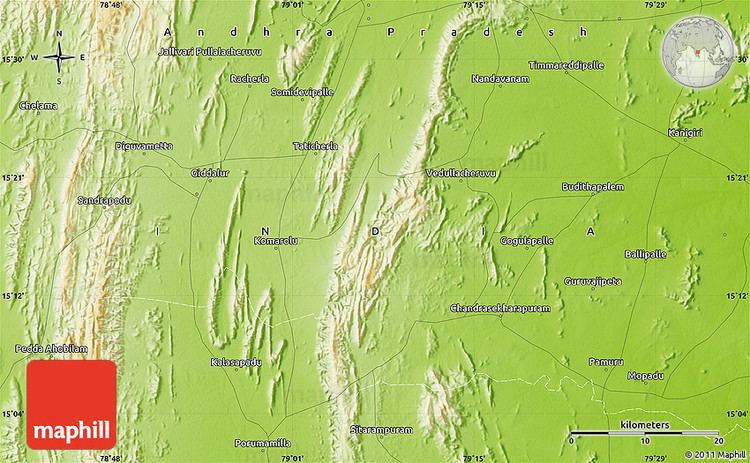 Kanigiri has a tropical climate, specifically a tropical wet and dry climate (Aw) under the Koppen climate classification, Kanigiri is located near the coast of the Bay of Bengal. The town is surrounded by the range of Eastern Ghats. It has an average elevation of 101 metres (334 feet), and enjoys a hot climate for most of the year.
References
Kanigiri Wikipedia
(Text) CC BY-SA
(,)http://i.ytimg.com/vi/JolkUv_gFbk/maxresdefault.jpg(,)http://www.thehindu.com/multimedia/dynamic/01876/05OG_HELICOPTOR_1876939g.jpg(,)http://i.ytimg.com/vi/J6e5eA5pOp4/hqdefault.jpg(,)http://abrcollege.com/wp-content/uploads/2014/07/Chariman.png(,)http://i.ytimg.com/vi/pgwMlcT1CEs/hqdefault.jpg(,)http://i.ytimg.com/vi/bfsbfJwC0KE/0.jpg(,)http://i.ytimg.com/vi/xoJFuCqSqPw/maxresdefault.jpg(,)http://mw2.google.com/mw-panoramio/photos/medium/25004801.jpg(,)http://i.ytimg.com/vi/wTK3e3D9ROs/0.jpg(,)http://i.ytimg.com/vi/saszQXWgUO0/0.jpg
(,)http://maps.maphill.com/atlas/15n15-79e05/maps/physical-map/physical-map-of-15n15-79e05.jpg(,)http://maps.maphill.com/atlas/15n15-79e05/3d-maps/physical-map/physical-3d-map-of-15n15-79e05.jpg(,)http://maps.maphill.com/atlas/15n15-79e05/location-maps/physical-map/physical-location-map-of-15n15-79e05.jpg(,)http://maps.maphill.com/atlas/15n15-79e05/maps/shaded-relief-map/shaded-relief-map-of-15n15-79e05.jpg(,)http://maps.maphill.com/atlas/15n15-79e05/3d-maps/shaded-relief-map/shaded-relief-3d-map-of-15n15-79e05.jpg(,)http://maps.maphill.com/atlas/15n15-79e05/location-maps/gray-map/gray-location-map-of-15n15-79e05.jpg(,)http://maps.maphill.com/atlas/15n15-79e05/panoramic-maps/shaded-relief-map/shaded-relief-panoramic-map-of-15n15-79e05.jpg(,)http://i.ytimg.com/vi/kY3yWVsk0Dw/0.jpg(,)http://mw2.google.com/mw-panoramio/photos/medium/106960665.jpg(,)http://i.ytimg.com/vi/nCX5_uhaAik/0.jpg(,)http://i.ytimg.com/vi/gBX9X9zbx74/0.jpg
(,)http://images4.mygola.com/a9c34600fa396efafb48611d393ae144_1394257972_l.jpg(,)https://c1.staticflickr.com/9/8334/8114833591_3d20d79f94_b.jpg(,)http://www.hoparoundindia.com/cityimages/andhra-pradesh/bigimages/Buchi-kanigiri%2520Reservoir-1.jpg(,)http://static-content.springer.com/lookinside/art%253A10.1007%252Fs12594-013-0059-x/000.png(,)http://static-content.springer.com/lookinside/art%253A10.2478%252Fs13533-012-0187-7/000.png(,)https://farm9.staticflickr.com/8044/8081466925_7acdb8dc09.jpg(,)http://img03.olx.in/images_olxin/55237141_3_1000x700_berasa-parla-turkey-desi-hen-egg-incubators-in-kanigiri-near-ongole-ap-_rev007.jpg(,)https://c1.staticflickr.com/3/2610/3950773940_a11555a95b_b.jpg(,)https://c1.staticflickr.com/9/8051/8081418430_61e6873b32_b.jpg(,)http://img03.olx.in/images_olxin/55237141_1_1000x700_berasa-parla-turkey-desi-hen-egg-incubators-in-kanigiri-near-ongole-ap-_rev007.jpg(,)https://c1.staticflickr.com/9/8332/8081468708_8030e53656.jpg(,)https://c1.staticflickr.com/9/8189/8081442092_5a45f2531c.jpg