Kamal Kumar Tanti (born 1982) is a contemporary Assamese poet. Kamal is a bilingual poet and writer, writes both in English and Assamese. He belongs to the Adivasi Tea-garden Labourer Community in Assam. His first collection of poetry Marangburu Amar Pita (Our Father Marangburu), published in 2007, won him the Sahitya Akademi Yuva Puraskar for 2012, and the Munin Barkotoki Literary Award for 2008.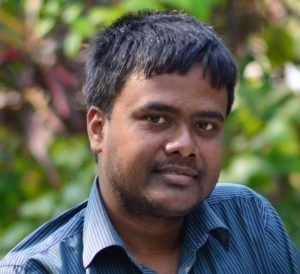 His poems have been included in various anthologies of Assamese and English poetry and featured in various journals in English and Assamese. Tanti's collection of prose in Assamese, 'Nimnaborgo Somaaj Oitijya' (Subaltern Society's Legacy) comprised articles on post-colonial theory and subaltern historiography, with specific reference to colonial history and culture of Assam and was published in September 2007. This book was selected as one of the "Ten Best Books" among all the Assamese books that has been published during the year 2007-08, by Grantha-Bandhab (Friends of Books), a well-known organization in Assam. He also writes fiction. His forthcoming collection of Assamese poetry is "Uttar-Ouponibeshik Kabita" (Postcolonial Poems).
Kamal has a PhD in Astronomy & Astrophysics, for which he worked at the Tata Institute of Fundamental Research, Mumbai and Gauhati University, Guwahati. Kamal worked for a leading Telematics company in Mumbai, and was a Modeling and Simulation Engineer with a software company in Pune. He was also closely associated with the "Design, calibration & testing of Ultra-Violet Imaging Telescope (UVIT)", onboard Astrosat, the first Indian Multi-wavelength satellite for astronomical observations, to be launched by Indian Space Research Organization (ISRO), in 2016. He is currently working as an Assistant Professor of Physics at University of Technology and Management, Meghalaya.