India




Assamese


232 km2


Assam




Udalguri



Kalaigaon (Assamese: , Hindi: , Kalaigaon) is a small town and Legislative Assembly Constituency in north-eastern India. It is situated in the Udalguri district of Assam state. The average altitude is 37 meters. The climate is humid and congenial, while the relative humidity is around 82%. The annual rainfall is around 2,000 mm.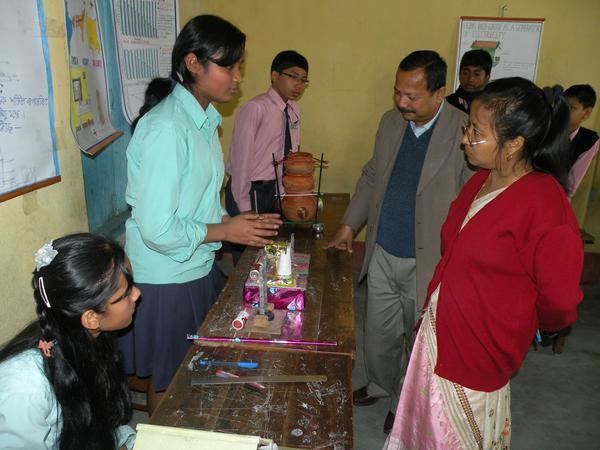 The earliest settlers were the various troops of the many kings of medieval Assam, mostly of Koch kingdom. After the British annexed Assam to the British Raj, the settlement came to the fore as a suitable place for administrating the nearby areas. The oldest government offices are the Police Station (established in 1882) at same place where it exists now, and the Post Office (established in 1886). Earlier the police station was responsible for a much larger area, from Mazbat in the east to Barnoi in the west. The police station limit is still vast with 120 villages.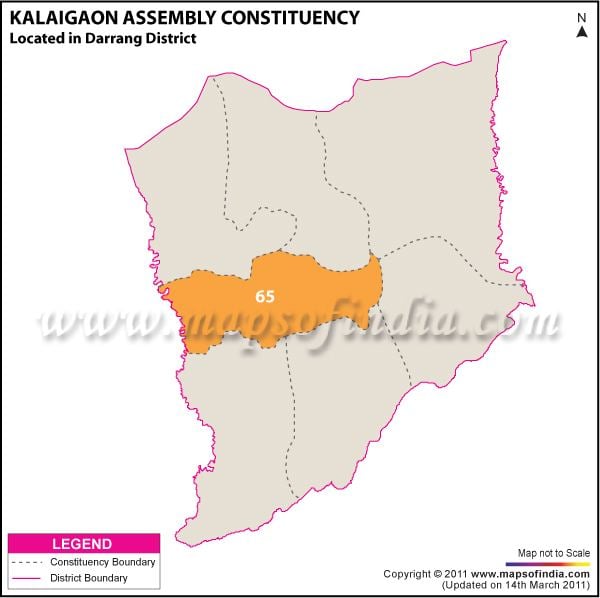 Till the 1960s Kalaigaon was well occupied by human settlements along with large number of wild animals roaming in the open. In 1961, when Acharya Vinoba Bhabe visited Assam, Kalaigaon was also a prominent place in his tour, among others.He stayed for a few days in Kalaigaon Sevashram along with other national leaders like late Bimala Prasad Chaliha (former CM, Assam), late Mahendra Mohan Choudhury (former governor of Punjab and CM of Assam).
Veteran Assamese freedom fighter Late Pani Ram Das is a prominent personality & social worker from this town. He has also been recognised as the first journalist from the erstwhile undivided Darrang. He had been the correspondent of The Assam Tribune since 1938, reporting from Mangaldai.
The economy of this place is heavily dependent on agriculture. Cultivation of rice is the primary agricultural activity, vegetables being a close second.
The population of this town is a mixture of various ethnic communities like the Bengali, Bamun, Bodo, Ganak, Kalita, Koch, Muslim, Rabha etc. A few Marowari and Christian families can also be found. In the recent years this town has seen a rapid increase in the population of illegal Bangladeshi and East Pakistani refugees. Although this place is generally peaceful, few cases of ethnic clashes are not unheard of. The population of this place is very culture and tradition sensitive. The population of the town organizes cultural rallies, meetings, exhibitions and other extravaganzas quite frequently. The yearly Raax festival of Western Assam, Bihu, Eid, Durga Puja etc. are held with gaiety.
Kalaigaon Wikipedia
(,)http://www.instablogs.com/wp-content/uploads/2012/07/asv-tang_Cdcp4_25581.jpg(,)http://www.mapsofindia.com/assemblypolls/assam/kalaigaon-assembly-constituency-map.jpg(,)http://www.instablogs.com/wp-content/uploads/2012/07/aryabhatta-udl_AOtUS_25581.jpg(,)http://static.panoramio.com/photos/medium/69005326.jpg(,)http://mw2.google.com/mw-panoramio/photos/medium/45366115.jpg
(,)http://i1274.photobucket.com/albums/y422/kkakati/Bonhabi_zps3a3f3126.jpg(,)http://www.unep.org/wed/2009/english/images/Goa_wed3.jpg(,)http://i1274.photobucket.com/albums/y422/kkakati/P7130015A_zpse4e85458.jpg(,)http://i1274.photobucket.com/albums/y422/kkakati/1560592_564692870289133_1627039558_n_zps320e225a.jpg
(,)https://cdn.timesofassam.com/wp-content/uploads/2011/02/JKD11001.jpg(,)http://www.assamtimes.org/sites/default/files/styles/750main/public/field/image/dscn6761_.jpg%3Fitok%3Ds3HQxt5u(,)http://www.assamtimes.org/sites/default/files/styles/750main/public/field/image/files/DSCN0115_383850481.jpg%3Fitok%3DMz_dBM6U(,)https://cdn.timesofassam.com/wp-content/uploads/2010/12/JKD002.jpg(,)http://images4.mygola.com/9ecceea544e0828be7d52db1c91b59d2_1359346133_l.jpg(,)http://images2.mygola.com/675560cc1f75de2e11080007da26cb22_1359346067_l.jpg(,)http://images2.mygola.com/76fe2439b8917bebda36fd275c10a4fd_1359346114_l.jpg(,)http://images4.mygola.com/243abff484f7b683348a3922e2124572_1359346091_l.jpg(,)http://static.panoramio.com/photos/large/65414903.jpg(,)http://www.assamtimes.org/sites/default/files/styles/750main/public/field/image/dscn3092.jpg%3Fitok%3D5rOIR9FV