Similar

Gyearbuor Asante, Geff Francis, Carmen Munroe, Norman Beaton, Robbie Gee
Justin Pickett is an actor best remembered for his role in the Channel 4 situation comedy Desmond's. For six seasons he played the role of Sean Ambrose, son of the barber in whose eponymous shop the comedy is set, situated in the heart of Peckham. Pickett appeared in an episode of the spin-off series Porkpie in 1995.
Contents
Desmond's creator Trix Worrell: 'Desmond's is a migrant story'
From 2005 to 2007, Pickett had the recurring role of Chez Williams in the ITV1 police drama The Bill.
Theatre credits include the role of Edward in Charles Smith's Sentence Deferred at the Rosemary Branch Theatre in 2000.
Since 2004 he has served as musical director for Afterglow blu, a company promoting live music events in the Greater London area. He has also played drums in a soul-jazz band. He then started working with children and now works in Shacklewell primary school teaching children music.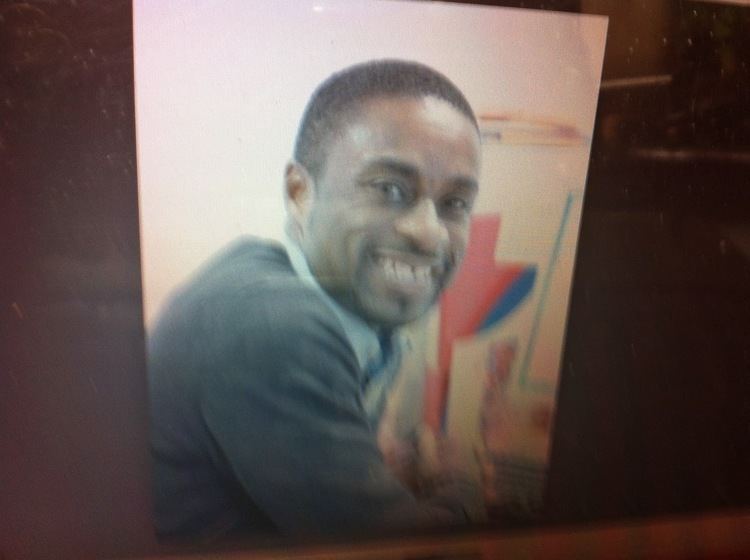 Filmography
Actor
1997
The Bill (TV Series)
as
Chez Williams / Tom Watson / Gordon Ellis
- 485: Dead Man's Hand - Part 2 (2007) - Chez Williams
- 476: A Week Fron Next Thursday (2007) - Chez Williams
- 452: The Long Arm of the Law (2006) - Chez Williams
- 423: Cut Your Losses (2006) - Chez Williams
- 422: One Man's Meat (2006) - Chez Williams
- 416: Desperation and Jealousy (2006) - Chez Williams
- 413: Up Against the Wall (2006) - Chez Williams
- 373: Torn (2005) - Chez Williams
- 318: Use of Protocol - Part 1 (2005) - Chez Williams
- 155: Haunted - Part 2 (2003) - Tom Watson
- A Bunch of Fives (1997) - Gordon Ellis
2004
Holby City (TV Series)
as
Robert Wilkie
- Wants and Needs (2004) - Robert Wilkie
2002
Doctors (TV Series)
as
Luke Hutchinson
- Bionic Man (2002) - Luke Hutchinson
2001
Waking the Dead (TV Series)
as
Trevor Wright
- Blind Beggar: Part 1 (2001) - Trevor Wright
2000
Dark Realm (TV Series)
as
Officer Reynolds
- Skin Deep (2000) - Officer Reynolds
2000
Burnside (TV Series)
as
Arnie
- Back with a Vengeance: Part 1 (2000) - Arnie
2000
Secrets & Lines (TV Movie)
as
Beamer
1999
The Vice (TV Series)
as
Richie
- Dabbling: Part 2 (1999) - Richie
- Dabbling: Part 1 (1999) - Richie
1998
Jump Boy (Short)
as
The Nigerian
1998
Faith in the Future (TV Series)
as
Guy
- Always on My Mind (1998) - Guy (as Justin E. Pickett)
1995
Porkpie (TV Series)
as
Sean
- Why Me ? (1995) - Sean
1989
Desmond's (TV Series)
as
Sean Ambrose
- O Little Town of Peckham (1994) - Sean Ambrose
- Sign of the Times (1994) - Sean Ambrose
- Heavy Traffic (1994) - Sean Ambrose
- The Speech (1994) - Sean Ambrose
- Planning Permission (1994) - Sean Ambrose
- Love Letters (1994) - Sean Ambrose
- Demon Barber II: Turbo (1994) - Sean Ambrose
- Georgetown Dreaming (1994) - Sean Ambrose
- Do Me a Favour (1994) - Sean Ambrose
- The Patter of Little Feet (1993) - Sean Ambrose
- A Matter of Life and Death (1993) - Sean Ambrose
- Shirley's Sermon (1993) - Sean Ambrose
- Kiss of the Spiderman (1993) - Sean Ambrose
- Fairytales (1993) - Sean Ambrose
- Halcyon Daze (1993) - Sean Ambrose
- My Two Sons (1992) - Sean Ambrose
- Susu Again (1992) - Sean Ambrose
- Too Red Eye (1992) - Sean Ambrose
- The Kid (1992) - Sean Ambrose
- Calypso (1992) - Sean Ambrose
- Lee's Journey (1992) - Sean Ambrose
- Growing Pains (1992) - Sean Ambrose
- All Things Bright (1992) - Sean Ambrose
- Roots Tradition (1992) - Sean Ambrose
- Too Young (1992) - Sean Ambrose
- The Prodigal (1992) - Sean Ambrose
- Dobbin (1992) - Sean Ambrose
- Driving Me Crazy (1991) - Sean Ambrose
- The Waiting Game (1991) - Sean Ambrose
- Vanity Merchants (1991) - Sean Ambrose
- Relative Strangers (1991) - Sean Ambrose
- Smokeless Fuming (1991) - Sean Ambrose
- A Day in the Life (1991) - Sean Ambrose
- The Peckham Pimpernel (1991) - Sean Ambrose
- Daydreams (1991) - Sean Ambrose
- The Head Hunter (1991) - Sean Ambrose
- Thirty Year Itch (1990) - Sean Ambrose
- Stop the World, I Want to Get Off (1990) - Sean Ambrose
- For Love or Money (1990) - Sean Ambrose
- Porkpies (1990) - Sean Ambrose
- Veronica (1990) - Sean Ambrose
- 'Old De Front Page Again (1990) - Sean Ambrose
- 'Old De Front Page (1990) - Sean Ambrose
- The Treatment (1990) - Sean Ambrose
- Sad News (1989) - Sean Ambrose
- A Surprise for Porkpie (1989) - Sean Ambrose
- Hello Aunty Susu (1989) - Sean Ambrose
- Expansion Plans (1989) - Sean Ambrose
- The Offer (1989) - Sean Ambrose
- French Lessons (1989) - Sean Ambrose
1989
Sob Sisters (TV Series)
as
Boy Scout
- She Wore the Dress, While I Stayed Home (1989) - Boy Scout
1987
Tickets for the Titanic (TV Series)
as
Clive
- Checkpoint Chiswick (1987) - Clive
Self
1994
Live & Kicking (TV Series)
as
Self
- Episode #2.14 (1994) - Self
1994
What's Up Doc? (TV Series)
as
Self
- Episode #3.9 (1994) - Self
1993
The Big Breakfast (TV Series)
as
Self
- Episode dated 26 March 1993 (1993) - Self
References
Justin Pickett Wikipedia
(Text) CC BY-SA