Native name

伊藤 潤二




Role

Manga artist




Name

Junji Ito




Notable work

TomieUzumakiGyo




Nationality

Japanese






Born

July 31, 1963 (age 52) (

1963-07-31

) Gifu Prefecture, Japan


Occupation

Writer, penciller, inker, manga artist


Movies

Tomie: Unlimited, Gyo: Tokyo Fish Attack, Tomie: Another Face, Kakashi, Marronnier


Books

Fragments of Horror, Uzumaki (3‑in‑1 - Deluxe E, Gyo 2‑in‑1 Deluxe Edition, Black Paradox, Junji Ito's Cat Diary: Yon & Mu


Similar People

Kazuo Umezu, Ataru Oikawa, Takayuki Hirao, Suehiro Maruo, Noboru Iguchi
Junji Ito (伊藤 潤二, Itō Junji, born July 31, 1963) is a Japanese horror manga artist. Some of his most notable works include Tomie, a series chronicling an immortal girl who drives her stricken admirers to madness, Uzumaki, a three-volume series about a town obsessed with spirals, and Gyo, a two-volume story where fish are controlled by a strain of sentient bacteria called "the death stench." His other works are Itou Junji Kyoufu Manga Collection, a collection of different short stories including a series of stories named Souchi's Journal of Delights, and Itou Junji No Neko Nikki: Yon and Mu, a light-hearted, but still terrifying, story about moving in a new house with his cats.
Contents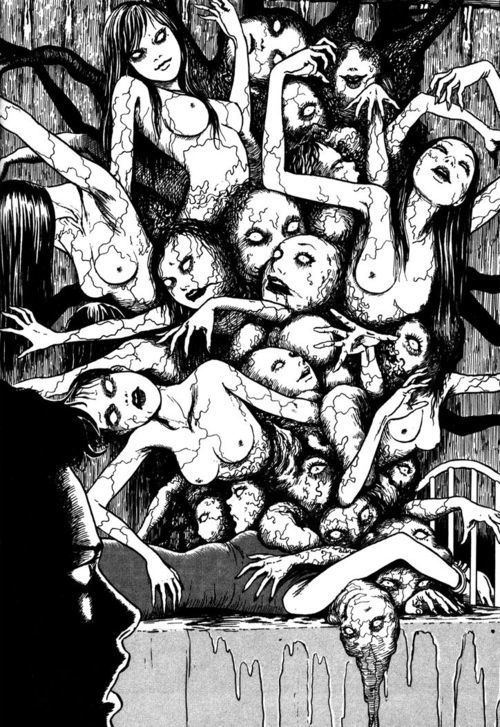 The Mole - Meeting Junji Ito
Biography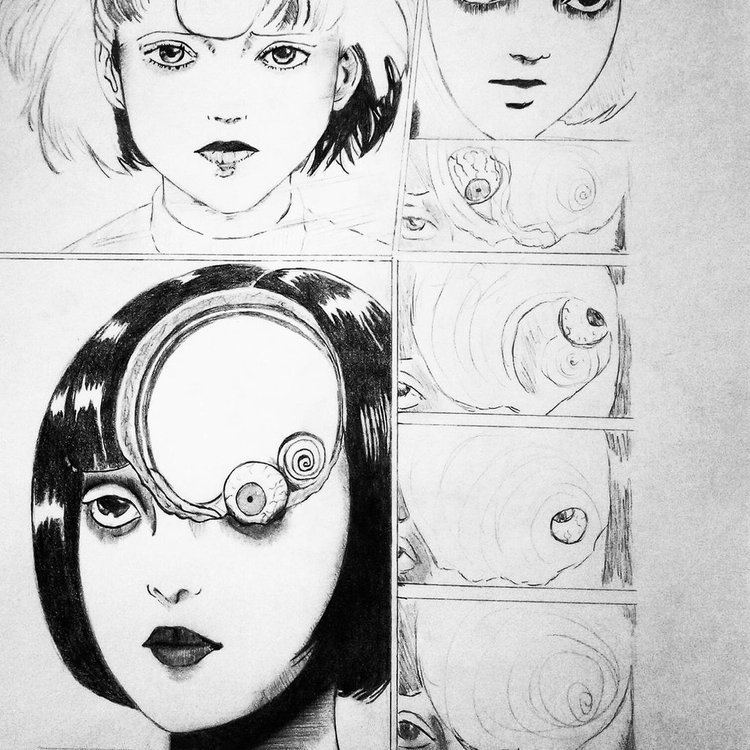 Junji Ito was born in the Gifu prefecture of Japan in 1963. He was inspired from a young age by both his older sister's drawings and the work of Kazuo Umezu. Ito first began writing and drawing manga as a hobby while working as a dental technician in the early 90's. In 1987, he submitted a short story to Gekkan Halloween that won an honorable mention in the Kazuo Umezu Prize (with Umezu himself as one of the judges).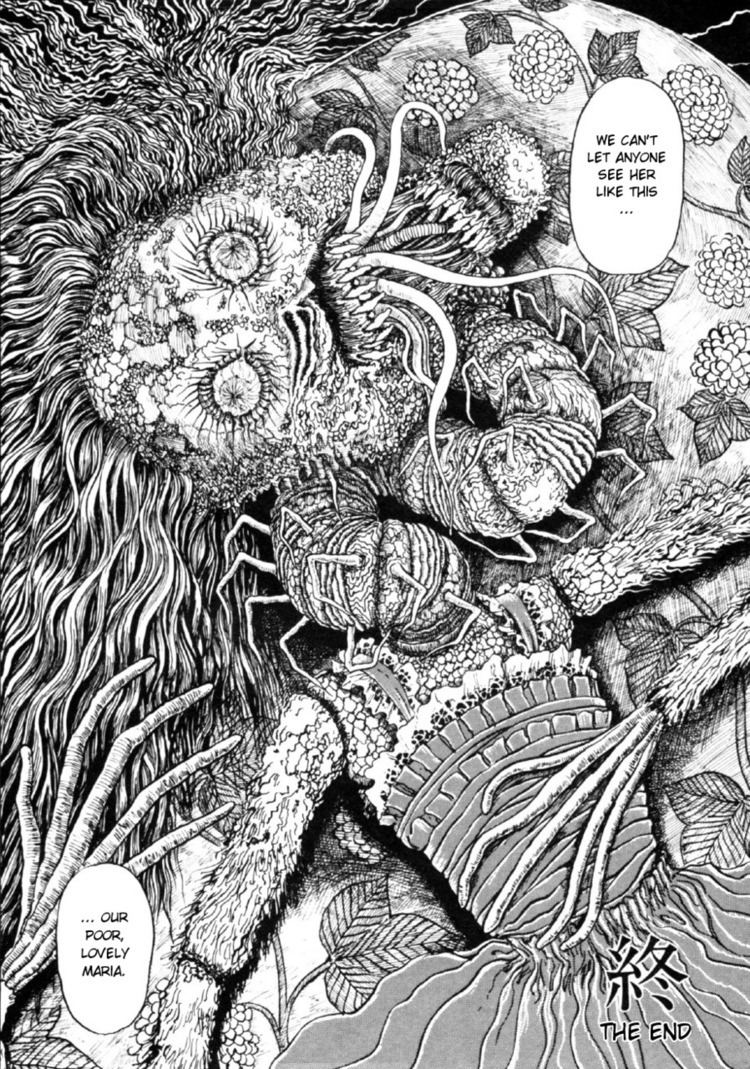 In addition to Kazuo Umezu, Ito has cited Hideshi Hino, Koga Shinsaku, Yasutaka Tsutsui, and H.P. Lovecraft as being major influences on his work.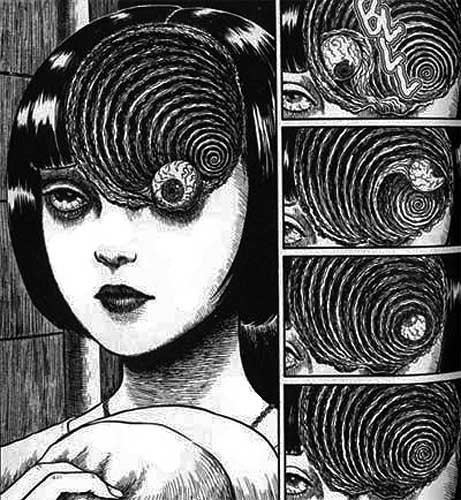 Some of the recurring themes of Ito's work include body horror, seemingly ordinary characters who begin to act out of irrational compulsion, the breakdown of society, deep sea organisms, and the inevitability of one's demise.
Ito's universe is also very cruel and capricious; his characters often find themselves victims of malevolent unnatural circumstances for no discernible reason or punished out of proportion for minor infractions against an unknown and incomprehensible natural order.
Film director Guillermo del Toro cited on his official Twitter account that Ito was originally a collaborator for the video game Silent Hills (of which both Del Toro and game designer Hideo Kojima were the main directors), however a year after its announcement the project was cancelled by Konami, the IP's owner.
Manga
The Junji Ito Horror Comic Collection (collects stories from Halloween, ComicsOne, English editions have flipped pages):
Volume 1 and 2: Tomie (

富江

) (does not include Tomie: Again, English: 2001, ISBN 978-1-58899-084-6 and ISBN 1-58899-085-0, respectively)
Volume 3: Flesh-Colored Horror (

肉色の怪

,

Nikuiro no Kai) (English: 2001, ISBN 1-58899-086-9)
Volume 4: The Face Burglar
(

顔泥棒

)
Volume 5: Souichi's Diary of Delights
(

双一の楽しい日記

,

Souichi no Tanoshi i Nikki)
Volume 6: Souichi's Diary of Curses
(

双一の呪い日記

)
Volume 7: Slug Girl
(

なめくじの少女

)
Volume 8: Blood-bubble Bushes
(

血玉樹

)
Volume 9: Hallucinations
(

首幻想

)
Volume 10: House of the Marionettes
(

あやつりの屋敷

)
Volume 11: The Town Without Streets
(

道のない街

)
Volume 12: The Bully
(

いじめっ娘

)
Volume 13: The Circus is Here
(

サーカスが来た

)
Volume 14: The Story of the Mysterious Tunnel
(

トンネルの奇譚

)
Volume 15: Lovesick Dead
(

死びとの恋わずらい

)
Volume 16: Frankenstein
(

フランケンシュタイン

)
Museum of Terror (

恐怖博物館

,

Kyōfu Hakubutsukan) (collects stories from Halloween in order of publication, Asahi Sonorama, first 3 volumes translated into English by Dark Horse Comics)
Volume 1 and 2: Tomie (

富江

) (Volume 2 includes Tomie: Again, Asahi Sonorama, 2002, ISBN 978-4-257-72159-8 and ISBN 978-4-257-72160-4, Dark Horse, 2006, ISBN 978-1-59307-542-2 and ISBN 978-1-59307-612-2, respectively)
Volume 3: The Long Hair in the Attic (

屋根裏の長い髪

,

Yaneura no nagai kami) (Asahi Sonorama, 2002, ISBN 978-4-257-72164-2, Dark Horse, 2006, ISBN 978-1-59307-639-9)
Volume 4: Kakashi (

案山子

) (Asahi Sonorama, 2002, ISBN 978-4-257-72169-7, 2007 ISBN 978-4-02-267008-3)
Volume 5: Rojiura (

路地裏

) (Asahi Sonorama, 2002, ISBN 978-4-257-72173-4)
Volume 6: Sōichi no katte na noroi (

双一の勝手な呪い

) (Asahi Sonorama, 2002, ISBN 978-4-257-72177-2)
Volume 7: Umeku haisuikan (

うめく配水管

) (Asahi Sonorama, 2002, ISBN 978-4-257-72179-6)
Volume 8: Shirosunamura chitan (

白砂村血譚

) (Asahi Sonorama, 2002, ISBN 978-4-257-72184-0)
Volume 9: Oshikiri idan (

押切異談&フランケンシュタイン

) (Asahi Sonorama, 2002, ISBN 978-4-257-72187-1)
Volume 10: Shibito no Koi Wazurai (

死びとの恋わずらい

) (Asahi Sonorama, 2003, ISBN 978-4-257-72191-8)
Uzumaki
(

うずまき

)
Gyo
(

ギョ

)
The Sad Tale of the Principal Post
(

大黒柱悲話

)
The Enigma of Amigara Fault
(

阿弥殻断層の怪

,

Amigara Dansō no Kai)
Cat Diary: Yon & Muu
(

猫日記 よん&むー

,

Neko Nikki Yon to Mū)
Black Paradox
(

ブラックパラドクス

,

Burakku Paradokusu)
Hellstar Remina
(

地獄星レミナ

)
Yami no Koe
(

闇の声

)
Shin Yami no Koe Kaidan
(

新・闇の声 潰談

)
Mimi no Kaidan
(

ミミの怪談

)
Yuukoku no Rasputin
(

憂国のラスプーチン

)
Dissolving Classroom
(

溶解教室

,

Yōkai Kyoushitsu)
Film
Tomie (

富夫

) (2011) (writer, director)
Adaptations
Tomie was adapted into a series of films, beginning in 1999. Several other works of Ito's have subsequently been adapted for film and television:
The Fearsome Melody – (戦慄の旋律 Senritsu no Senritsu), 1992
Tomie – (富江 Tomie), 1998
Tomie: Another Face – (富江:アナザフェイス Tomie: Anaza Feisu), 1999
Tomie: Replay – ( 富江:re-play Tomie: re-play), 2000
Uzumaki – (うずまき Uzumaki), 2000
Gravemarker Town – (墓標の町 Bohyou no Machi), 2000
The Face Burglar- (顔泥棒 Kao Dorobou), 2000
The Hanging Balloons – (首吊り気球 Kubitsuri no Kikyuu), 2000
Long Dream – (長い夢 Nagai Yume), 2000
Oshikiri – (押切 Oshikiri), 2000
Kakashi – (案山子 Kakashi), 2001
Lovesick Dead (also known as Love Ghost) – (死びとの恋わずらい Shibito no Koiwazurai), 2001
Tomie: Re-birth – (富江:Rebirth Tomie: Rebirth), 2001
Tomie: The Final Chapter – Forbidden Fruit – (富江 最終章 ?禁断の果実 Tomie: Saishuu-sh? – Kindan no Kajitsu), 2002
Marronnier – (マロニエ Marronnier), 2002
The Groaning Drain – (うめく排水管), 2004
Tomie: Beginning, 2005
Tomie: Revenge, 2005
Tomie vs Tomie, 2007
Tomie Unlimited, 2011
Gyo: Tokyo Fish Attack, 2012
References
Junji Ito Wikipedia
(Text) CC BY-SA