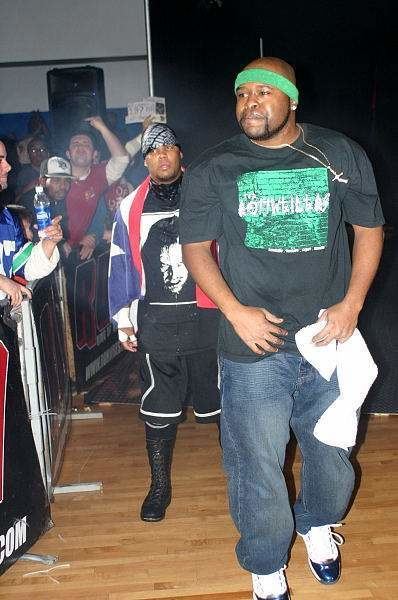 Smokes debuted in ROH in the fall of 2002 as a street thug supporting Homicide, a face at the time, during his feud with The Carnage Crew. He participated in the infamous riot at ROH's One Anniversary Show, an event that is believed to have been staged, despite extensive speculation to the contrary. He appeared in the crowd with other street thugs in the weeks before The Epic Encounter, his in-ring debut in a bunkhouse match fighting alongside Homicide, Dusty Rhodes, and other thugs against members of Steve Corino's Group. From then on, Smokes functioned as Homicide's cornerman, engaging in a feud with Low Ki over whether Smokes' street lifestyle "belonged in ROH" (ironically, Smokes would later manage Ki). Until Homicide's heel turn in the spring of 2004, Smokes was an entertaining obnoxious face at ringside, spouting such catchphrases as "Yeah yeah yeah!" "Oh yeah!" (said with a distinctive growl) and "BRRRRRRAT" (with the rolling R's), mimicking the sound of automatic gunfire. When Homicide turned heel, Smokes did as well, viciously insulting audience members at ringside, shouting more violent catchphrases, and freely interfering in matches.
In the fall and winter of 2003 in Ring of Honor, Smokes assembled a face stable called The Rottweilers. Its original members were Homicide, Grim Reefer, Slugger, and Benny Blanco. Other than Homicide, who was already a well-established star with the company, no one from this first incarnation of the Rottweilers really caught on with fans, and the stable was quietly depushed. When the Havana Pitbulls debuted in ROH in the spring of 2004, they joined forces with Homicide and Smokes, now heels, and reformed the Rottweilers. They were soon joined by Low Ki. This version of the Rottweilers, heels until the winter of 2006 when Homicide turned, lasted until when Homicide was made exclusive property of TNA in 2007. At that point, Smokes was removed from the scene and was set to be repackaged and re-debut at a later date.
On Saturday, August 25, 2007 at New York City's Manhattan Center, Jack Evans introduced Julius Smokes as the "trainer" of his newly formed "Vulture Squad", Evans' stable to counter Roderick Strong's No Remorse Corps and Austin Aries' Resilience. CZW's Ruckus was then revealed as the second member of the new faction, with a third member to be revealed at a later date. The third member of the faction, as was revealed on the Ring of Honor homepage, is the Chikara wrestler Jigsaw. In late December, Evans revealed another member of the group, returning Shimmer talent Mercedes Martinez.
Smokes was seen in an ROH video wire walking the streets of New York and stating that he was looking for wrestlers to manage. Smokes did not make an appearance in ROH until Final Battle 2009 on December 19, 2009, where he worked as a guest referee.
Smokes once again returned to ROH the following year at Final Battle 2010 on December 18, 2010, managing former Rottweiler Homicide who defeated ROH World Television Champion Christopher Daniels in a non-title match at the event.
Smokes currently acts as a manager in VALKYRIE Women's Professional Wrestling for "The Baddest Woman on the Planet" Bonesaw Jessie Brooks.
Wrestlers managed by Julius Smokes
Homicide
Low Ki
Ricky Reyes
Rocky Romero
Bonesaw Jessie Brooks
The S.A.T.
Slugger
Grim Reefer
Benny Blanco
Bison
Jack Evans
Ruckus
Jigsaw
Mercedes Martinez
Nicknames
"Devil's Son-in-Law"
"J-Train"