Nationality

American




Net worth

3.4 billion USD (2015)




Role

Investor





Name

Julian Robertson




Occupation

Hedge fund manager






Full Name

Julian Hart Robertson, Jr.




Born

June 25, 1932 (age 83) (

1932-06-25

)

Salisbury, North Carolina, US




Alma mater

University of North Carolina at Chapel Hill




Spouse(s)

Josephine Tucker Robertson (m. 1972; her death 2010)




Children

Spencer Robertson, Jay Robertson, Alex Robertson




Education

University of North Carolina at Chapel Hill, Episcopal High School




Residence

Locust Valley, Town of Oyster Bay, New York, United States, Sun Valley, Idaho, United States, Southampton, 59th Street, New York City, New York, United States, New Zealand




Organizations founded

Tiger Management



20081013 julian robertson calls poor economy for 10 15 yrs
Julian Hart Robertson Jr. KNZM (born June 25, 1932) is an American investor, hedge fund manager, and philanthropist. Now retired, Robertson invests directly in other hedge funds, most run by former employees of Robertson's defunct hedge fund company.
Contents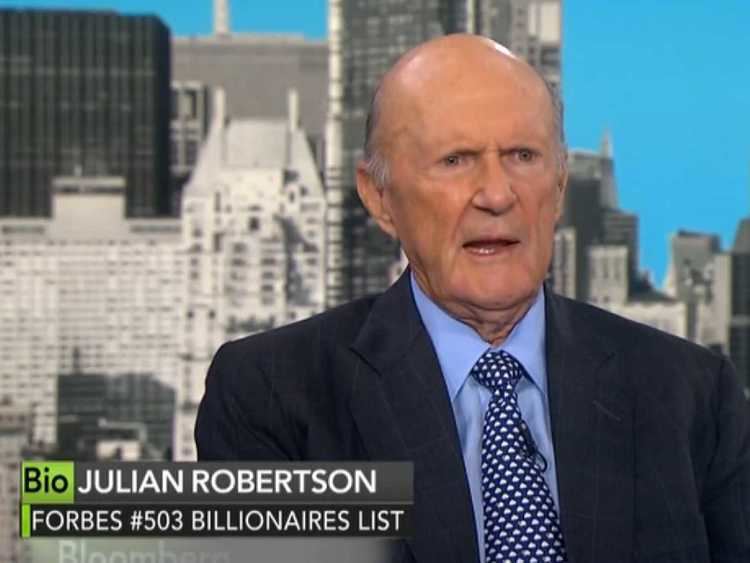 Robertson was born in Salisbury, North Carolina. He founded the investment firm Tiger Management Corp., one of the earliest hedge funds. Robertson is credited with turning $8 million in start-up capital in 1980 into over $22 billion in the late 1990s, though that was followed by a fast downward spiral of investor withdrawals that ended with the fund closing in 2000.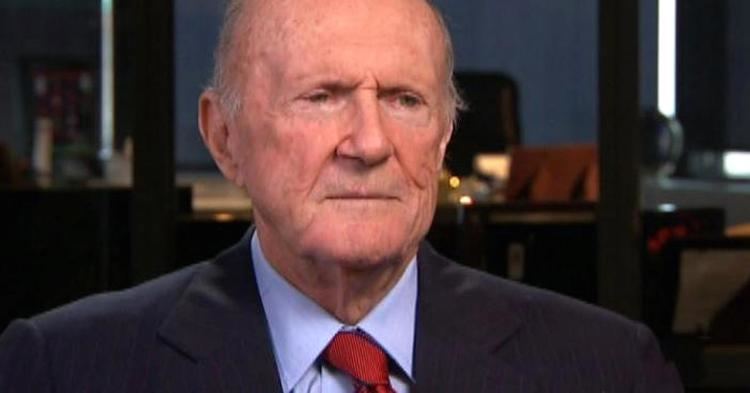 In 1993, his compensation and share of Tiger's gain exceeded $300 million. His 2003 estimated net worth was over $400 million, and in May 2015 it was estimated by Forbes at $3.4 billion. Robertson said in 2008 that he shorted subprime securities and made money through credit default swaps. The following year, according to Forbes, Robertson's return on his $200 million personal trading account was 150 percent.
Julian robertson cnbc fri oct 19 2007
Early life and education
Robertson is the son of Julian Hart Robertson Sr., a textile company executive, and the former Blanche Spencer. He graduated from Episcopal High School in 1951 and the University of North Carolina at Chapel Hill in 1955. While at Chapel Hill, he was admitted to Zeta Psi fraternity. He then served as an officer in the U.S. Navy until 1957.
After leaving the Navy, Robertson moved to New York City and worked for a time as a stockbroker for Kidder, Peabody & Co. At Kidder, he eventually headed the firm's asset management division (Webster Securities) before departing to move with his family to New Zealand for a year to write a novel. On his return, in 1980 Robertson launched Tiger Management with initial investments from friends and family.
Investment career
On April 1, 1996, BusinessWeek carried a cover story written by reporter Gary Weiss, called "Fall of the Wizard", that was critical of Robertson's performance and behavior as founder and manager of Tiger Management. Robertson subsequently sued Weiss and BusinessWeek for $1 billion for defamation. The suit was settled with no money changing hands and BusinessWeek standing by the substance of its reporting.
The Tiger funds reached a peak of $22 billion in assets in 1998. Robertson's Tiger Fund accurately predicted the Tech Bubble, purposely underweighting the sector due to the overpricing of technology securities in comparison to their earnings and earning potential. So, though Tiger underperformed the S&P 500 in the short term, the fund accurately predicted the underlying flaw in the market. "The proportion invested into technology stocks by Tiger Management, for example, a well-known value-manager, is low. In 1999 Tiger eliminated virtually all investments in this segment. This is consistent with the widely reported refusal of Julian Robertson, manager of the Tiger Fund, to buy into the internet bubble."
Tiger's largest equity holding at that time was U.S. Airways, whose troubles dragged down the value of his holdings. Such missteps ultimately led him to close his investment company in March 2000 and return all outside capital to investors. Tiger earlier made $2 billion in gains but then gave most of them back during a huge one-day move in the yen in 1998. In September 2001, Robertson distributed 24.8 million greatly devalued U.S. Airways shares to former Tiger investors. Robertson declared his intent to hold onto his own stock in the airline.
After Tiger
After closing his fund in 2000, Robertson kept his hand in the hedge fund business by supporting and financing upcoming hedge fund managers (38 in total as of September 2009), in return for a stake in their fund management companies. Apart from those, many of the analysts and managers Robertson employed and mentored at Tiger Management, including Chris Shumway, Lee Ainslie and Ole Andreas Halvorsen went out on their own and are now running some of the best-known hedge fund firms, called "Tiger Cubs". These include funds such as Viking Global Investors, Tiger Legatus, Blue Ridge Capital, JAT Capital Management, Tiger Global, Maverick Capital, Coatue Management, Nehal Chopra's Tiger Ratan Capital Fund NA among others.
Robertson serves on a number of organization and university boards. He is the founder and benefactor of the Robertson Scholars Program which awards a merit scholarship that provides four-year full-tuition, room and board, and travel funding for 36 Duke University and University of North Carolina at Chapel Hill students each year. In August 2010 it was announced that he had joined an initiative by software mogul Bill Gates and investor Warren Buffett in which the wealthy would pledge at least half their assets to charity.
He also is active as an investor and developer in New Zealand, where he spends some of his time. His family owns three lodges: Kauri Cliffs Lodge near Kerikeri in Northland; Matakauri Lodge Queenstown; and The Farm at Cape Kidnappers, Hawkes Bay, as well as several wineries. Robertson was made an Honorary Knight Companion of the New Zealand Order of Merit for services to business and philanthropy in the 2010 New Year Honours.
In May 2010 the New York Stem Cell Foundation, a private research institution, announced that it had received a $27 million gift from Robertson and his wife Josie to fund its research. Josephine Tucker Robertson, wife of Julian Robertson, died 8 June 2010 after a long fight against breast cancer.
In January 2012 Robertson gave $1,250,000 in funding to Restore Our Future, a Super PAC supporting Mitt Romney's presidential campaign. In 2015, Robertson gave $1 million to a Super PAC supporting Jeb Bush's presidential candidacy. In April 2016, Robertson gave $25M to Success Academy Charter Schools in New York.
Legacy and awards
In 2008, he was inducted into Institutional Investors Alpha's Hedge Fund Manager Hall of Fame along with David Swensen, Louis Bacon, Steven Cohen, Kenneth Griffin, Paul Tudor Jones, George Soros, Michael Steinhardt, Jack Nash, James Simons, Alfred Jones, Leon Levy, Seth Klarman, and Bruce Kovner.
References
Julian Robertson Wikipedia
(Text) CC BY-SA