Born

January 28, 1861 (age 83)

Known for

Composer of the National Anthem of the Philippines

Similar People

Jose Palma, Julio Nakpil, Nicanor Abelardo, Levi Celerio, Ernani Cuenco

Died

October 2, 1944 (aged 83)

Manila

, Philippines
Julián Felipe (January 28, 1861 – October 2, 1944), was the composer of the music of the Philippine national anthem, formerly known as "Marcha Nacional Magdalo", now known as Lupang Hinirang.
Contents
JULIAN FELIPE ang Dakilang Kompositor
Early life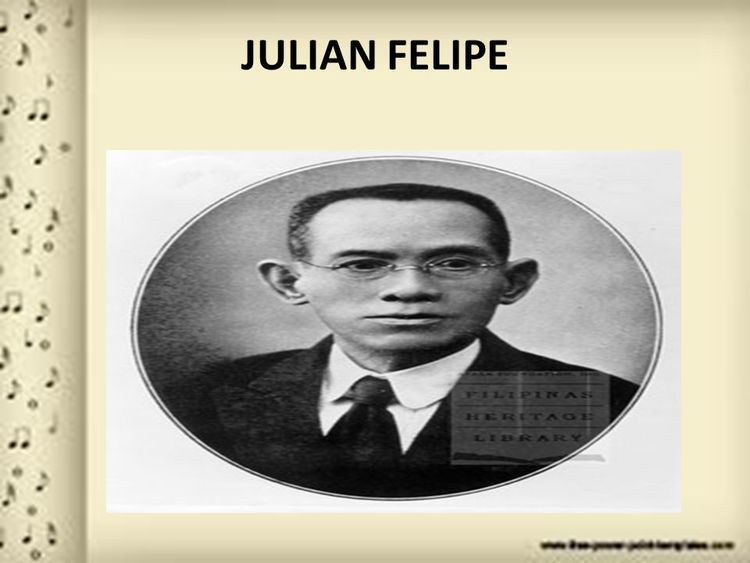 Julián Felipe was born in Cavite City. A dedicated music teacher and composer, he was appointed by then-President Emilio Aguinaldo as Director of the National Band of the First Philippine Republic. He died in Manila.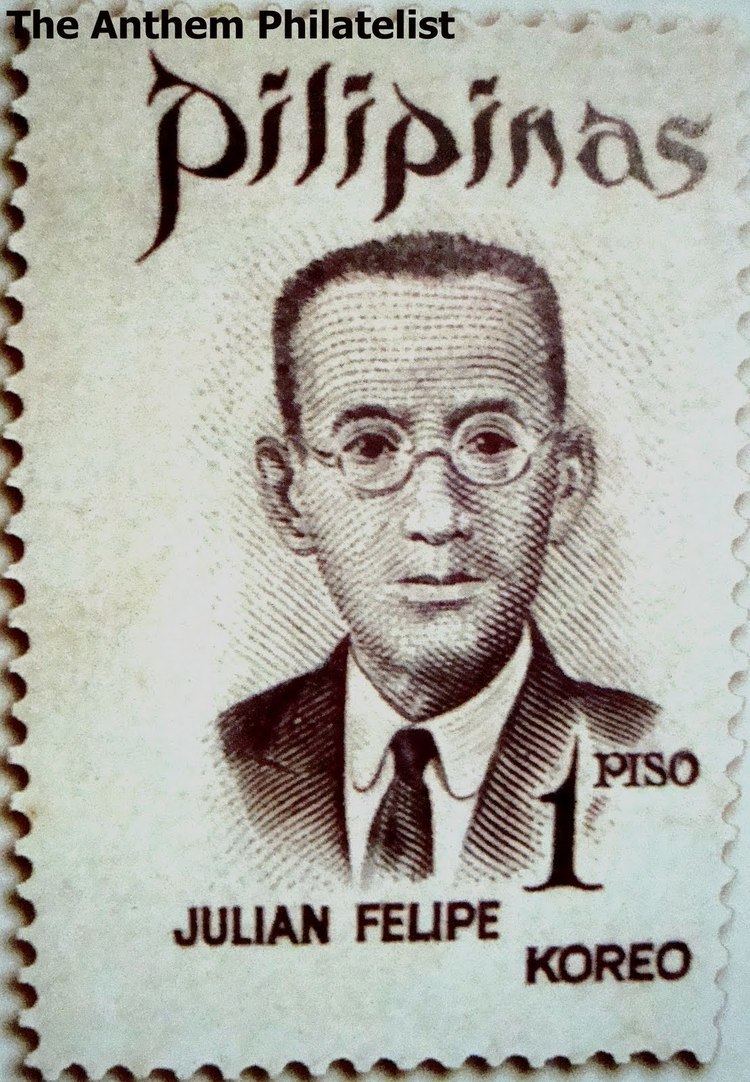 He studied at a public school in Cavite and Binondo, Manila for his primary education. At an early age, he showed his talent in music. He also learned how to play the piano and the organ. Later, He became an organist in St. Peter's Parish Church. As an organist, Felipe was given the chance to hone his gift. Soon after he was composing songs.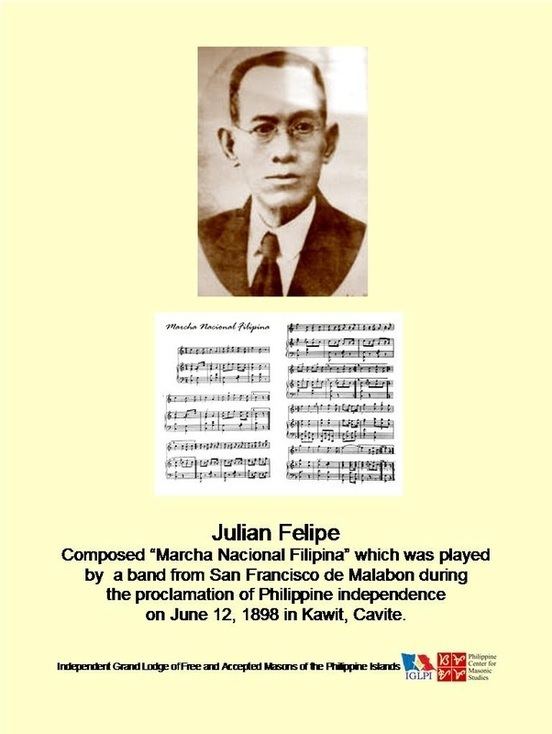 Among his early popular compositions were Moteti el Santesisimo, Sintos y Floras Rogodones, Amorita Danza, and Reina de Cavite (In honor of Nuestra Señora de la Soledad de Porta Vaga). He impressed many music enthusiasts with the said pieces. Though still young, his works were already at par with the seasoned musicians.
In recognition of his remarkable contributions in the field of music, he was given awards and accolades.
Involvement in the Philippine Revolution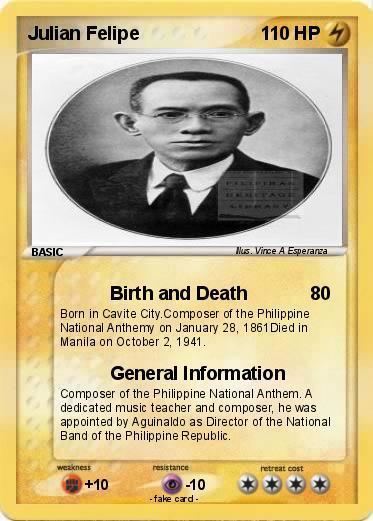 When the revolution broke out, Felipe joined his fellow Cavitenos who fought against the Spaniards. He was arrested and jailed at Fort San Felipe in Cavite.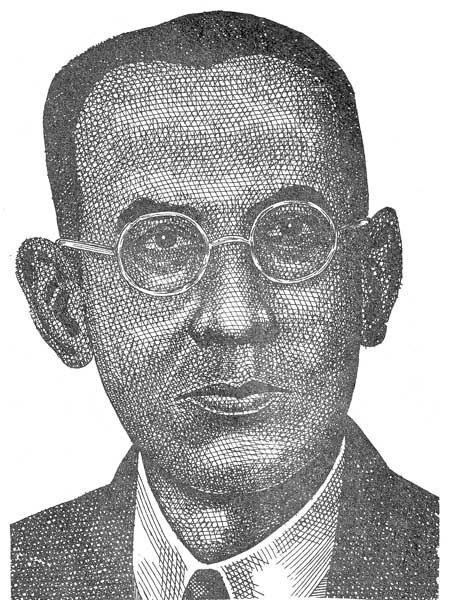 When freed, he again joined Emilio Aguinaldo's troop. He composed nationalistic songs that inspired his compatriots to continue fighting against the Spaniards. A bust of Felipe can be found in Cavite City, located near San Sebastian College – Recoletos de Cavite.
National Anthem
Aguinaldo asked him to provide a stirring composition to be played in the historic proclamation of Philippine independence. His composition 'Marcha Nacional Filipina', played on June 12, 1898 in Aguinaldo's home in Kawit, was adopted as the Philippine national anthem on September 5, 1938.
Later life
Julián Felipe and his wife Irene Tapia had four daughters and a son. He died on October 2, 1944, at age of 83.
1. Soledad FELIPE [married Gregorio GIRON and had 8 children] 1a. Adela Felipe GIRON [married Juan NAVARRO Sr. and had 8 children] 1a.1. - Carolina Giron NAVARRO 1a.2. - Angeles Giron NAVARRO 1a.3.- Juan Giron NAVARRO Jr. [married Nilda ALCANTARA and had 4 children] 1a.3a - Josephine Alcantara NAVARRO [married Jeremias PONTAOE and had 4 children] 1a.3a.1 - Patrick Navarro PONTAOE 1a.3a.2 - Dharell Navarro PONTAOE 1a.3a.3 - Yashmin Navarro PONTAOE 1a.3a.4 - Kathryn Navarro PONTAOE 1a.3b - Marissa Alcantara NAVARRO [married Alejandro DELA CRUZ Jr. and had 2 children] 1a.3b.1 - Karen Hannah Navarro DELA CRUZ [married Robert BELL and had 2 children] 1a.3b.1a - A'lessia Nyannah-Tajanaé Dela Cruz BELL 1a.3b.1b - Nyarrah LaVeah Dela Cruz BELL 1a.3b.2 - Alessah Navarro DELA CRUZ 1a.3c - Ma. Cristina Alcantara NAVARRO [married Genovivo ATAY Jr. and had 2 children] 1a.3c.1 - Byron John Navarro ATAY 1a.3c.2 - Christine Mae Navarro ATAY 1a.3d - Mary Ann Alcantara NAVARRO [married Robert SIEBENLAER] 1a.4. - Aida Giron NAVARRO 1a.4a - Ma. Cecilia NAVARRO 1a.5. - Emma Giron NAVARRO [married Mangiguin MAGOMNANG and had 4 children] 1a.5a - Faroukh Navarro MAGOMNANG 1a.5b - Farrah Navarro MAGOMNANG 1a.5c - Faisal Navarro MAGOMNANG [married Marjorie ABUBACAR and had 3 children] 1a.5c.1 Ameerah Abubacar MAGOMNANG 1a.5c.2 Mohd. Faisal Abubacar MAGOMNANG 1a.5c.3 Haadia Abubacar MAGOMNANG 1a.5d - Faridah Navarro MAGOMNANG [married Jonathan PANGCATAN and had 3 children] 1a.5d.1 Hesham Magomnang PANGCATAN 1a.5d.2 Sittie Hanna Magomnang PANGCATAN 1a.5d.2 Hamza Magomnang PANGCATAN 1a.6.- Octavio Giron NAVARRO 1a.6a - Christian NAVARRO 1a.7. - Raul Giron NAVARRO 1a.8. - Olga Giron NAVARRO [married Getulio CIMENI and had 4 children] 1a.8a - Carlo Navarro CIMENI 1a.8a.1 - Carlo II B. CIMENI 1a.8b - Carol Navarro CIMENI [married and had 2 children] 1a.8b.1- Matthew Owen Cimeni DEQUINA 1a.8b.2- Seth Daniel Cimeni DEQUINA 1a.8c - Craig Navarro CIMENI 1a.8d - Chris Navarro CIMENI 1b. Rosa Felipe GIRON, b. 12 Sep 1910, d. 10 Sep 1966. [married Ramon Navarro and had 6 children] 1b.1. - Elvira Giron NAVARRO [married Bienvenido NICANOR] 1b.2. - Norma Giron NAVARRO [married Ramon V. ROBLES and had 2 children] 1b.2a. - Rey Navarro ROBLES [married Carolina M. MANILAY and had 1 child] 1b.2a.1 - Ryan James M. ROBLES 1b.2b - Rene Navarro ROBLES [married Wilrose GALANO-TAN and had 3 children] 1b.2b.1 - Adrian ROBLES 1b.2b.2 - Bryce ROBLES 1b.2b.3 - Cecilia ROBLES 1b.3. - Ramon Giron NAVARRO [married Eva MANALO and had 3 children] 1b.3a. - Monica Manalo NAVARRO [married Paul KRAUSE and had 3 children] 1b.3b. - Raymond Manalo NAVARRO 1b.3c. - Ronald Manalo NAVARRO 1b.4. - Nora Giron NAVARRO [married Jesus ESTEBAN and had 3 children] 1b.4a. - Jesus Navarro ESTEBAN 1b.4b. - Norman Navarro ESTEBAN 1b.4c. - Jessica Navarro ESTEBAN 1b.5. - Myrna Giron NAVARRO [married Wilfredo CARRACEDO and had 2 children] 1b.5a. - Christina Navarro CARRACEDO 1b.5b. - Myra Navarro CARRACEDO 1b.6. - Ruby Giron NAVARRO [married Norman REYES and had 2 children] 1b.6a. - Richard Navarro REYES 1b.6b. - Michael Danial NAvarro REYES 1c. Mercedes Felipe GIRON. (married Robert James Thomson) b. 14 Jun 1917 d. 25 Dec 1983 and had 1 child. 1d. Soledad Felipe GIRON. 1e. Jose Noli Felipe GIRON [married Florencia PIRAMIDE, b. 10 Apr 1930, d. and had 6 children] 1e.1 - Henry Piramide GIRON 1e.2 - Susan Piramide GIRON 1e.3 - Sylvia Piramide GIRON, b. 31 Dec 1950 [married Douglas C. BLACK, b. 6 Jan 1951, and had 4 children] 1e.3a - Elaine Grace Giron BLACK, b. 28 Oct 1974 1e.3b - Lesley Anne Giron BLACK, b. 13 Feb 1978 1e.3c - Christine Marie Giron BLACK, b. 7 May 1984 [married Adrian Albert BISQUERA, b. 6 Apr 1983, and had 3 children] 1e.3c.1 - Angelo Black Bisquera, b. 6 Jun 2006 1e.3c.2 - Chriselle Ariana Black Bisquera, b. 8 Feb 2008 1e.3c.3 - Averey Black Bisquera, b. 5 July 2013 1e.3d - Kimberly Giron BLACK, b. 24 Jan 1987 1e.4 - Marco Piramide GIRON 1e.5 - Nolita Piramide GIRON 1e.6 - Rex Piramide GIRON 1f. Antonio Felipe GIRON, b. 04 Jun 1924, d. 23 May 1994. 1g.Ramiro Felipe GIRON. 1h.Remedios Felipe GIRON. 2. Aurora FELIPE, d. date unknown. 3. Irene Tapia FELIPE, d. date unknown. 4. Agapito FELIPE, d. date unknown.
In popular culture
Portrayed by Lou Veloso in the 2012 film, El Presidente.
References
Julián Felipe Wikipedia
(Text) CC BY-SA