When Kajal (Sridevi) marries Raaj (Anil Kapoor), an Engineer by profession, she and her dad (Kader Khan), automatically assume that he is rich, wealthy, and corrupt. Her father is very happy that his daughter does not have any in-laws, and that she'll get to rule the roost in her new house. But that is not the case. Raaj does not have an air-conditioner, a car, not even a refrigerator. This infuriates Kajal, and in her mind she creates a separate world, where she is rich, wealthy, has several cars, and lives lavishly in a big bungalow. Even the birth of two children (a young son and a little daughter) and several years of marriage do not change Kajal. An example of this occurs when Kajal meets her old friend Nisha (Poonam Dhillon) who Kajal feeds a pack of lies such that her husband is a business magnate, her family own several cars, live in a big bungalow etc. Nisha who is more wealthy than Kajal then offers to give her a lift home, only for Kajal to have to lie about the directions to her home according to the story she has fabricated. Kajal is, however, exposed when the bungalow she points out as her own turns out to be Nisha's. Nisha explains to Kajal that no matter how much and how little you have, your own house is your own home and that fabricating such stories only adds insult to her husband, family and home. When Jahnvi (Urmila Matondkar) Raaj's boss Sahni's (Saeed Jaffrey) niece comes from overseas, she meets Raj at the airport and assumes he is the driver. After she behaves rudely with him, he sends her home alone, not caring about what his boss would say about that. Jahnvi reaches the office well in time and praises Raj's attitude, but when she learns that he's an engineer working for her uncle's construction company, she apologises to him. Sahni uncle introduces her to Vikram Khanna, a handsome young guy, who is his business partner. Vikram observes Jahnvi and likes the young, naturally vivacious girl very much. He almost dreams of marrying her. They both become friends. One day, Vikram and Jahnvi go to sight seeing Jahnvi's guest house, at the new property location. Sahni gets worried as the weather is going from bad to worse but both have not returned till evening. At the other side, as Raj leaves the office to go for the farmhouse, Vikram asks Jahnvi for marriage casually. But Jahnvi says that she doesn't find him special enough to be her choice and rejects his advances. Vikram then tries to get physical with her forcefully but Jahnvi slaps him. Angered by the slap, Vikram throws her on the bed and forcibly tries to get intimate with her. But Raj arrives in the nick of time and saves Jahnvi. Vikram threatens him with the loss of his job but he doesn't care. Jahnvi remembers how earlier Raj had rejected a job and an apartment offer from a rival company due to Mr. Sahni's help. She starts liking Raj since the moment and falls in love with him. When she learns that he is a married man whose wife she helped in the electronics store for buying a large music player, she is adamant on getting married to Raj by hook or by crook. After meeting the greedy Kajal inside the city Ganesh temple, Janhvi offers two crore rupees in exchange for marriage to Raaj. And Kajal, seeing this as her opportunity to gain wealth and an easy life, accepts her proposal not knowing that she is making a big mistake and this decision will change her life forever. Kajal forces Raaj into the agreement & gets a reluctant Raaj & Janhvi married and divorces Raaj herself, to comply with the Hindu Marriage Act; thinking that she and Janhvi will happily live together and share Raaj.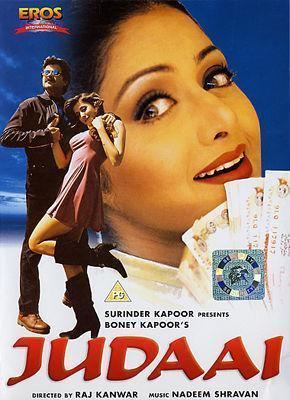 She then uses the money she got in the bargain to buy a huge mansion & cars. Ironically, the bungalow she buys ends up being the bungalow that she pointed out as her own in front of her old friend Nisha. Nisha briefly returns to her old home to collect a picture of her husband left behind. Kajal then proceeds to taunt her that she has fulfilled her dreams whereas Nisha's dreams are now shattered having lost everything. Nisha reminds Kajal that she sold her house and possessions to pay for the treatment of her ill husband, whereas Kajal has sold her husband for riches; and that to some extent, Kajal is still all the more poorer for that. Kajal moulds herself like the page 3 socialites & this leads to Kajal neglecting her family. Raaj initially feels rejected by Kajal and does not get close to Janhvi, feeling objectified at the thought of being sold and bought between his two wives. But further on, the children & Raj find companionship with Janhvi who showers them with love and affection. She changes herself and becomes a typical middle class type Indian housewife. She gets up early, does pooja and then cooks tasty food for her family. She does not mind tiring herself all day learning new dishes and rituals as she finds solace in this quiet, peaceful life. She even travels happily in crowded buses and autos so as to make Raaj and the kids feel secure and happy around her. She abandons all the luxury and comforts she grew up using all her life. The children call Janhvi 'Maa', something that Kajal would previously reprimand her children for calling her; insisting that they call her 'Mummy' as this sounded high society.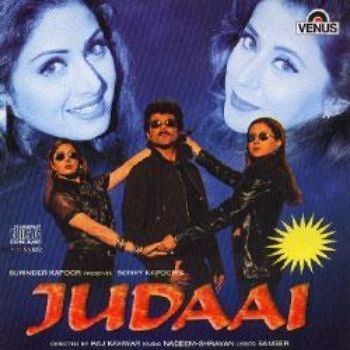 Soon, Kajal realises how far she has drifted from her family. She forgets her wedding anniversary and throws a party for her daughter's birthday not realising that Raaj has never been attracted to a lavish lifestyle and thus further pushing him away from her and towards Janhvi. After frequent reminders from her mother, Kajal tries to make amends. When nothing works, Kajal shocks her husband when she slaps Janhvi and accuses her of stealing her husband and tries to make Janhvi leave. Kajal offers Janhvi all of her money back in exchange for Raaj again, only to be told by Raaj that she is the poorest relation despite having all the riches she ever dreamed of. On advice of her friend, Kajal seeks legal advice which also states that the only way she can legally marry Raaj is to get Janhvi and Raaj to divorce - an impossible task. She then forcibly tries to throw Janhvi out of the house, but to no avail as Raaj decides to leave with Janhvi claiming that in the present circumstances, this is the fairest thing to do. The kids decide to stay with Janhvi and their father - heartbroken as they learn that their father was sold, prompting the son to ask his mother Kajal about the prospect of them being sold to another family at an agreed price.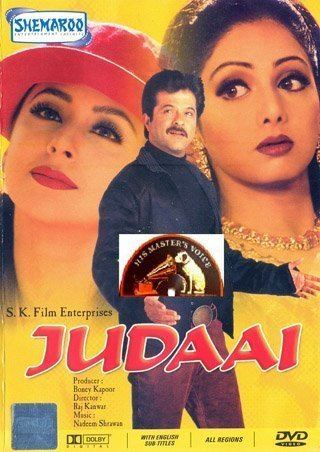 Kajal on the other hand, disraught by her family abandoning her, donates all her riches, in order to pay her dues. When she learns that Raaj & the kids are leaving for the US, she runs to the airport for one final visit. She finds them, ready to depart. But in a last minute twist in the plot, Janhvi turns to Raaj and tells them that she is leaving for the US alone, but she is not literally alone. She is expecting Raaj's child. Janhvi accepts that although Kajal sold her husband, but it was her who offered to buy him and thus she too should pay her dues. So, the movie ends with Kajal getting her family back, learning of the importance of family over money and Janhvi leaving for New York.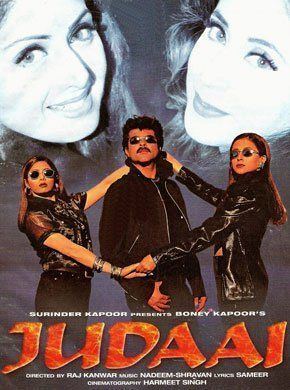 Anil Kapoor .... Raaj Varma
Sridevi .... Kajal Varma
Urmila Matondkar .... Janhvi Sahni
Paresh Rawal .... Hasmukhlal (Landlord)
Saeed Jaffrey .... Mr. Sahani (Jahnvi's uncle)
Farida Jalal .... Kajal's mom
Omkar Kapoor .... Romi (Kajal and Raaj's son)
Alisha Baig .... Preiti (Kajal and Raaj's daughter)
Johnny Lever .... Harry (Kajal's brother)
Upasna Singh .... Vaani Hasmukhlal's Daughter and Harry's Wife
Upasna Singh .... Vaani Hasmukhlal
Kader Khan .... Kajal's father
Poonam Dhillon ....Special Appearance (Kajal's friend Nisha)
Dinesh Hingoo .... as Doctor (Special appearance)
Mehmood Jr. .... as Champak
The film had low opening but picked up initially due to strong word of mouth. It then did well worldwide. In its full run it grossed Rs. 67 Crores and was declared a super hit. It was also the Seventh highest-grossing film of the year 1997.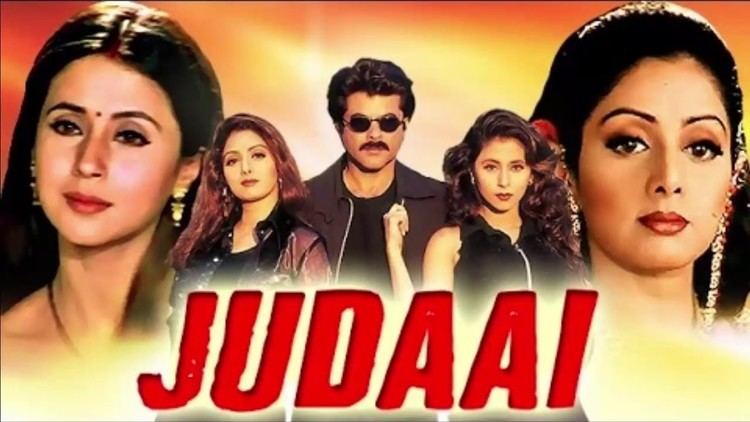 Nominated Filmfare Best Actress Award - Sridevi
Nominated Filmfare Best Supporting Actress Award - Urmila Matondkar
Nominated Filmfare Award for Best Performance in a Comic Role - Johnny Lever
Won Filmfare Award for Best Scene of the Year
Nomination Best Actress - Sridevi
Nomination Best Supporting Actress - Urmila Matondkar
Nomination Best Actress - Sridevi
Nomination Best Supporting Actress - Urmila Matondkar