Political party

Podemos




Name

Juan Monedero





Role

Political Scientist




Party

Podemos






Born

January 12, 1963 (age 52) (

1963-01-12

)

Madrid, Spain




Education

Doctorate in Political Science




Occupation

Writer, professor in the UCM




Alma mater

Complutense University of Madrid




Parents

Dolores Fernandez-Gala, Salvador Monedero




Similar People

Pablo Iglesias Turrion, Inigo Errejon, Pablo Echenique Robba, Tania Sanchez Melero, Carolina Bescansa
Alice colloquium panel ii 8 juan carlos monedero
Juan Carlos Monedero Fernández-Gala (born 12 January 1963) is a Spanish political scientist, writer and politician. He is a professor at Complutense University of Madrid and a host of La Tuerka. He was one of the head members of Podemos until his resignation in April 2015 citing the increasingly rightward direction of the party.
Contents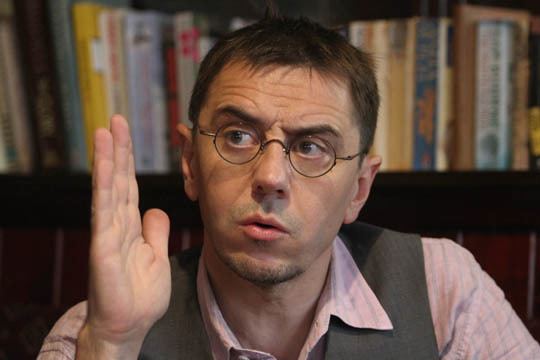 Juan carlos monedero el gobierno de las palabras the government of words
Academic career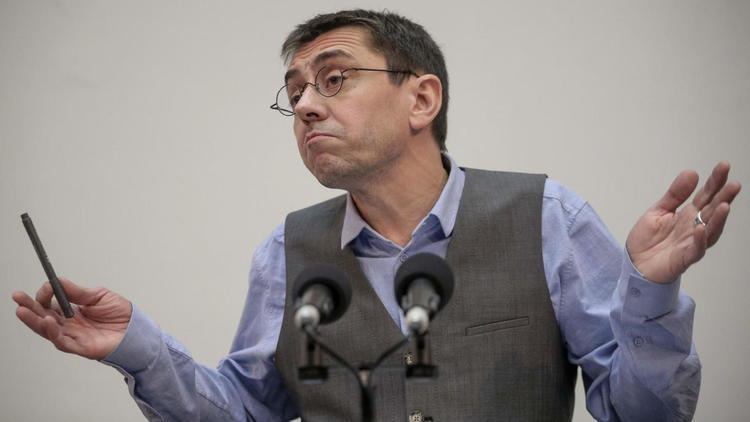 Monedero studied economics, achieving a degree in political science and sociology in the Universidad Complutense de Madrid (UCM). He made his doctorate studies in the Heidelberg University (Germany) between 1989 and 1992, under the direction of political scientist Klaus von Beyme. His doctoral thesis (Causas de la disolución de la República Democrática Alemana. La ausencia de legitimidad: 1949-1989) was read in the UCM in 1996, with the qualification Apto Cum Laude.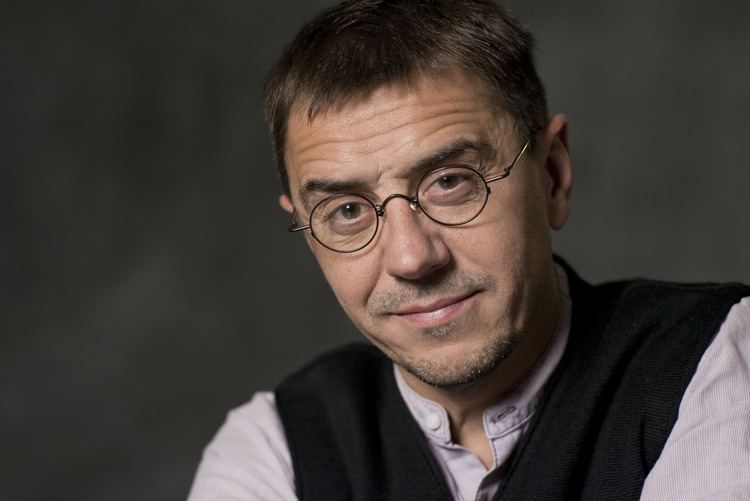 He is a professor of political science in the UCM since 1992, where he develops part of his investigative labour and teaches subjects related with political institutions, state theory, South America, and the Spanish political system. He has been an invited professor in various universities, both European (London and Berlin) and South American (Argentina, Mexico, Colombia, Venezuela).
Political consultant and analysis
Juan Carlos Monedero has been a political advisor of Spanish politician Gaspar Llamazares between 2000 and 2005, when he was the General Coordinator of United Left. He has also been a consultant of the Venezuelan government directed by Hugo Chávez between 2005 and 2010.
Media
He collaborated in the media, both press and television. He has written columns in newspapers such as Público, written articles in El País and collaborated in political debate programmes such as La Tuerka and Fort Apache, presented by Pablo Iglesias. Currently he collaborates with the newspaper La Marea, in CuartoPoder and his personal blog. He has appeared in the 2001 comedy film Gente pez and the 2013 choral film Gente en sitios.
Academic and political practice
Juan Carlos Monedero has critically defended the Bolivarian Revolution. He has claimed that Chávez was "the last liberator of South America", and that the political process in South America is an example for a world immersed in a "systematic capitalist crisis". After Chávez's death he praised his significance in breaking the hegemony of the United States in South America and building a process of regional integration, criticizing the biased position of the media.
He is close to the 15-M movement and some media have classified him as its "ideologist", though he says that nobody can hold such a position. His opinion about 15-M is that "it is the best thing that has happened to the democracy".
In January 2014, he participated in the Podemos project with other activists and intellectuals such as Pablo Iglesias, to unite the Spanish leftist forces against the current European political and financial system.
Funds
According to El Mundo, Monedero supposedly received up to €1.5 million from the Venezuelan Foundation of the Center for Political and Social Studies. This has caused controversy with Monedero's tax information that may have not covered the alleged payments. The Spanish Socialist Party (PSOE) demanded more details about the alleged payments from Venezuela to Monedero.
The veracity of these claims and the political motives of those making and publishing them has been questioned.
Books
Monedero, Juan Carlos (1992). El retorno a Europa. De la perestroika al Tratado de Maastricht. Madrid: Complutense. p. 429. ISBN 8474914469.
Monedero, Juan Carlos; Paniagua Soto, Juan Luis (1999). En torno a la democracia en España. Problemas pendientes del sistema político espyearl. Madrid: Tecnos. p. 501. ISBN 8430933573.
Monedero, Juan Carlos (2000). Informe sobre la implantación del euro en España. European University Institute: Badia Fiesolana.
Monedero, Juan Carlos (2003). Cansancio del Leviatán: Problemas políticos en la mundialización. Madrid: Trotta. ISBN 8481646253.
Monedero, Juan Carlos (2005). La Constitución destituyente de Europa: Claves para otro debate constitucional. Madrid: La Catarata. p. 160. ISBN 9788483192146.
Monedero, Juan Carlos; El Troudi, Haiman (2006). Empresas de Producción Social. Instrumento para el socialismo del siglo XXI. Caracas. p. 238. ISBN 9801220252.
Monedero, Juan Carlos (2009). Disfraces del Leviatán: El papel del estado en la globalización neoliberal. Madrid: Akal. p. 288. ISBN 9788446031307.
Monedero, Juan Carlos (2009). Claves para un mundo en transición. Crítica y reconstrucción de la política. Madrid: Cyan. p. 74. ISBN 9788481988031.
Monedero, Juan Carlos (2009). El gobierno de las palabras. Madrid: Fondo de Cultura Económica de España, S.L. p. 350. ISBN 9788437506548.
Iglesias Turrión, Pablo; Monedero, Juan Carlos (2011). ¡Que no nos representan!: El debate sobre el sistema electoral espyearl. Madrid: Popular. p. 127. ISBN 9788478845156.
Monedero, Juan Carlos (2011). La rebelión de los indignados. Madrid: Rompeolas. p. 104. ISBN 9788478844975.
Monedero, Juan Carlos (2011). La transición contada a nuestros padres. Madrid: La Catarata. p. 232. ISBN 9788483195857.
Monedero, Juan Carlos (2012). Dormiamos y despertamos. El 15M y la reinvención de la democracia. Madrid: Nueva Utopía. ISBN 8496146596.
Monedero, Juan Carlos (2013). Curso urgente de política para gente decente. Madrid: Seix Barral. p. 246. ISBN 9788432220814.
Anguita, Julio; Monedero, Juan Carlos (2013). Conversaciones entre Julio Anguita y Juan Carlos Monedero. Madrid: Icaria. p. 120. ISBN 9788498885286.
References
Juan Carlos Monedero Wikipedia
(Text) CC BY-SA