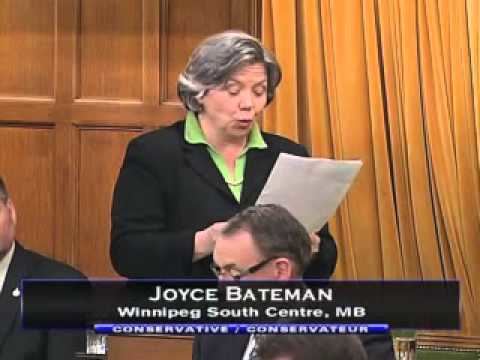 Born in Winnipeg, Manitoba Joyce Bateman was very involved in the musical community. After training four summers at the Banff School of Fine Arts, she went to study at the University of Western Ontario under Ralph Aldrich. She put herself through university there by playing Viola in the London Symphony Orchestra and received her HBA from the Ivey School of Business.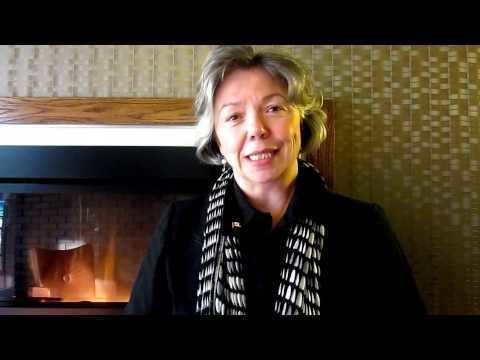 After Business School, Bateman articled with Price Waterhouse in Winnipeg and has worked and lived in Winnipeg ever since. She met Darrell Hancock while at Price Waterhouse and they are happily married and have two wonderful children.
Joyce Bateman is a Chartered Accountant and prior to her election into Parliament, Bateman was a trustee on the Winnipeg School Board. First elected to the Winnipeg School Board in 2001, she served two terms as chairperson, and one term as vice-chairperson. She was formerly a member of the federal Liberal, although her party membership lapsed in 2009. In 2011, she said that she opted to run as a Conservative due to misgivings over the fiscal policies of the Liberal Party, which she described as "reckless." Richard Ivey School of Business).
.
A true grass-roots politician, Joyce Bateman successfully ran for School Trustee in 2001 after being encouraged to do so by community members who were pleased with her capacity to solve problems.
While serving on the Board of Trustees of the Winnipeg School Division, Joyce Bateman demonstrated her fiscal prudence and capacity to make sense of big data for a better bottom line. As Chair of the Board of Trustees, her fiscal prudence enabled the full reinstatement of the Nursery Program in 2005 for the Winnipeg School Division. It had been cut by the Board in 1998 before Bateman was elected and she was delighted to announce that commitment which stands to this day. This prudent, patient and responsible approach is her trademark.
Joyce Bateman successfully ran for School Trustee with no political affiliation. In late 2003, she purchased a membership, under the Paul Martin push, in the Liberal Party of Canada. She left that party in 2008.
In 2011, given her four-time successful electoral record (2001, 2002, 2006 and 2010), her community service and herdemonstrated responsiveness to her community, Bateman was sought out by the Conservative Party of Canada to run in Winnipeg South Centre. She was successful.
While in Parliament Bateman was able to use her bilingualism,her skills as a CPA, CA and her common sense when serving on the Standing Committees for Finance, Public Accounts, Industry, Official Languages and the Status of Women. She was also delighted to make many announcements for her riding including for the arts community in Winnipeg. She kept her focus on her community while respecting the bigger picture.
While serving in Parliament there was a serious problem with a rail crossing in her riding. As a result, she introduced a Private Members' Bill on Rail Safety which makes every rail crossing throughout Canada safer. It is a testament to her ability to find consensus, and to work effectively with all political parties, that her Bill C-627 was unanimously supported by all members of both the House of Commons and the Senate and received both the support of the Industry and the Teamsters' Union. It received Royal Assent in June 2015 "https://openparliament.ca/bills/41-2/C-627/"
During the 2015 federal election, Bateman participated in a debate on the economy held by Jewish advocate group B'nai Brith and was booed when she read off a list of Liberal candidates who had allegedly made statements contrary to the interests of the State of Israel. The list included Andrew Leslie, a retired Lieutenant General who led Canadian troops in Afghanistan. Bateman refused to apologize afterwards, saying that she was "proud to be part of a party that stands firmly with Israel."
Bateman lost her bid for reelection in 2015 to former Liberal provincial MLA Jim Carr.