Josh (English: Frenzy) is a 2000 Indian action drama film directed by Mansoor Khan. The film stars Aishwarya Rai and Chandrachur Singh in the lead roles with Shah Rukh Khan and Sharad Kapoor as villains. Priya Gill and Vivek Vaswani play supporting roles. The film is a remake of West Side Story.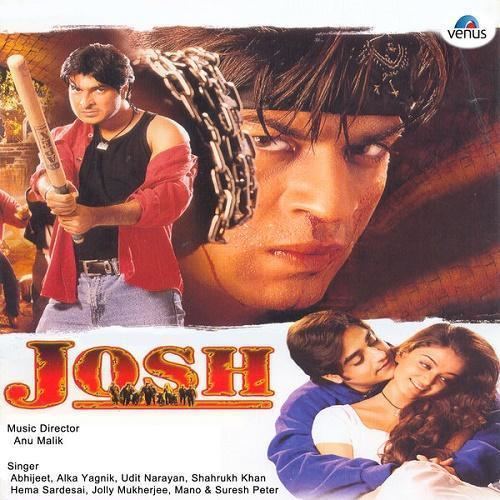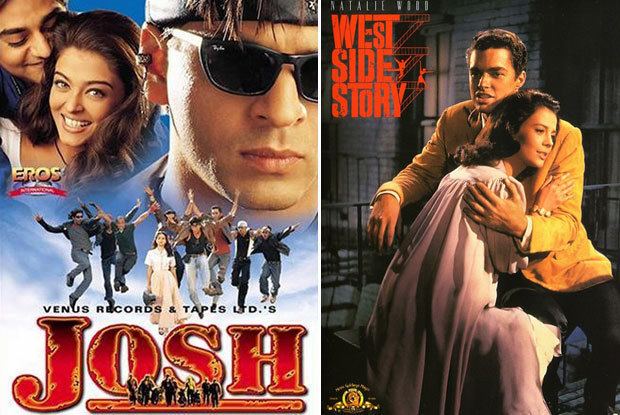 There exist two rival gangs in Vasco, called the Bichhoos (Scorpions in Hindi), who are Hindus, and the Eagles, who are Christians. Bichoo gang's leader is Prakash (Sharad Kapoor), while the Eagles are led by Max (Shah Rukh Khan). They are all enemies, they fight, run, chase, and beat. But they are usually stopped from fights by Father Jacob, or the Town Inspector (Sharat Saxena). One day Prakash's brother Rahul (Chandrachur Singh) comes to visit after 2 years, who is a master-chef working in Mumbai. Rahul loves Goa the more he sees of it, and as he tours around Vasco, he meets Shirley (Aishwarya Rai), the twin sister of Max and he falls in love with her straightaway.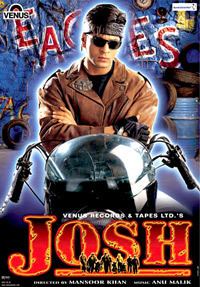 Knowing about Eagles and Bicchhoo rivalry, Rahul keeps his mouth closed. He opens a pastry shop 'Treat House' and settles in Vasco. Meanwhile, he becomes part of the Eagles-Bichchoo rivalry, and gets closer to Shirley. The whole situation is unprecedented in this city, which gets all the more intriguing when Rahul comes across a secret about Max and Shirley's past; a secret that will change their lives forever, and that, which leads to a death. He comes to know that Max and Shirley were actually the illegitimate children of Alberto Vasco, the founder of the town. Rahul wants to reveal this to Shirley in a letter but due to circumstances it falls in the hands of Prakash. Prakash plans to murder Max, to get his father's lands worth Rs. 20 lakh. This leads to fight sequence between both, where Max accidentally shoots Prakash while defending himself. Max is arrested and his trial puts a rift between Shirley and Rahul. Max is about to go to the gallows, but the truth is finally revealed by Rahul and he acknowledges his brother's mistake. Finally, Rahul and Shirley are married, Max too marries his love interest Rosanne.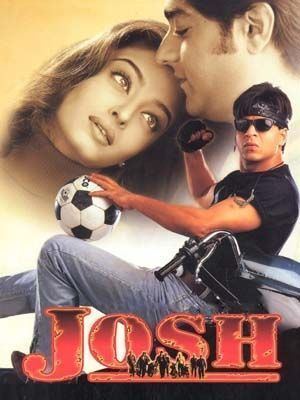 Shah Rukh Khan as Max "Maxie" Dias
Aishwarya Rai as Shirley Dias (Max's sister and Rahul's love interest)
Sharad Kapoor as Prakash Sharma
Chandrachur Singh as Rahul Sharma (Prakash's brother)
Priya Gill as Rosanne (Max's love interest)
Vivek Vaswani as Savio (Rosanne's boyfriend)
Sharat Saxena as Inspector
Puneet Vasishtha as Michael
Sushant Singh as Gotiya
Nadira as Louise
Suhas Joshi as Rahul's mother
A. R. Rahman was signed in as the music composer first, but he opted out, due to time constraints and other commitments. After Rahman opted out, Mansoor Khan roped in Anu Malik to complete the music fast, and release the film on time.
Josh grossed ₹30.05 crore (US$4.5 million) in India and $1.127 million (₹5.01 crore) in other countries, for a worldwide total of ₹35.06 crore (US$5.2 million), against its ₹16 crore (US$2.4 million) budget. It had a worldwide opening weekend of ₹8.82 crore (US$1.3 million), and grossed ₹15.81 crore (US$2.3 million) in its first week. It is the 6th-highest-grossing film of 2000 worldwide.
It opened on Friday, 9 June 2000, across 300 screens, and earned ₹1.25 crore (US$190,000) nett on its opening day. It grossed ₹3.71 crore (US$550,000) nett in its opening weekend, and had a first week of ₹7.25 crore (US$1.1 million) nett. The film earned a total of ₹17.83 crore (US$2.6 million) nett, and was declared "Average" by Box Office India. It is the 5th-highest-grossing film of 2000 in India.
It had an opening weekend of $575,000 (₹2.55 crore) and went on to gross $800,000 (₹3.56 crore) in its first week. The film earned a total of $1.127 million (₹5.01 crore) at the end of its theatrical run. Overseas, It is the 9th-highest-grossing film of 2000.
Planet Bollywood gave the film 7.5/10 and wrote "Mansoor succeeds as a director in keeping the movie fast and interesting, though it is the characters who come out much stronger than the movie". Taran Adarsh from Bollywood Hungama noted "On the whole, JOSH is a well made film with great performances and a hit musical score. But the Goan ambience will restrict its prospects in some states due to lack of identification. Also, an average second half and a weak climax are major limitations".