Joseph Fred Naumann (born June 4, 1949) is a bishop of the Catholic Church in the United States. He serves as the fourth and current Archbishop of Kansas City, Kansas. He served as the Apostolic Administrator of the Diocese of Kansas City-St. Joseph, Missouri until November 4, 2015, following the April 2015 resignation of Bishop Robert W. Finn.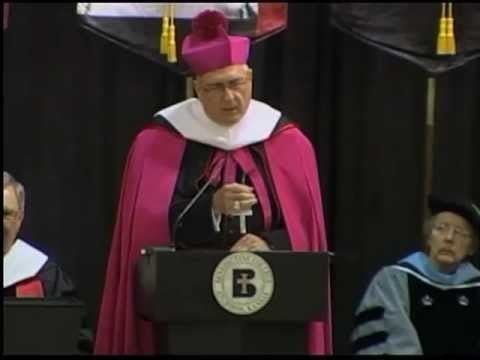 Naumann was born in St. Louis, Missouri, to Fred and Louise (née Lukens) Naumann. He graduated from St. Louis Preparatory Seminary South in 1967 and from Cardinal Glennon College in 1971. After serving as a deacon in Florissant and completing his theological studies at Kenrick Seminary in 1975, Naumann was ordained to the priesthood on May 24 of that same year, for the Archdiocese of St. Louis.
He then served as an associate pastor of St. Dominic Savio Parish in Affton until 1979, and of Our Lady of Sorrows Parish in St. Louis until 1984. From 1984 to 1989, Naumann was a part-time curate at Most Blessed Sacrament Parish in St. Louis, while working as Coordinator of the Archdiocesan Pro-Life Committee as well until 1995. He was later pastor of Ascension Parish in Normandy (1989-1994) and vicar general of the Archdiocese of St. Louis (1994-2003).
On July 8, 1997, Naumann was appointed Auxiliary Bishop of St. Louis and Titular Bishop of Caput Cilla by Pope John Paul II. He received episcopal consecration on the following September 3 from Archbishop Justin Rigali, with Bishops Edward O'Donnell and Edward Braxton serving as co-consecrators.
Naumann, after becoming Apostolic Administrator of St. Louis in October 2003, was named Coadjutor Archbishop of Kansas City, Kansas on January 7, 2004, serving under Archbishop James Keleher. He later succeeded Archbishop Keleher as Archbishop of Kansas City upon the latter's resignation on January 15, 2005.
The Archbishop sits on the committees on Pro-Life and on Communications within the United States Conference of Catholic Bishops, as well as Kenrick-Glennon Seminary Board of Trustees and the Board of Regents for Conception Seminary. He is also Chairman of the Kansas Catholic Conference.
On April 21, 2015, Naumann was also appointed Apostolic Administrator for the Diocese of Kansas City–Saint Joseph.