Name

Joseph Coulson





Role

Novelist






Education

University at Buffalo, Wayne State University




Books

Of song and water, The vanishing moon, Graph, A measured silence
Joseph Coulson's Tandem skydive!
Joseph Coulson (born 1957) is a novelist, poet, and playwright. His writing is notable for its lyricism and its blending of American history and social criticism. Also an educator, Coulson was named president of the Great Books Foundation in 2014.
Contents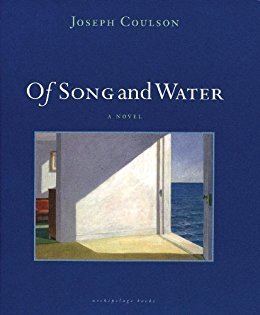 Early life
Joseph Coulson grew up in Detroit, Michigan. As a youth, he attended both Catholic and public schools and worked as a caddie, grass cutter, janitor, and hospital orderly. He eventually found work as a singer, flautist, and bass player with bands in and around Detroit.
Education & Career
Coulson received a B.S. in Education from Wayne State University, an M.A. in English from the State University of New York at Buffalo, and a Ph.D. in American Literature and Poetics from the State University of New York at Buffalo. Coulson has worked as a classroom teacher, English department chair, senior administrator, and English professor. As an instructor and school administrator, Coulson was named a Master Teacher, served for several years as a Mentor Teacher and curriculum consultant, and worked to develop comprehensive teacher-training programs.
Coulson was named president of the Great Books Foundation, a nonprofit educational organization, on August 11, 2014. He previously worked at the Great Books Foundation from 1999-2003 as senior editor, editorial director, and chief of staff.
"The work of the Great Books Foundation is more important today than ever before," says Coulson. "Literacy is in decline and the humanities are under siege, but fighting the good fight are the staff, teachers, students, and lifelong learners who each day advance the methods of Junior Great Books and the community outreach of the Foundation as a whole. I know by experience that the dedicated practice of close reading, shared inquiry, and civil discourse is an important antidote for what ails our society."
Creative Work
Coulson's first novel, The Vanishing Moon (Archipelago Books, 2004), was a Barnes & Noble Great New Writers selection, and it won the Book of the Year Award, Gold Medal in Literary Fiction, from ForeWord. Chronicling the lives of working-class people, The Vanishing Moon was a critical success, and Coulson's prose, themes, and historical range drew comparisons with John Steinbeck, William Maxwell, and Russell Banks. His second novel, Of Song and Water (2007) was a finalist for the Great Lakes Book Award. Both novels earned wide distribution in French and German translations, and The Vanishing Moon was later published as a Harvest Book, the perennial literary series from Harcourt.
Coulson has also published three books of poetry, The Letting Go (1984), A Measured Silence (1986), and Graph (1990). His first play, A Saloon at the Edge of the World (1996), a noir drama showcased by Theater Artists of Marin, enjoyed both popular and critical acclaim in the San Francisco Bay area. Coulson is a recipient of the Tompkins Award in Poetry and the David Gray Writing Fellowship, and his essays have appeared in journals and anthologies including The Barnabe Mountain Review, Walt Whitman of Mickle Street, The Critical Survey of Poetry, and The Greenfield Review.
The Great Books Foundation
The Great Books Foundation is an independent, nonprofit educational organization who for more than sixty years has been a leader in close reading, critical thinking, and cooperative learning for the purpose of advancing civil discourse, civic awareness, and social justice.
The Foundation publishes a wide range of literature anthologies, nonfiction materials, and other classroom books that are designed to empower K–12 students to become independent readers and thinkers. Schools that integrate Great Books materials into their curriculum help their students improve their critical thinking, reading comprehension, writing, and speaking and listening skills.
The Foundation also sponsors programs in literacy and communication for underserved groups; these initiatives are an important part of the Foundation's mission to serve the common good.
Coulson discusses the work of the Great Books Foundation and how great literature affects 21st century critical thinking skills in an interview with Education Talk Radio.
Personal life
Coulson lives in Chicago, Illinois. His wife, Christine Hooker, is Associate Professor of Psychology at Harvard University.
References
Joseph Coulson Wikipedia
(Text) CC BY-SA