Covid-19
5–8




4.32





91




Jose Alvarez





José Ricardo Álvarez (born May 6, 1989) is a Venezuelan professional baseball pitcher for the Los Angeles Angels of Anaheim of Major League Baseball.
Alvarez was signed as an international free agent by the Boston Red Sox in July 2005.
He advanced as high as Class A ball before being traded in November 2009 with Hunter Jones to the Florida Marlins organization for Jeremy Hermida. Alvarez went 10–3 with the Class A Greensboro Grasshoppers in 2010, and spent the following two seasons advancing in the Marlins organization. He was a two-time winner of the best changeup in the Florida Marlins farm system.
At the end of the 2012 season, he was released and was picked up by the Detroit Tigers.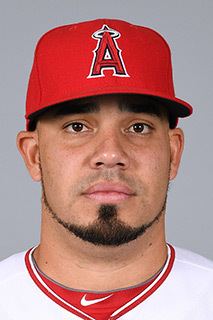 Alvarez was invited as a non-roster free agent by the Detroit Tigers to their 2013 spring training. He remained with the Tigers, advancing to the Class AAA Toledo Mud Hens, where by June 2013 he was leading the International League in strikeouts, Walks plus hits per innings pitched (WHIP), and baserunners per nine innings.
Alvarez was called up to the majors for the first time on June 9, 2013, and made his debut starting in place of Aníbal Sánchez. He recorded a win and a quality start, pitching six innings while striking out seven against the Cleveland Indians. He was sent back to the Toledo Mud Hens that same day and was recalled June 20 to start again in the place of Sánchez. On August 28, Alvarez was sent back to Toledo.
On March 21, 2014, the Tigers traded Álvarez to the Los Angeles Angels of Anaheim for shortstop Andrew Romine. He made two scoreless appearances for the Angels in 2014, then was called upon 64 times in the 2015 season, posting a 3.49 ERA and 59 strikeouts in 67 IP.
José Álvarez (baseball, born 1989) Wikipedia