Joos de Momper the Younger or Joost de Momper the Younger [alternative spellings of first name: Jodocus, Joes, Joeys and Josse] (1564–1635) was one of the foremost Flemish landscape painters between Pieter Brueghel the Elder and Peter Paul Rubens. Brueghel's influence is clearly evident in many of de Momper's paintings.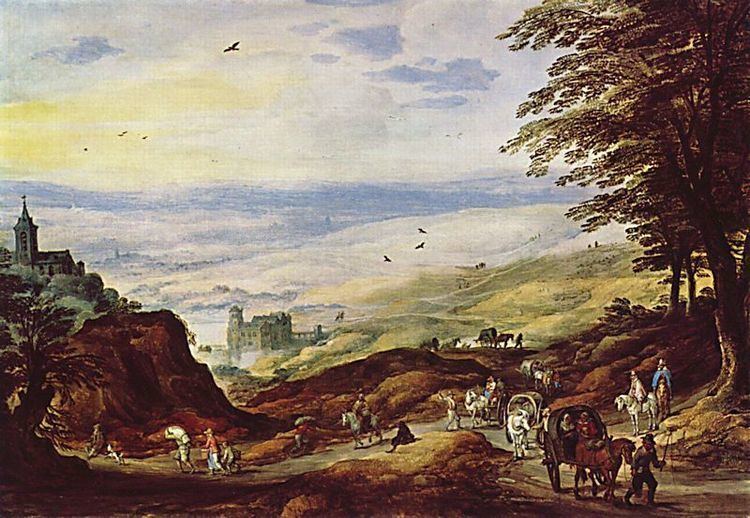 He was born in an artistic family of Antwerp and was named after his grandfather who was a landscape painter. He learned to paint from his father Bartholomeus de Momper who was a painter and print publisher. In 1581 he became a master in the Antwerp Guild of St. Luke at only 17 years old. It is assumed that in the 1580s he travelled to Italy to study.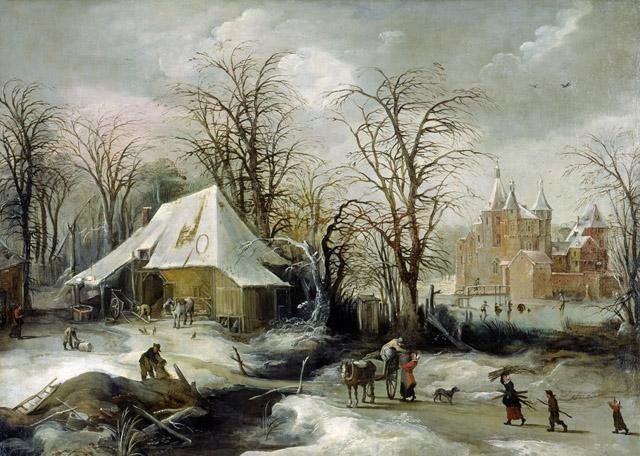 De Momper enjoyed high-level patronage as is shown by the fact that Archduchess Isabella Clara Eugenia, the governor of Flanders, sent in 1616 a letter to the Antwerp magistrate asking him to excuse de Momper from the payment of taxes and fees. His works were often featured in the prestigious gallery paintings of collections (real and imagined) from the early seventeenth century.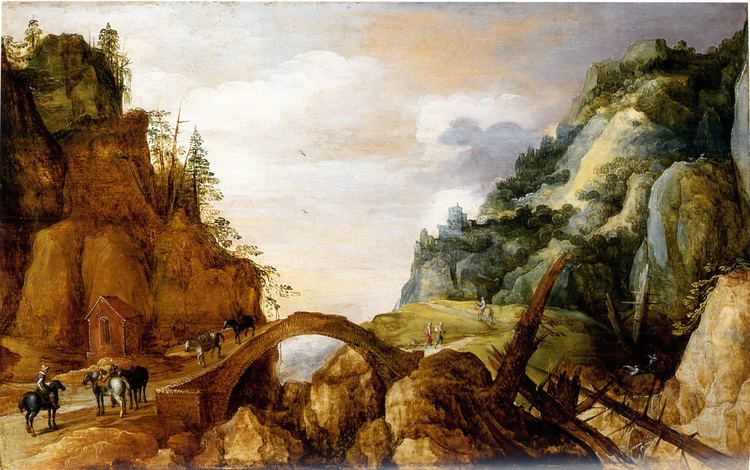 His registered pupils were Louis de Caullery and his son Philippe de Momper. His followers were Frans de Momper and Hercules Seghers.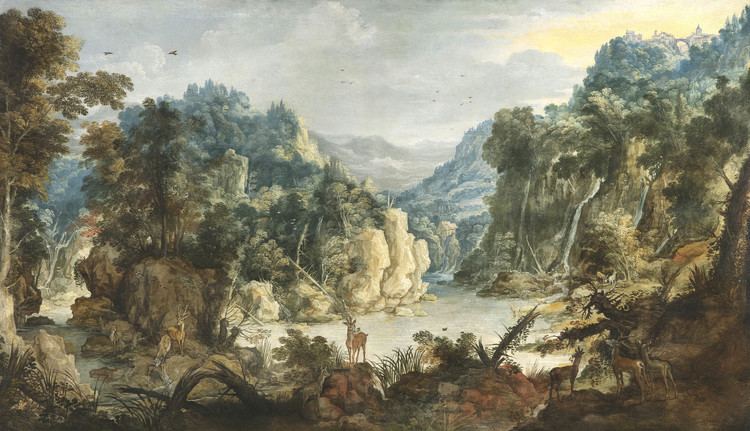 He was mentioned by Karel van Mander in his Schilder-boeck and his likeness was engraved by Anthony van Dyck.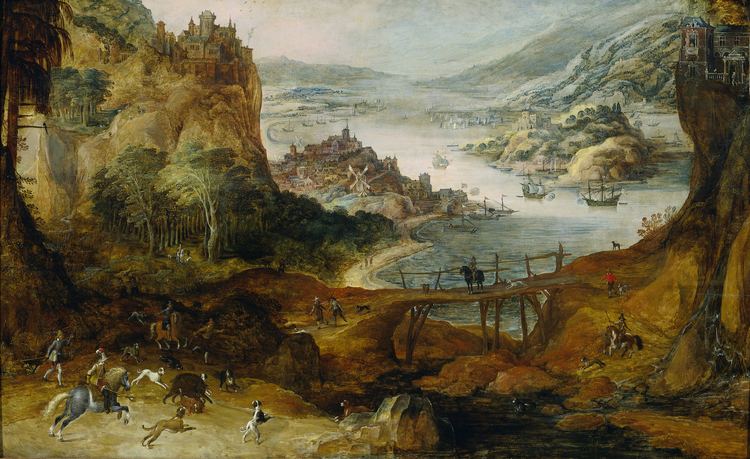 De Momper primarily painted landscapes, the genre for which he was highly regarded during his lifetime. Only a small number of the 500 paintings attributed to de Momper are signed and just one is dated. The large output points to substantial workshop participation. He often collaborated with figure painters such as Frans Francken II, Pieter Snayers, Jan Brueghel the Elder and Jan Brueghel the Younger, usually on large, mountainous landscapes, whereby the other painters painted the staffage and de Momper the landscape.
He painted both fantasy landscapes, viewed from a high vantage point and employing a conventional Mannerist color transition of brown in the foreground to green and finally blue in the background, and more realistic landscapes with a lower viewpoint and more natural colors. His wide panoramas also feature groups of small figures.
De Momper's works are chiefly inspired by the steep craggy Alpine slopes and high rock masses depicted in Pieter Brueghel the Elder's work. His closeness to Jan Brueghel the Elder would have played a role in his exposure to the Bruegel idiom. This is also seen in some of the motifs of De Momper's work which go back to Pieter Bruegel's inventions, such as winter landscapes and grain harvests. One of his works representing a Storm at Sea was previously attributed to Pieter Brueghel but is now generally ascribed to de Momper. Another influence on De Momper was that of landscape specialist Lodewijk Toeput, who went on to make a career in Italy. De Momper emphasized stylization over naturalistic effects and used depth and atmosphere to achieve his goal of spatial construction.
De Momper's work, like that of the contemporary landscape painter Abel Grimmer, has often been dismissed for its formulaic repetition of stock motifs and presentation while his large works have been interpreted as merely a ''broad-brush'' version of Joachim Patinir's world landscape a century after its first formulation. He is regarded as representing the end of a tradition rather than a revitalization or an innovation of landscape painting as was happening in the Dutch Republic in the 17th century. On the other hand, the large size of his works and his collaboration with other leading artists suggest costliness and esteem for pictorial refinement.
Extensive Mountainous Landscape
Dune landscape with travellers and cattle - National Museum, Warsaw
Helicon or Minerva's Visit to the Muses (with Hendrik van Balen for the figures and Jan 'Velvet' Breughel for the flowers - Koninklijk Museum, Antwerp
Flemish Market and Washing Place - Museo del Prado, Madrid
Landscape with the Temptation of Christ - National Gallery, Prague
Mountain Scene with Bridges - Wallraf-Richartz Museum, Cologne
Winter Landscape - Musée des Beaux-Arts et d'Archéologie de Châlons-en-Champagne
Joos de Momper's paintings
Paintings by Joos de Momper
Joos de Momper on Artnet
Joos de Momper on Rijksmuseum website