As a player, he is remembered for being part of the Liverpool side of the 1970s, where he formed a forward partnership with Kevin Keegan.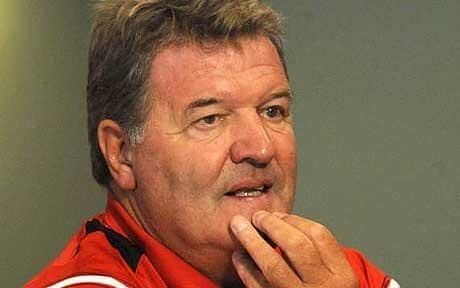 Toshack was born in 1949 in Cardiff, Wales, to a Scottish father and Welsh mother. He attended Canton High School for Boys in Canton, Cardiff.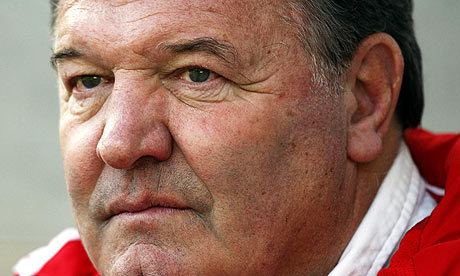 Toshack started his footballing career with Cardiff City, signing for them as a 16-year-old. He became the youngest ever player to play in a league match for the club when he came off the bench to make a goalscoring debut during a 3–1 win over Leyton Orient on 13 November 1965 at the age of 16 years and 236 days old, a record which stood for 41 years until it was broken by Aaron Ramsey in 2007. Establishing himself in the side over the next few years, scoring his first hat-trick in January 1968 in an 8–0 win over Ebbw Vale in the Welsh Cup, he went on to form one of the most lethal strike partnerships in the club's history alongside Brian Clark.
After four years at Cardiff City, Toshack was signed by Bill Shankly for Liverpool on 11 November 1970. Already a full international, Shankly paid £110,000 for the striker. Toshack made his debut 3 days later on the 14th in the goalless league draw with Coventry City at Anfield. His first goal came a week later on the 21st in a remarkable Merseyside derby at Anfield. With the game 0–0 at half-time Everton thundered into a 2–0 lead just after the start of the second half. 69 minutes in Steve Heighway scored from an acute angle on the left at the Kop end. Toshack's headed goal from a Heighway cross in the 76th minute completely turned the game around; then Chris Lawler volleyed home, after Toshack had headed on an Alec Lindsay cross, for the 84th-minute winner.
In 1971, Kevin Keegan joined Liverpool from Scunthorpe United. Toshack and Keegan struck up a successful partnership with Toshack winning balls in the air and Keegan finishing the knock downs. Such was their fame, the football magazine Shoot likened them to the comic book crimebusters Batman and Robin even taking a photograph of the pair dressed in the Dynamic Duo's costumes. By the time Keegan left for German side Hamburg SV he had scored exactly 100 goals with a large percentage of them being set up by Toshack.
During his time with Liverpool Toshack scored 96 goals; he was part of the team that won the First Division in 1973, 1976 and 1977, the FA Cup in 1974, and the UEFA Cup in 1973 and 1976.
Toshack is still held in high regard by the supporters of Liverpool and was voted in at No.34 on the Liverpool FC website poll 100 Players Who Shook The Kop, in which thousands of fans worldwide voted for their top 100 Liverpool players.
Toshack played for Wales at schoolboy, under-23 and full international level earning 40 caps and scoring 13 goals, including a hat trick against Scotland in the 1979 British Home Championship.
Toshack's playing career was blighted by injuries and he was transferred to Swansea City as player-manager in 1978 (he already passed his coaching badge at the age of 18), where he succeeded Harry Griffiths.
He was an immediate success at the Vetch Field, taking them from the Fourth Division all the way to the First Division in four seasons. Once they reached the top flight, the Swans were predicted by many to go straight back down, but they kicked off with a surprise 5–1 victory over Leeds United and topped the league at several stages of the season before finishing sixth. However, they were relegated the following year and then suffered a second successive relegation.
In 1984, Toshack was appointed manager of the Portuguese side Sporting Lisbon, but he only lasted one season in the post. His greatest success as a manager so far came in Spain, where he managed Real Madrid twice, Real Sociedad three times, as well as Deportivo La Coruna and Real Murcia. He spent 13 years managing in Spain: one of the notable highlights of his time there was his Real Madrid side scoring 107 goals in the 1989-90 league season, setting a new record. In Spain, Toshack became known as "John Benjamin", as there was a common misunderstanding that his middle name was a Spanish-style paternal surname. He was also noted for a habit of literally translating English-language idioms into Spanish during his press conferences, to the confusion of Spanish journalists. He has also managed the Turkish side Beşiktaş J.K., French side AS Saint-Étienne and Italian side Catania.
Following the sudden resignation of Kenny Dalglish as Liverpool manager in February 1991, media reports linked Toshack with a return to Anfield as manager, but he ruled himself out of the running and the job went to Graeme Souness instead.
Toshack was appointed manager of Wales for the first time in 1994, but only spent 41 days in the post, resigning after a 3–1 defeat to Norway. Despite this, he was appointed to the post for a second time in November 2004. It was announced on 5 September 2010 that he offered his resignation from the Wales job following a 1–0 away defeat to Montenegro in Euro 2012 qualifying. He left the job by mutual consent on 9 September 2010.
Toshack was appointed manager of the Macedonia national football team on 7 August 2011. His contract with the national side was terminated on 13 August 2012 after he refused to relocate to the country.
On 8 March 2013 it was announced that Toshack would take over as manager of Khazar Lankaran of the Azerbaijan Premier League on 15 March 2013. At the time of his appointment, Khazar Lankaran were eighth in the league and competing in the Relegation group for the final 10 games of the season. Toshack's first game in charge of Khazar Lankaran was a one all home draw against AZAL. Toshack's first win came in his second game in charge, a 1–2 away victory against bottom of the table Kəpəz. Khazar Lankaran ended the season in 8th position, with a league record under Toshack of played 9, won 3, drawn 3, lost 3. Toshack also guided Khazar Lankaran to the final of the 2012–13 Azerbaijan Cup with a 2–1 aggregate victory over FC Baku in the semi-finals, resulting in a game against Premier League champions Neftchi Baku which Khazar lost 5–3 on penalties. As a result of Neftchi Baku winning both the Premier League and Cup, Khazar qualified for the UEFA Europa League. Toshack won his first trophy with Khazar Lankaran on 23 October 2013, defeating Neftchi Baku in the 2013 Azerbaijan Supercup. On 22 November 2013 Toshack resigned as manager of Khazar Lankaran following 14 points in the first 14 games of the season, leaving Khazar in 8th place in the league. In total Toshack won 8 of his 27 games in charge.
On 20 June 2014, Toshack was appointed as manager of Moroccan side Wydad Casablanca. On 16 September 2016, following a heavy defeat to Zamalek in the 1st leg of the 2016 CAF Champions League Semi-Finals, Toshack and Wydad Casablanca parted ways.
Toshack's son Cameron is also a former professional footballer, making five appearances for Cardiff City, having been attached with Swansea City for the 1989–90 season.
Toshack won the BBC Wales Sports Personality of the Year in 1981.
He received the MBE for his services to football in the 1982 New Year Honours list.
He was the subject of This Is Your Life in 1982 when he was surprised by Eamonn Andrews.
Cardiff City
Welsh Cup (3) 1966–67, 1967–68, 1968–69
Liverpool
Football League First Division (3): 1972–73, 1975–76, 1976–77
FA Cup (1): 1973–74
FA Charity Shield (1): 1976
UEFA Cup (2): 1972–73, 1975–76
UEFA Super Cup (1): 1977
Swansea City
Welsh Cup (3): 1980–81, 1981–82, 1982–83
Real Sociedad
Copa del Rey (1): 1986–87
Real Madrid
La Liga (1): 1989–90
Deportivo
Supercopa de España (1): 1995
Beşiktaş
Turkish Cup (1): 1997–98
Khazar Lankaran
Azerbaijan Supercup (1): 2013
Wydad Athletic Club
Botola (1): 2014-15
La Liga Coach of the Year – Don Balón Award (2): 1989, 1990
As of match played 16 September 2016
some statistics currently unavailable.