John C. Rao (born 1951) is an associate professor of history at St. John's University, director of the Roman Forum/Dietrich von Hildebrand Institute, and former president of Una Voce America. He was criticised by Cardinal Miloslav Vlk for giving a speech in Prague in which he allegedly expressed anti-American views. Rao denied the charge in a lengthy open letter to the Cardinal in which he demanded an apology.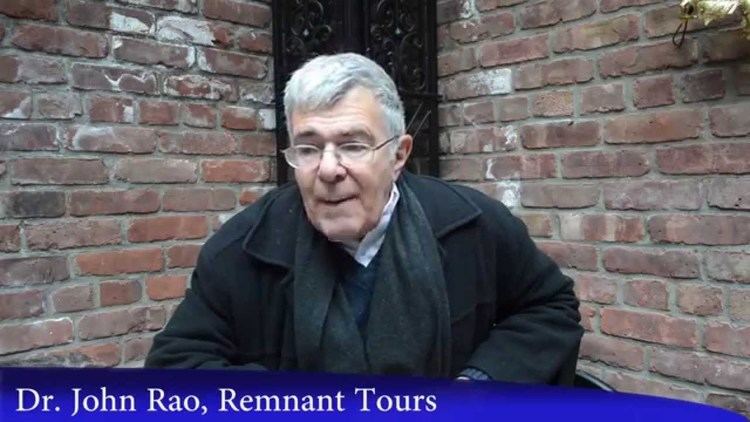 In 1977 Rao received his D.Phil. in Modern European History from Oxford University. Notable works include Americanism and the Collapse of the Church in the United States, Removing the Blindfold, and Periphery. His latest book, a monumental study of Church history, Black Legends and the Light of the World (Remnant Press, 2011), has been hailed as "required reading for anyone concerned about the situation in the Church and the world" (Dr. Joseph Shaw, D. Phil., Oxford, President of the Latin Mass Society of England and Wales). He was recently the central interview subject for a PBS documentary on the annual Paris-Chartres Pilgrimage by traditionalist Catholics from around the world.
For more than twenty years, Rao has led the Roman Forum's annual symposium at Lake Garda, which attracts scholars of renown from the United States and Europe.
A frequent contributor to The Remnant, a traditional Catholic biweekly, Dr. Rao is known for writing his columns from Rocco's Cafe, an Italian pastry shop in Greenwich Village Manhattan, for several months of the year. As a traditionalist Catholic, he is a strong critic of neoconservatism in both politics and the Church.