John Motley Morehead (July 4, 1796 – August 27, 1866) was the 29th Governor of the U.S. state of North Carolina from 1841 to 1845. He is known as "the Father of Modern North Carolina."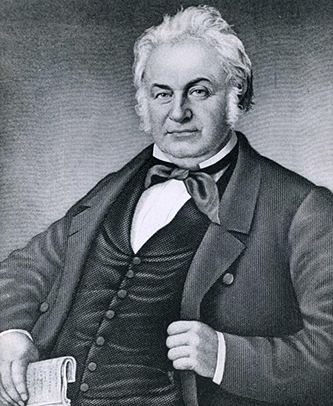 Born in Pittsylvania County, Virginia, Morehead was the son of Obedience (Motley) and John Morehead. He moved to Rockingham County, North Carolina at the age of two.
Morehead graduated from the University of North Carolina at Chapel Hill in 1817. He was also a distinguished member of The Dialectic and Philanthropic Societies at UNC. He served in the North Carolina General Assembly for several sessions and was the first governor inaugurated in the new State Capitol.
During his term in office, Morehead supported the new public school system, the extension of railroad lines, the improvement of rivers and harbors, and the construction of waterways and turnpikes. Morehead was instrumental in raising private funds for a railroad line to accompany $2 million provided by the legislature. The terminus of the railroad, Morehead City, North Carolina, was named after him. For his efforts, Morehead was also elected president of the North Carolina Railroad.
After his term, he returned to his home, Blandwood, in Greensboro, North Carolina, designed by New York City architect Alexander Jackson Davis. There, Morehead entertained numerous politicians and personalities of the day, including Dorothea Dix. In 1861, he represented the state at a conference to avoid war. With the failure of the conference and the secession of North Carolina, Morehead served in the Confederate Congress. Morehead died at Rockbridge Springs, Virginia in 1866 and is buried in the Old First Presbyterian Church Cemetery located at the Greensboro Historical Museum in Greensboro.
His grandson, John Motley Morehead III (United States Ambassador to Sweden 1930-33), bequeathed to the University of North Carolina $130 million, commissioned the university's planetarium, and funded the John Motley Morehead Foundation. His granddaughter Lily Morehead Mebane was decorated by the governments of France and Serbia for her relief work after World War I; she later served two terms in the North Carolina state legislature.
Descendants include Jean Motley Morehead Larkin, John L. Morehead, W. Harris Nelson, and William H.M. Nelson III.