Name

John McBeth





Role

Author







Books

Reporter - Forty Years Covering Asia
Interview with john mcbeth
John McBeth (born 31 May 1944) is an author and journalist from New Zealand, with the majority of his career spent in Southeast Asia.
Contents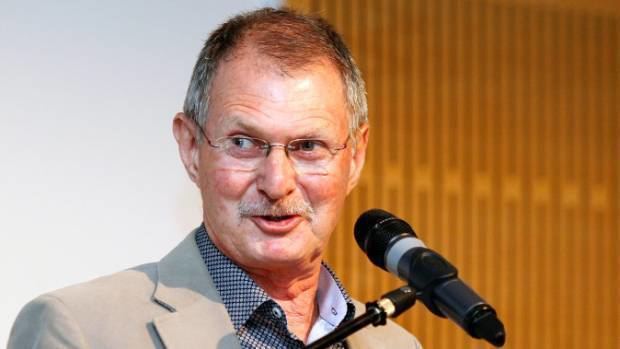 John mcbeth ashley church napier promo early 90s
Early life and career
McBeth is the son of a Taranaki dairy farmer and was born in Wanganui, New Zealand. He attended New Plymouth Boys' High School. McBeth commenced work at the Taranaki Herald on 8 February 1962 and moved to the Auckland Star in late 1965.
Move to Southeast Asia
McBeth left New Zealand around 1970 and headed for Fleet Street in London, but never made it there. The cargo vessel that he was sailing on ran aground during its night-time entry into Tanjung Priok Harbour in Indonesia so he spent time in Jakarta before travelling to Singapore and on to Bangkok.
Work at the Bangkok Post and in Thailand
McBeth commenced employment at the Bangkok Post shortly after arriving in Thailand. He would go on to work with Roger Crutchley, Peter Finucane and Tony Waltham at the publication. It was at this time that McBeth covered stories relating to the Khmer Rouge reign of terror in Cambodia and the Indochinese refugee crisis and appeared briefly as an extra in Michael Cimino's film The Deer Hunter (1978).
One of the first events that McBeth wrote about was the fire that engulfed the Imperial Hotel in Bangkok on 20 April 1971. The official death toll was put at 24 although McBeth believes that it was probably much higher. He arrived in time to see a teenage girl leap off the fourth floor and land on a parked car below and witness the crew of the first fire engine at the scene standing around negotiating with hotel staff over how much it would cost to put the fire out. The fire had begun in an overheated vat of cooking oil and had then been sucked up the elevator shaft. The fire alarms were not working and many guests lay in their rooms asleep. These factors contributed to the fatalities.
McBeth lodged the first comprehensive account of why fifteen US Airforce B-52 aircraft were brought down in bombing raids over Vietnam in December 1972. He uncovered that the planes were flying at lower altitudes and on predictable routes on their bombing runs in and out of Hanoi. The Soviet-made missiles the North Vietnamese fired during the campaign were fitted with close proximity fuses that did not require direct hits to be effective, hence the loss of so many aircraft in such quick succession.
In 1975-76, McBeth reported on the desperate wave of refugees that washed across Southeast Asia at the end of the Vietnam War, the Thai fisher/pirates who raped and murdered Vietnamese boat people, and the Thai soldiers who forced Cambodian refugees back into a Khmer Rouge minefield instead of allowing them to enter Thailand. These were part of Thailand's strategy of discouraging the influx of refugees.
McBeth would also work as a freelance reporter in Thailand for Agence France-Presse, United Press International (UPI), London's Daily Telegraph and spend three years writing for Hong Kong's Asiaweek.
Thailand
In May 1979, McBeth joined the Bangkok office of the Far Eastern Economic Review having been hired by its editor, Derek Davies. He wrote for the publication for the next 25 years working alongside Bertil Lintner, Paisal Sricharatchanya and Rodney Tasker. In all, McBeth saw five coups in Thailand, including the aborted one that killed his close friend, the Australian cameraman, Neil Davis, in September 1985.
South Korea
After working in Thailand, McBeth was sent to South Korea to head the Review's South Korean bureau. In his three years in Seoul, he focussed on South Korea's chaotic transformation from an authoritarian to a fledging democratic state. McBeth calculated that $US6.7 million worth of tear gas was discharged on the streets of Seoul in the conflict between security police and protesting university students in the first nine months of 1986 alone.
The scoop that sank: North Korea's efforts to develop a nuclear weapon
During his time in South Korea, McBeth revealed together with Nayan Chanda and Shada Islam, in the Review, North Korea's efforts to develop a nuclear weapon. American and South Korean officials feared that North Korea was building a reprocessing plant next to a 30 mW nuclear reactor north of Pyongyang. The Americans had first heard of the nuclear reactor project at the Yongbyon Nuclear Scientific Research Center in 1985 but it was only in late 1988 that satellite cameras detected a mystery extra facility. According to most estimates, a 30 mW reactor would have been capable of producing about seven-to-eight kilograms of weapons-grade material over an extended period. That would have been sufficient for a one kiloton bomb. Chanda, Islam and McBeth broke the story in the Review after it was leaked by the Australian Ambassador to South Korea, Richard Broinowski, who had seen American satellite photographs of the Yongbyon site. The revelation was the biggest scoop of McBeth's career, yet it sank without trace until American mainstream media like Newsweek and the Washington Post finally picked it up almost a year later.
The Philippines
As well as living and working in Bangkok and Seoul, McBeth spent time in the Review's offices in Manila in the Philippines and in Jakarta in Indonesia where, among other things, he wrote about feuding Filipino warlords and the fall of President Suharto.
In Manila, in 1989, McBeth wrote a detailed series of articles, analyzing the reasons for the Philippines' continuing economic malaise at a time when other countries in the region were beginning to prosper. He noted that nine million Filipinos - ten percent of the population - were forced to head overseas for employment because a powerful and selfish elite had insufficient vision to employ them in home-based industries. McBeth observed that a thin veneer of democracy overlay a deep system of feudalism, reinforced by the Catholic Church, which stifled any sense of entitlement in the rural society. In his view, the overthrow of Ferdinand Marcos in the popular coup of 1985 and the subsequent installation of Corazon Aquino as president had changed nothing.
Accused of working for the CIA
Shortly before McBeth headed to Manila, the Australian journalist John Pilger accused him in the British New Statesman magazine of working for the CIA. This allegation, seemingly based on McBeth's brief appearance as a marine in The Deer Hunter and the fact that he had written an article for the CIA-funded news service, Forum World Features, he complained, could have put his life at risk in the Philippines as the New People's Army was "knocking people off then". According to McBeth, Pilger's allegation was "based on the fact that I had a lot of CIA contacts. But doesn't everybody"?
Indonesia
In the 1990s, McBeth became the Review's bureau chief in Jakarta. He arrived there at a time of growing social unrest due to a widening gap between rich urban dwellers and the rural poor, a depletion of agricultural land in Java, poor income distribution engendered by twenty conglomerates controlling eighty per cent of the country's top 400 companies, and a predisposition of city dwellers to believe that rural dwellers could not think for themselves. McBeth chronicled growing tensions between President Suharto and some of Indonesia's top politicians, and increasing social disturbances, including anti-Chinese riots and troubles in West Kalimantan, which preceded Suharto's relinquishment of power to B. J. Habibie in 1998.
Reporter. Forty Years Covering Asia
During his career, McBeth has reported on a wide range of stories that are recounted in his book, published in 2011, entitled Reporter. Forty Years Covering Asia. These include the investigation into the loss of Cathay Pacific Flight 700Z, which crashed near Pleiku in the Central Highlands of Vietnam on 5 June 1972 after a bomb detonated on board, and Herman Knippenberg's relentless pursuit of the Vietnamese-Indian serial killer Charles Sobhraj, who lured young foreign tourists to their deaths in Thailand and other countries across Asia. Reporter also contains details of McBeth's investigation into the break-up of major heroin trafficking rings who, during the Vietnam War, used the US military postal service and hundreds of airforce transport aircraft to transport heroin between South-East Asia and homeland bases in the United States. This resulted in his 20 May 1977 cover story for Asiaweek. Other stories covered by McBeth and featured in the book include the crackdown on the Burmese warlord and "Opium King", Khun Sa, the North Korean bombing of the Martyrs' Mausoleum in Rangoon in 1983 that killed 21 people including several South Korean Cabinet ministers, the scandal involving Bre-X and a purported enormous gold deposit at Busang in Indonesia which led to the largest fraud in the history of mining, and the Bali bombings in 2002 that killed 202 people. McBeth's most poignant observations concern the death of the Review, which was finally closed in 2009. Along with Asiaweek, it used to be read for its insights into local politics by every English-speaking diplomat and business person in the region. After its acquisition by the giant Dow Jones empire in the early 1990s, it was commercialized, downsized, and trivialised by an American management team unfamiliar with Asian cultures and values.
The Loner: President Yudhoyono's Decade of Trial and Indecision
McBeth's latest book, The Loner: President Yudhoyono's Decade of Trial and Indecision, was launched at the Singapore Writers Festival on 12 November 2016. It provides a comprehensive review of the decade that President Susilo Bambang Yudhoyono spent in power in Indonesia and describes the challenges that he faced and why Indonesia is still struggling with its past. The Loner covers everything from fuel subsidies and natural disasters to corruption, the nationalisation of Indonesia's resources, terrorism and a bank scandal that marked a significant turning point in the retired general's once-promising presidency. McBeth considers Yudhoyono's presidency to be a profound disappointment in many aspects, especially the clumsy way in which he handled many of the challenges that he and his country faced. He also addresses the much-analyzed betrayal of Indonesia's fifth president, Megawati Soekarnoputri, in 2004, when Yudhoyono decided to run for president against her after quitting as her Coordinating Minister for Political and Security Affairs. McBeth is of the view that Yudhoyono "retreated into himself quite a bit", especially during his second term, and that his indecision and oversensitivity may have been rooted in his upbringing and life journey, among other things. He believes that the most disappointing aspect of Yudhoyono's two terms was the missed opportunities. "A fresh new leader, widely regarded as competent and free from corruption, Yudhoyono swept into office on a tide of great goodwill: he could have done anything he chose but ultimately left office having achieved little of any real or lasting substance, with the obvious exception of peace in Aceh". Yudhoyono, despite being a four-star general, was a remarkedly timid man when it came to implementing tough policy decisions. This was particularly so when it came to the absurdly ballooning fuel subsidies, which could easily have been tackled with determination early in his presidency, thus freeing up valuable resources, both financial and political, for more complex issues later in his term. Ultimately, it was the integration of economic nationalism, particularly with relation to mining giant Freeport, that McBeth sees as the worst blot on Yudhoyono's copy book.
Recent work
McBeth wrote for Singapore's The Straits Times from the end of 2004 until early 2015, specializing in Indonesian affairs. His most recent work has appeared in the Asia Times, The National (Abu Dhabi), the Nikkei Asian Review, the South China Morning Post and the Australian Strategic Policy Institute's official blog The Strategist.
Personal life
A former smoker, (he was a three-pack-a-day man), McBeth developed thromboangiitis obliterans, or Buerger's disease, which is a rare inflammatory vascular disease arising in smokers. The disease affected his femoral artery constricting the flow of blood to his leg. After a series of unsuccessful angioplasty procedures, his right leg was amputated in 1992.
McBeth lives in Bali with his wife, the Indonesian journalist Yuli Ismartono. Ismartono is the mother of CNN correspondent Atika Shubert.
References
John McBeth Wikipedia
(Text) CC BY-SA