Known for

The Jimquisition









Website

www.thejimquisition.com

Similar

TotalBiscuit, Stuart Ashen, JonTron




Born

1 January 1984 (age 37 years), London, United Kingdom




Profiles



The co optional podcast ep 90 ft jim sterling strong language august 27 2015
James Nicholas Stanton (born 1 January 1984), better known by his pen name Jim Sterling, is a British freelance video game journalist, critic, and pundit. Prior to becoming completely independent in September 2014 through crowdfunding, Sterling was the review editor for Destructoid and an author for The Escapist. His current YouTube series include "The Jimquisition", "Jimpressions", "Best of Steam Greenlight Trailers", "Greenlight Good Stuff", "itch.io Tasty", "Nitpick Theater", "Oh My Gawd Hype!", "The Videogame Show What I've Done" and "Boglinwatch".
Contents
Jim sterling vs digital homicide interview
Career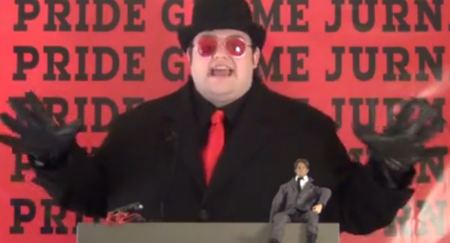 The Jimquisition is a weekly YouTube video series in which Jim Sterling discusses current issues surrounding video games. Such topics include unethical business practices in the video game industry, gender issues, and early access games. The series originally started on Destructoid's YouTube channel and was later moved to The Escapist's channel. As of January 2017, his other series include Best of Steam Greenlight Trailers, where he narrates over and comments on poorly made trailers (and their respective greenlight pages) for games looking to get onto Steam. These often include games that have been sold only using unaltered, pre-purchased assets (known as "asset flipping"); Nitpick Theater, where he speaks intensely about issues within gaming that he describes as "make really big deals out of things that don't matter"; itch.io tasty, a series where he plays video games available on itch.io under various topics; and Greenlight Good Stuff, a series where he makes videos about good game trailers on Steam Greenlight.
He also produces a series called Boglinwatch, where he unboxes Boglins and provides news about Boglins. One of the notable episodes in the series is when he visits a Boglin art show in New York.
His main gameplay series is Jimpressions (formerly known as "Squirty Play") which are done in the style of a Let's play series, where he talks over his own gameplay. Sterling has often spoken against sexism in gaming. He is open about the fact that his position on this subject has slowly evolved.
In November 2014, Sterling announced that he was leaving The Escapist and intended to seek funding for his work independently through Patreon. He also stated the desire to go back to writing articles and doing podcasts, which he wasn't able to do since he left Destructoid, but has since done on his own website (thejimquisition.com), creating "The Podquisition", a podcast that he shares with Irish musician/one-man band, Gavin Dunne (a.k.a. Miracle of Sound), and fellow British game journalist Laura Kate Dale (a.k.a. Laura K Buzz). He started up a second podcast "The Spin-off Doctors" in which he and Conrad Zimmerman analyze movies which are based on video games, though they have mentioned they may move into comic book and other geek culture territory eventually. Also with Zimmerman, Sterling plays a character in "FistShark Marketing," an improvised comedy podcast set in a fictional marketing firm, which was shared with Destructoid writers Caitlin Cook for the first fifty episodes and Jonathan Holmes (under the guise of Paulson Sear) from episode 56 to 100.
In March 2016, a lawsuit was filed against Sterling by Digital Homicide Studios for $10 million for "assault, libel, and slander". The lawsuit was raised to $15 million, before it was eventually dismissed with prejudice in late February 2017.
Reception
Sterling was featured in a list of "the 25 raddest game journalists to follow on Twitter," by Complex. Sterling has developed into a controversial figure in the world of videogame journalism with his views often challenged. Criticism of his negative review of Final Fantasy XIII prompted him to release a statement in defense of it. His views on art games have been criticized by TIGSource editor Derek Yu. Yu compared Sterling's view to that of art critic Louis Leroy in 1874 of a Claude Monet painting, which Leroy criticized for being unfinished, while the style of painting later became a major art style.
His site has undergone two DDoS attacks due to his posting reviews for long-awaited games that he has found less than perfect, first for No Man's Sky and then The Legend of Zelda: Breath of the Wild.
Personal life
Sterling was born in the United Kingdom, where he lived on the poverty line for much of his childhood and was psychologically abused by his mother's lover, a Hell's Angels outcast. This abuse is what prompted him to take on the "Jim Sterling" name, saying that he would've had it legally changed, if not for his current legal issues. He currently lives with his wife in Jackson, Mississippi. In a video from November 2015 on Fallout 4, when talking about the polyamorous relationship options he stated that he is "not a monogamous guy, nor am I a straight one either."
References
Jim Sterling Wikipedia
(Text) CC BY-SA