Weight

115 lb (52 kg)




Partner

Heidi Rhoades




Height

1.59 m




Role

Personal trainer




Name

Jillian Michaels






Born February 18, 1974 (age 41) (

1974-02-18

)

Los Angeles, California, U.S.




Alma mater

California State University, Northridge




Occupation

Personal trainer, businesswoman, television personality, writer




Website

www.jillianmichaels.com




Books

Master Your Metabolism, Slim for Life, Making the Cut




Children

Phoenix Michaels Rhoades, Lukensia Michaels Rhoades




Movies and TV shows

The Biggest Loser, Jillian Michaels: No More, Losing It With Jillian, Jillian Michaels: Banish F, The Doctors




Similar People

Bob Harper, Alison Sweeney, Jillian Harris, Jillian Barberie, Cassey Ho




Profiles




Facebook

Twitter

Instagram

Google+

Pinterest
Jillian michaels biography
Jillian Michaels (born Jillian Leigh McKarus; February 18, 1974) is an American personal trainer, businesswoman, author and television personality from Los Angeles, California. Michaels is best known for her appearances on NBC, particularly The Biggest Loser. She is also known for her appearance on the talk show The Doctors. In fall 2015, she hosted and co-judged a series on Spike titled Sweat, INC. In January 2016, her reality television series Just Jillian premiered on E!.
Contents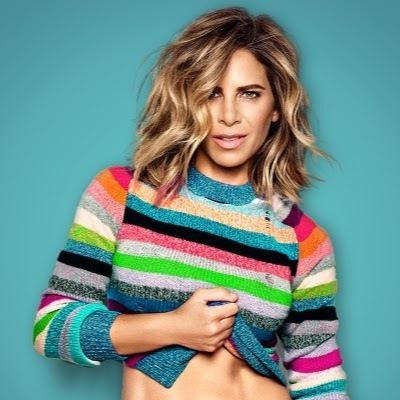 Jillian michaels body revolution jillian michaels fitness extreme weight loss
Early life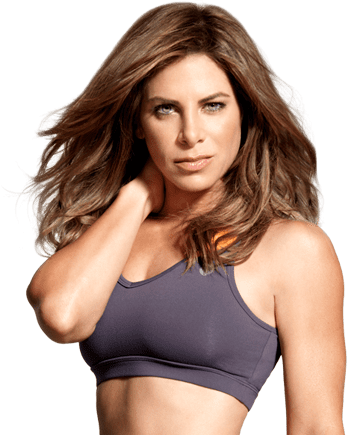 Michaels was born in Los Angeles, California, the daughter of JoAnn and Douglas McKarus, a lawyer. She was raised in Santa Monica. Michaels has recalled a traumatic childhood that included night terrors, her parents' divorce, and suffering verbal abuse by classmates as a 5-foot, 2-inch, 175-pound eighth-grader.
Michaels attended California State University, Northridge, supporting herself as a bartender and personal trainer during that time. After working briefly as an agent with International Creative Management, in 2002, Michaels opened the sports medicine facility Sky Sport & Spa in Beverly Hills.
Career
As a personal trainer, Michaels uses a blend of strength training techniques with her clients including kickboxing, yoga, Pilates, plyometrics, and weight training. Since 1993, Jillian has held two personal training certificates from the National Exercise & Sports Trainers Association (NESTA) and The Aerobics and Fitness Association of America (AFAA). In addition, she is Kettlebell Concepts certified. Jillian has also developed a continuing education series for trainers with AFAA and holds a nutrition and wellness consultant certificate with the American Fitness Professionals and Associates (AFPA).
In January 2012, Michaels released a 90-day weight loss program titled "Body Revolution". She recently launched BODYSHRED, her 30-minute workout class exclusively at GoodLife gyms in Canada and in the US with clubs like Lifetime fitness, Crunch and UFC Gyms. In 2015, she launched her new infomercial BODYSHRED, a 60-day at-home workout program. Michaels' business partner and manager is Giancarlo Chersich. Together, they operate Empowered Media, LLC.
Media
In addition to her DVDs, Michaels has also authored several books on health and wellness topics. Several of these books, including Master Your Metabolism and Unlimited, have made the New York Times Best Seller list.
Michaels hosted a Sunday talk radio show on Los Angeles's KFI (640 AM) from 2006 through 2009. Since February 2011, Michaels has hosted a weekly podcast, The Jillian Michaels Show, through iTunes. In December 2011, the show was among the podcasts honored by Apple in its App Store Rewind 2011, winning in the Best New Audio Podcast category.
On October 21, 2008, she launched a video game for the Wii, Jillian Michaels' Fitness Ultimatum 2009. A year later, she launched a sequel called Fitness Ultimatum 2010. In 2011, Michaels released two more games, Jillian Michaels Fitness Ultimatum 2011 and Jillian Michaels Fitness Adventure for the Xbox 360.
The Biggest Loser
Michaels was an original trainer on the reality series The Biggest Loser when the show debuted in October 2004. On the show, she assumed the role of Red Team trainer and remained in that capacity for the first two seasons. After her departure in 2006, she was replaced by Kim Lyons. She returned to the show in 2007 as the Black Team trainer competing against Lyons' Red Team and Bob Harper's Blue Team. Along with Harper, Michaels was also a trainer in the Australian version of the show from 2006 to 2008.
On December 7, 2010, Michaels announced via Twitter that the eleventh season of the show would be her last. Michaels made her last appearance on The Biggest Loser in May 2011.
On September 4, 2012, it was announced that Michaels will return to The Biggest Loser in Season 14. Michaels also returned for Season 15, which premiered on October 15, 2013 on NBC.
Michaels announced on June 25, 2014 that she will not be returning for Season 16 which is set to air in the fall of 2014, marking her third departure from the weight loss series.
Losing It With Jillian
On June 1, 2010, NBC debuted Losing It With Jillian, a spin-off of The Biggest Loser. In the show, Michaels visits the home and workplaces of family members for a week.
Losing It With Jillian originally ran on NBC in June and July 2010. As of January 2012, all eight episodes of the series are available for viewing online.
Contract with CBS Television Distribution
On May 6, 2011, CBS Television Distribution announced that Michaels had signed a multi-year deal to become a co-host of the panel-discussion show The Doctors, as well as to serve as a special correspondent on the CTD program Dr. Phil. Michaels had been a guest on The Doctors several times previously. On the show, Michaels hosted a recurring segment called Ask Jillian, which dealt primarily with nutrition and diet topics.
Michaels left The Doctors in January 2012 after half a season, because, she claimed, the arrangement "wasn't the fit both the show and I hoped for".
Charities
Michaels is involved in a variety of charities including the NFL's Play 60, the Clinton Foundation's Alliance for a Healthier Generation, Stand Up to Cancer, Working Wardrobes, Hope for Haiti, and Sow a Seed and Dress for Success. Michaels also devotes time to animal welfare causes, and she recently helped PETA rescue a racehorse from the slaughterhouse.
Michaels serves as an adviser to the National Day of Dance for Heart Health, an organization that encourages people to exercise. In January 2012, she was a participant in the Clinton Foundation's inaugural "Health Matters: Activating Wellness in Every Generation" conference.
Controversy
In 2010, Michaels faced four separate lawsuits alleging ingredients in the Jillian Michaels Maximum Strength Calorie Control dietary supplement, the Jillian Michaels Maximum Strength Fat Burner and the Triple Process Total Body Detox and Cleanse, were ineffective or dangerous. In each instance, Michaels denied the allegations. All four suits were dismissed.
Michaels was the subject of a critical October 2010 op-ed piece in the Los Angeles Times from fitness author James Fell that claimed Michaels "is not actually a real fitness trainer—she's an actress playing the role of fitness trainer on TV and in a line of popular DVDs" and alleged she had let several of her fitness certifications lapse. Michaels responded by threatening legal action for defamation, stating she had been an active physical trainer for 19 years and that none of her certifications have lapsed. The newspaper published a correction citing her up-to-date certifications shortly thereafter and no legal action was taken.
In 2012, Michaels faced backlash from law enforcement officers and their families following her outspoken comments on the July 28, 2012 episode of her podcast, "The Jillian Michaels Show." Approximately 8 minutes into the episode, Michaels expressed a lifelong hatred of police officers, to wit: "Cops are just A-holes ... I've hated cops since I was a kid. The 'Po-Po,' I hate 'em. I've always hated 'em. I tried to pretend like I don't hate 'em." Michaels' comments were prompted by the police response to a burglary which had occurred in her Malibu home earlier that month. According to TMZ, on July 3, 2012, at approximately 9:00pm, career-criminal Gerjuan Harmon broke into the home she shares with her now-spouse Heidi Rhoades and their two young children. While Michaels and family were elsewhere in the home, Harmon, a parolee, entered through an unlocked door and removed Michaels' purse which contained her wallet and the keys to her 2011 Bentley GT. Following a high-speed police chase, Harmon crashed the Bentley into a light pole. After fighting with the responding officers, Harmon was placed under arrest. In September 2014, Harmon was convicted of unlawful driving or taking of a vehicle, evading an officer, resisting executive officers and misdemeanor hit-and-run driving. He is now serving a 17-year sentence in state prison. When describing the incident on her July 28, 2012 podcast, Michaels claimed that the responding officers were bribed by TMZ, accepting money in exchange for details about the crime. With no evidence to support her assertions, backlash from the law enforcement community surfaced on social media. A Facebook page, "Jillian Michaels Hates Law Enforcement," was established in an apparent effort to counter Michaels' vitriolic comments and assertions by suggesting boycotts of the various brands endorsed by Michaels. The July 28, 2012 podcast episode in question, titled, "Jillian Finds Gratefulness in a Personal Loss," was removed from the show's ITunes feed by the show's producers, but can still found on SoundCloud.
Businesses
In March 2017 Michael's teamed with California restaurant Giggles N' Hugs (stock ticker GIGL) and became a part owner. Giggles N' Hugs shareholder/owner Rocco Berardi explained that GNH Is an Organic Restaurant/Playground for children and parents to enjoy parties, events, birthdays and a one of a kind organic menu.
On August 5, 2014, Michael's announced her activewear line, Impact by Jillian Michaels at KMART. In March 2015 she expanded the line by adding athletic foot-wear for women and children.
Personal life
Michaels has two children with her fiancée Heidi Rhoades. Michaels adopted their then-two-year-old daughter from Haiti in May 2012, and Rhoades gave birth to a son that same month. On her sexuality, Michaels has stated, "Let's just say I believe in healthy love. If I fall in love with a woman, that's awesome. If I fall in love with a man, that's awesome. As long as you fall in love…it's like organic food. I only eat healthy food, and I only want healthy love!"
In an interview with Chris Azzopardi of Pride Source she said "I didn't even know I was (gay) until later in life. I mean, I realized I was bisexual at about 18 but I didn't even realize I was gay until into my 20s."
She also credits Madonna's "Justify My Love" video with helping her find her voice.
"It was a series of things... it was a process. Basically it was a combination of getting involved in martial arts and having these small successes within martial arts, which empowered me to start taking steps in my personal life, in my relationships, in my professional life, and then, honestly, when it comes to accepting my sexuality."
"It [the video] made a really big difference for my generation because (being gay) wasn't something that was disgusting and gross - just something that became cool overnight, thanks to Madonna. That allowed me to feel less ashamed - it became almost cool to explore it - and, unfortunately or fortunately, that exploration was not just an exploration, it wasn't just me experimenting. It turns out that was what was going on with me throughout all my teenage years. I really didn't know. I really thought something was wrong with me. I didn't know that I liked women, but I knew I didn't like men. I knew when I was a kid I didn't want to be physical with my boyfriends. Didn't wanna make out with them. I couldn't figure out what was wrong with me."
References
Jillian Michaels Wikipedia
(Text) CC BY-SA