Peoples Republic of China




Jilin




239,849 (2000)


3,408 km2


1988



Jian (Chinese: ; pinyin: ; formerly simplified Chinese: ; traditional Chinese: ; pinyin: ) is a county-level city in southwestern Jilin province, Peoples Republic of China. It is administered by the prefecture-level city of Tonghua. Jian has an area of 3,408 km2 (1,316 sq mi) and a population of approximately 230,000. The city was given its current status in 1988. Jian is separated from Manpo, Chagang Province, North Korea by the Yalu River; it has an international border running 203.5 km (126.4 mi).
During western Han dynasty, Jian was governed by Xuantu Commenandery. In 3 AD, the kingdom of Goguryeo (Gaogoli) moved its capital to Gungnae Fortress in todays Jian. Until 427 CE, Jian was the capital of Goguryeo, one of the Three kingdoms of Korea, and was called Gungnae Fortress, for 400 years until the capitals relocation to Hwando Mountain Fortress, also in Jian, in 209 CE.
The Capital Cities and Tombs of the Ancient Koguryo Kingdom, located in Jian and Huanren Manchu Autonomous County, Liaoning, have been listed as part of a UNESCO World Heritage Site. Jian is also dubbed as a "Little Jiangnan" of Jilin due to its scenery.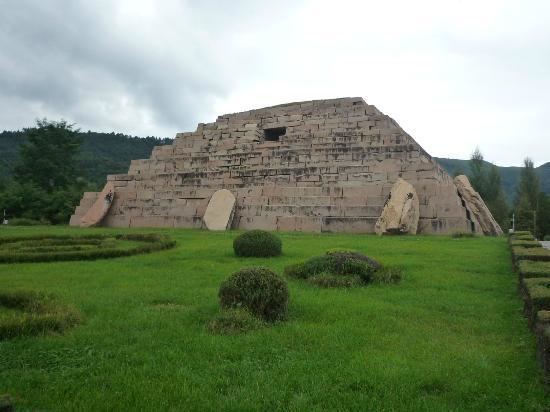 Jian has a monsoon-influenced humid continental climate (Koppen Dwa), with long, very cold winters, and very warm, humid summers. Monthly average temperatures range from ?12.3 °C (9.9 °F) in January to 23.3 °C (73.9 °F) in July, and the annual mean is 7.16 °C (44.9 °F). Though the annual total, at 888 mm (35.0 in), is generous, precipitation is quite low during the winter and upwards of 60% of annual rainfall occurs from June through August. The frost-free period lasts around 150 days.
Jian, Jilin Wikipedia
(,)http://media-cdn.tripadvisor.com/media/photo-s/02/fd/47/71/ji-an-tomb-group.jpg(,)http://media-cdn.tripadvisor.com/media/photo-s/02/f8/3e/12/caption.jpg(,)http://whc.unesco.org/uploads/thumbs/site_1135_0001-594-0-20090916144341.jpg(,)http://news.xinhuanet.com/english/photo/2012-11/23/131994672_11n.jpg(,)http://data.travelchinaguide.com/community/photo/6100/61006232034120.jpg(,)http://www.travelchina.gov.cn/tirms/thumImgDir/24c0b1b2b4df4b70a2adea994e70965e.jpg
(,)http://media-cdn.tripadvisor.com/media/daodao/photo-s/01/d3/27/6d/caption.jpg(,)http://media-cdn.tripadvisor.com/media/photo-s/03/57/e4/35/caption.jpg(,)http://data.travelchinaguide.com/community/photo/6100/61006234155754.jpg(,)http://media-cdn.tripadvisor.com/media/daodao/photo-s/03/66/93/3f/caption.jpg(,)http://sinonk.com/wp-content/uploads/2014/10/Jian_Koguryo.jpg(,)http://www.japanfocus.org/data/13%2520Ji%27an%2520near%2520North%2520Korean%2520border.jpg(,)http://www.visitourchina.com/FileUpload/FileUpload/120925102803410.jpg(,)https://40.media.tumblr.com/35c89345a200adf07ec283db89ee21b6/tumblr_mkwvlc2B211rs6oixo1_500.jpg