Country

South Korea




Province

North Jeolla Province




Region

Honam




Population

616,468 (2000)




Area

206.22 km2






Colleges and Universities

Chonbuk National University



Map of Jeonju
Jeonju ([tɕʌn.dʑu]) is a city in South Korea and the capital of North Jeolla Province. It is both urban and rural due to the closeness of Wanju County which almost entirely surrounds Jeonju. (Wanju County has many residents who work in Jeonju.) The name Jeonju literally means "Perfect Region" (from the hanja 全 (전; jeon) for perfect, 州 (주; ju) for region). It is an important tourist center famous for Korean food, historic buildings, sports activities, and innovative festivals.
Contents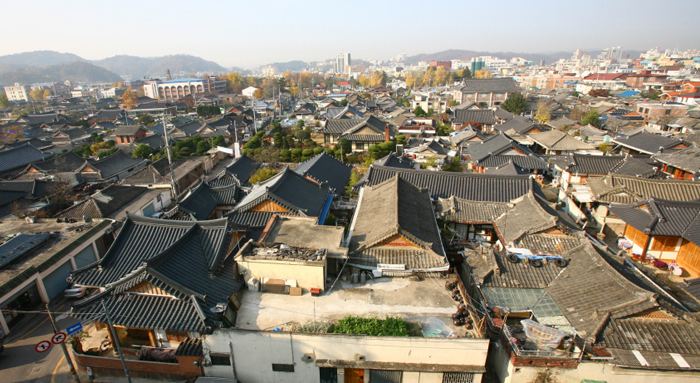 In May 2012, Jeonju was chosen as a Creative Cities for Gastronomy as part of UNESCO's Creative Cities Network. This honour recognizes the city's traditional home cooking handed down over thousands of years, its active public and private food research, a system of nurturing talented chefs, and its hosting of distinctive food festivals.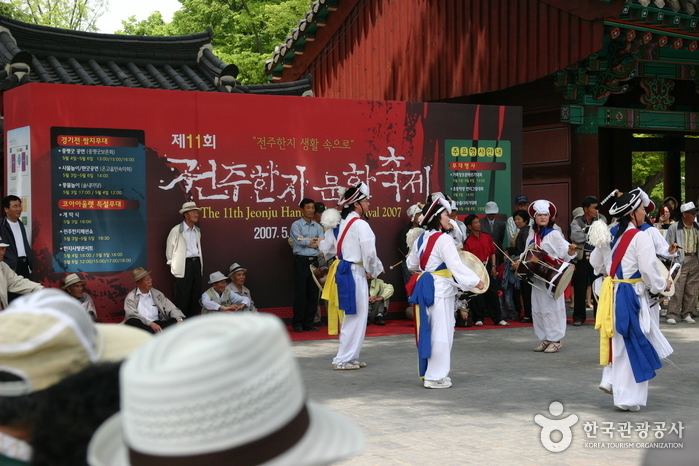 Walking around korea jeonjus nambu market
History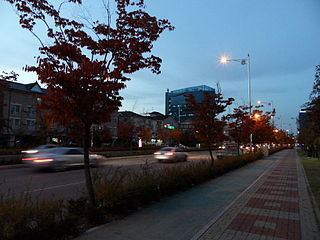 In the fertile Honam plain, famous for Jeonju Hanok Village and exceptional produce, Jeonju has been an important regional center in the province for centuries. The city was the capital of Hubaekje Kingdom, which was founded by Gyeon Hwon. It was regarded as the spiritual capital of the Joseon Dynasty because the Yi royal family originated there. The Chŏnju Kim in North Korea, who Kim Il-sung was descended from, have their ancestral seat (Bon-gwan) in Jeonju as well.
The town was occupied by the Donghak peasants' movement in 1894. Jeonju was given metropolitan status in 1935, and the city was founded in 1949.
Since Joseon, it was a metropolis but, left behind the industrialization, it declined compared. It does not have the infrastructure, manufacturing, or heavy industries found in other Korean major cities. Today, Traditional Tour is a major industry in the city.
Culture
Jeonju bibimbap 전주비빔밥, a traditional local food, is well-known across South Korea. There are several very popular vegetarian restaurants serving Jeonju style food and pine wine.
The National Jeonju Museum exhibits ancient relics from the Baekje days.
There are extensive royal museums, temples, a castle fortress on a hillside, and a well-known paper museum, as well as an annual paper fashion show highlighting the latest styles and traditional Korean clothing made of paper.
The Jeonju Hanok Village (Hanok Maeul) is a traditional-style village in the heart of Jeonju, housing over 800 traditional "hanok" style buildings. It contains many traditional tea shops, souvenir shops, and restaurants.
The Jeonju International Sori Festival was among Songlines' 25 Best International Festivals in 2014.
The Jeonju International Film Festival draws about 50,000 visitors annually.
Jeonju is the hometown of the breakdancing crew Last for One, international Battle of the Year champions.
The local mountains and parks are popular for outdoor recreation due to its rural location. There are historical sites in the area. The city has a zoo, a park, and the Hanguk Sound and Culture Hall, a large, modern concert complex on the Chonbuk National University campus.
Notable people
Choi Myung-hee (1947–1998), author of the novel series Honbul that sold over 800,000 copies. She worked on the series for 7 years and 2 months until dying due to cancer.
Kim Tae-yeon (born March 9, 1989), member of the group Girls' Generation.
Kim Sung-kyu (born April 28, 1989), member of South Korean boy band Infinite.
Kim Kyu-jong, center of SS501 (born February 24, 1987).
Lee Min-woo, member of Shinhwa.
Ahn Hye-jin (Hwasa), member of the South Korean girl group Mamamoo (born July 23, 1995)
Jung Whee-in, member of the South Korean girl group Mamamoo (born April 17, 1995)
Jang So-jin (Soyee), member of girl group gu9udan (born November 21, 1996)
Yoon Kyun-sang, actor (born March 31, 1987)
Kim Hyun Jin, member of girl group LOONA (born November 15, 2000)
Administrative districts
Jeonju is divided into two wards, Deokjin-gu (덕진구) and Wansan-gu (완산구) that, in turn, are divided into approximately 40 neighborhoods.
Transportation
Many city buses and taxis are available in Jeonju. However, tourists are often advised to walk between points of interest, as many attractions are near each other.
Attractions
Jeonju International Film Festival usually runs from the end of April to May for one week annually.
Sports
Jeonju hosts K League team Jeonbuk Hyundai Motors FC. The team's home ground is the Jeonju World Cup Stadium.
Climate
Jeonju has a cooler version of a humid subtropical climate (Köppen climate classification Cwa). Jeonju, like all of Korea, has four distinct seasons (spring, summer, fall, and winter). The winters can have a mix of days that are cool to days that are quite cold. The colder days are often influenced by a high pressure front that brings cold air from Siberia.
In the summer, the humidity over the Korean peninsula from June through September comes from southeast Asia. Temperatures in spring (late April and through May) and fall (after September 25 and though October) are often in the mid-20s℃ and with low humidity.
Sister cities
San Diego, California, United States
Suzhou, Jiangsu Province, China
Kanazawa, Ishikawa Prefecture, Japan
Antalya, Turkey
References
Jeonju Wikipedia
(Text) CC BY-SA