Genre

Drama




Screenplay

Chantal Akerman


Writer

Chantal Akerman


Language

French






Director

Chantal Akerman




Initial DVD release

August 25, 2009




Duration




Country

BelgiumFrance







Release date

14 May 1975 (1975-05-14)




Cast

Delphine Seyrig (Jeanne Dielman),

Jan Decorte

(Sylvain Dielman), Henri Storck (1st Caller), Jacques Doniol-Valcroze (2nd Caller),

Yves Bical

(3rd Caller)


Similar movies

Fish Tank

,

The Last Witch Hunter

,

Jupiter Ascending

,

Factory Girl

,

The Heart is Deceitful Above All Things

,

At the Edge of the Abyss



Jeanne dielman 23 quai du commerce 1080 bruxelles 1976
Jeanne Dielman, 23, Quai du Commerce, 1080 Bruxelles ([ʒan dilmɑ̃ vɛ̃ tʁwa ke dy kɔmeʁs mil katʁəvɛ̃ bʁysɛl], "Jeanne Dielman, 23 Commerce Quay, 1080 Brussels") is a 1975 arthouse film by Belgian filmmaker Chantal Akerman.
Contents
Upon its release, The New York Times called it the "first masterpiece of the feminine in the history of the cinema". It has become a cult classic and was named the 19th-greatest film of the 20th century by The Village Voice.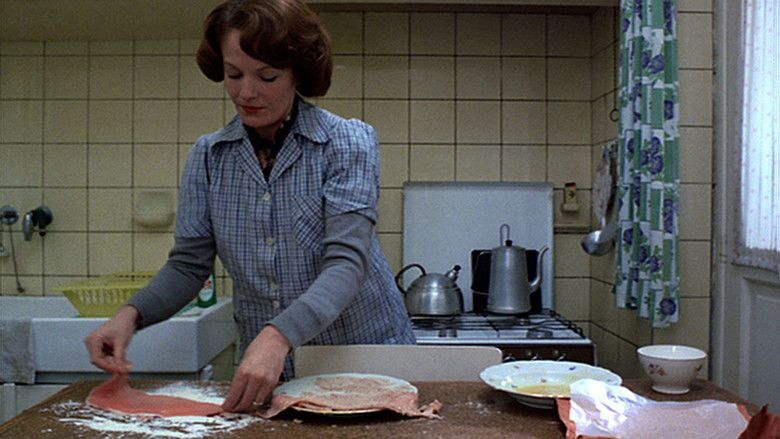 Plot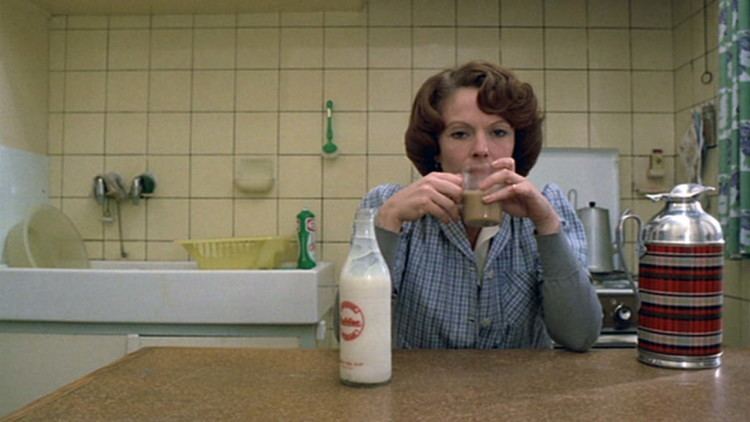 Jeanne Dielman examines a single mother's regimented schedule of cooking, cleaning and mothering over three days. The mother, Jeanne Dielman (whose name is only derived from the title and from a letter she reads to her son), has sex with male clients in her house daily for her and her son's subsistence. Like her other activities, Jeanne's sex work is part of the routine she performs every day by rote and is uneventful. But on the second day, Jeanne's routine begins to unravel subtly, as she drops a newly washed spoon and overcooks the potatoes that she's preparing for dinner. These alterations to Jeanne's existence prepare for the climax on the third day, during which she murders a client.
Cast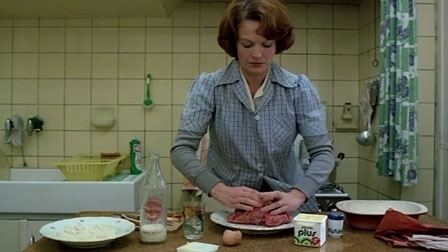 Delphine Seyrig as Jeanne Dielman
Jan Decorte as Sylvain Dielman
Henri Storck as the first client
Jacques Doniol-Valcroze as the second client
Yves Bical as the third client
Production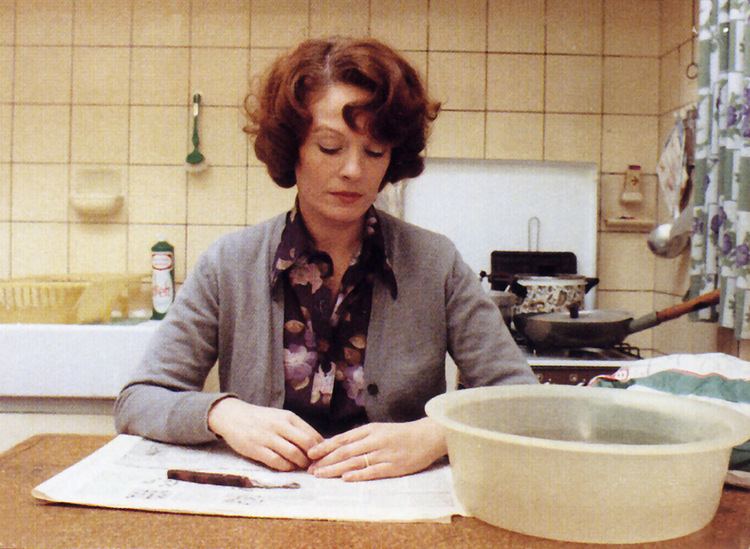 After establishing herself as a major film director with Je, tu, il, elle (1974), Akerman said that she "felt ready to make a feature with more money" and applied for a grant from the Belgian government for financial support, submitting a script that Jane Clarke described as portraying "a rigorous regimen [constructed] around food ... and routine bought sex in the afternoon". This script would only be the rough basis for Jeanne Dielman, 23 quai du Commerce, 1080 Bruxelles because after Akerman received the government grant of $120,000 and began production, she threw the script out and began a new film instead. Akerman also explained that she was able to make a female-centric film because "at that point everybody was talking about women" and that it was "the right time".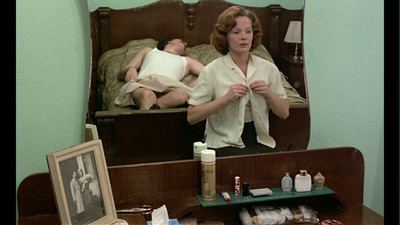 Shooting Jeanne Dielman, 23 quai du Commerce, 1080 Bruxelles took five weeks and Akerman called it "a love film for my mother. It gives recognition to that kind of woman". Akerman used an all female crew for the film, which she later said "didn't work that well - not because they were women but because I didn't choose them. It was enough just to be a woman to work on my film ... so the shooting was awful". Akerman further explained that "a hierarchy of images" that places a car accident or a kiss "higher in the hierarchy than washing up ... And it's not by accident, but relates to the place of woman in the social hierarchy ... Woman's work comes out of oppression and whatever comes out of oppression is more interesting. You have to be definite. You have to be".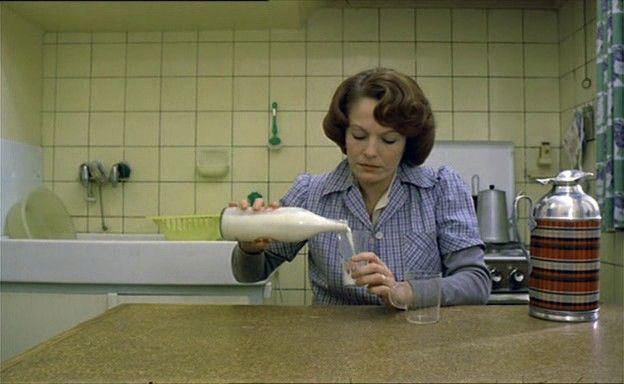 The film depicts the life of Jeanne Dielman in real time, which Akerman said "was the only way to shoot the film - to avoid cutting the action in a hundred places, to look carefully and to be respectful. the framing was meant to respect her space, her, and her gestures within it". The long static shots ensure that the viewer "always knows where I am."
Reception
Jeanne Dielman, 23 quai du Commerce, 1080 Bruxelles premiered at the Directors Fortnight at the 1975 Cannes Film Festival and was financially successful in Europe. Writer Peter Handke and filmmaker Alain Tanner have cited it as influential on their work. It was not released in the United States until 1983.
Film critic John Coleman said that "the film's time span covers Tuesday (stew and potatoes), Wednesday (wiener schnitzel) and heady Thursday (meat loaf and Jeanne has an orgasm and kills her client with a pair of scissors). This orgasm bit is bound to strike the serious-minded as an unfortunate bow of crass commercialism". Jonathan Rosenbaum defended the film and said that it "needs its running time, for its subject is an epic one, and the overall sweep ... trains one to recognize and respond to fluctuations and nuances. If a radical cinema is something that goes to the roots of experience, this is at the very least a film that shows where and how some of these roots are buried". Critic Gary Indiana said that "Akerman's brilliance is her ability to keep the viewer fascinated by everything normally left out of movies".
Ivone Marguilies observed that the film was "fully in tune" with the European women's movement of the time, and that feminist critics welcomed its "rigorous alignment of sexual/gender politics with a formal economy—showing cooking and hiding sex—... as an impressive alternative to well-intentioned but conventional political documentaries and features." B. Ruby Rich said that "never before was the materiality of woman's time in the home rendered so viscerally ... She invents a new language capable of transmitting truths previously unspoken". Marsha Kidder called it "the best feature that I have ever seen made by a woman". Akerman was reluctant to be seen as a feminist filmmaker, stating that "I don't think woman's cinema exists".
Film director Gus Van Sant named Jeanne Dielman, 23 quai du Commerce, 1080 Bruxelles (1975) an inspiration for his own similar films Gerry (2002) and Elephant (2003).
The Criterion Collection includes the film in its Themes section, "Food on Film."
References
Jeanne Dielman, 23 quai du Commerce, 1080 Bruxelles Wikipedia
(Text) CC BY-SA
Jeanne Dielman, 23 quai du Commerce, 1080 Bruxelles IMDb
Jeanne Dielman, 23 quai du Commerce, 1080 Bruxelles Rotten Tomatoes
Jeanne Dielman, 23 quai du Commerce, 1080 Bruxelles themoviedb.org