Name

Jean Rouch




Role

Filmmaker





Parents

Jules Rouch, Luce Gain




Siblings

Genevieve Rouch






Died

February 18, 2004, Birni-N'Konni, Niger




Spouse

Joselyne Lamothe (m. ?–2004)




Movies

Chronicle of a Summer, Les maitres fous, Moi - un noir, Six in Paris, The Year 01




Similar People

Edgar Morin, Chris Marker, Alain Resnais, Eric Rohmer, Jean‑Luc Godard
Jean rouch and his camera in the heart of africa preview
Jean Rouch ([ʁuʃ]; 31 May 1917 – 18 February 2004) was a French filmmaker and anthropologist.
Contents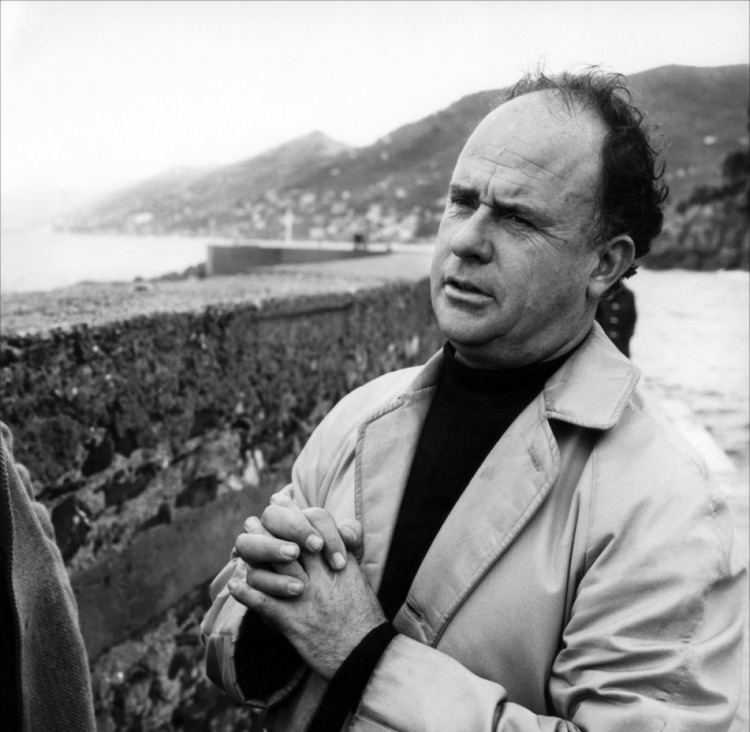 He is considered to be one of the founders of cinéma-vérité in France, which shared the aesthetics of the direct cinema spearheaded by Richard Leacock, D.A. Pennebaker and Albert and David Maysles. Rouch's practice as a filmmaker for over sixty years in Africa, was characterized by the idea of shared anthropology. Influenced by his discovery of surrealism in his early twenties, many of his films blur the line between fiction and documentary, creating a new style of ethnofiction. He was also hailed by the French New Wave as one of theirs. His seminal film Me a Black (Moi, un noir) pioneered the technique of jump cut popularized by Jean-Luc Godard. Godard said of Rouch in the Cahiers du Cinéma (Notebooks on Cinema) n°94 April 1959, "In charge of research for the Musée de l'Homme (French, "Museum of Man") Is there a better definition for a filmmaker?" Along his career, Rouch was no stranger to controversy.
Coversations with jean rouch preview
Biography
He began his long association with African subjects in 1941 after working as a civil engineer supervising a construction project in Niger. During his work in Niger Jean Rouch came to experience the rituals and ceremonies of the Songhai people (Fr:Songhay). He documented the events and sent his work to his teacher Marcel Griaule, who encouraged him to continue his work with the Songhay and go even deeper into his studies. However, shortly afterwards, he returned to France to participate in the Resistance. After the war, he did a brief stint as a journalist with Agence France-Presse before returning to Africa where he became an influential anthropologist and sometimes controversial filmmaker.
Jean Rouch is generally considered the father of Nigerien cinema. Despite arriving as a colonialist in 1941, Rouch remained in Niger after independence, and mentored a generation of Nigerien filmmakers and actors, including Damouré Zika and Oumarou Ganda.
Arriving in Niamey as a French colonial hydrology engineer in 1941, Rouch became interested in Zarma and Songhai ethnology and began to film local people and their rituals.
In the 1940s he met Damouré Zika the son of a Songhai/Sorko traditional healer and fisherman, near the town of Ayorou on the Niger River. After ten Sorko workers were killed by a lightning strike in a construction depot which Rouch supervised, Zika's grandmother, a famous possession medium and spiritual advisor, presided over a ritual for men, which Rouch later claimed sparked his desire to make ethnographic film.
By 1950, Rouch had made the first films set in Niger with Au pays des mages noirs (1947), l'initiation à la danse des possédés (1948) and Les magiciens de Wanzarbé (1949), all of which documented the spirit possession rituals of the Songhai, Zarma, and Sorko peoples living along the Niger river.
Damouré Zika and Rouch became friends, and Rouch began in 1950 to use Zika as the focus of his films, demonstrating the traditions, culture, and ecology of the people of the Niger River valley. The first of 150 in which Zika appeared was Bataille sur le grand fleuve (1950–52), portraying the lives, ceremonies and hunting of Sorko fishermen. Rouch spent four months traveling with Sorko fishermen in a traditional Pirogue filming the piece.
During the 1950s, Rouch began to produce longer ethnographic films. In 1954 he filmed Damouré Zika in Jaguar, as a young Songhai men traveling for work to the Gold Coast Filmed as a silent ethnographic piece, Zika helped re-edit the film into a feature-length movie which stood somewhere between documentary and fiction, and provided dialog and commentary for a 1969 release. In 1957 Rouch directed in Côte d'Ivoire Moi un noir with the young Nigerien filmmaker Oumarou Ganda, who had recently returned from French military service in Indochina. Ganda went on to become the first great Nigerien film director and actor. By the early 1970s, Rouch, with cast, crew, and co-writing from his Nigerien collaborators, was producing full-length dramatic films in Niger, such as Petit à petit (Little by Little : 1971) and Cocorico Monsieur Poulet ("Cocka-doodle-doo Mr. Chicken": 1974)
Still, many of the ethnographic films produced in the colonial era by Jean Rouch and others were rejected by African filmmakers because in their view they distorted African realities
He is considered as one of the pioneers of Nouvelle Vague, of visual anthropology and the father of ethnofiction. Rouch's films mostly belonged to the cinéma-vérité school – a term that Edgar Morin used in a 1960 France-Observateur article referring to the Kino-Pravda newsreels of Dziga Vertov. His best known film, one of the central works of the Nouvelle Vague, is Chronique d'un été (1961) which he filmed with sociologist Edgar Morin and in which he portrays the social life of contemporary France. Throughout his career, he used his camera to report on life in Africa. Over the course of five decades, he made almost 120 films.
With Jean-Michel Arnold he founded the international documentary film festival, the Cinéma du Réel, at the Pompidou Centre in Paris in 1978.
He died in a car accident in February 2004, 16 kilometers from the town of Birni-N'Konni, Niger.
The singularity of Jean-Rouch
Rouch is at same time a scientist and an artist by nature and that is why certain analysts of film history state he often mixes both things, violating basic principles of scientific research
For him such alleged contradiction is but appearance as far as it is required to understand cinéma-vérité (concept he developed and theorized with Edgar Morin) and to make ethnofiction, a term coined by him at the end of the decade of 1990, when he lead film sessions at the Musée de l'Homme in Paris, together with Germaine Dieterlen and Brice Ahounou , at a time when the Ethnographic Film Committee (Comité du film ethnographique) flowered and started giving juicy fruits. Influenced by Dziga Vertov and Robert Flaherty, Jean Rouch is one of the founders of cinéma-vérité and a virtuous practitioner of direct cinema, which for many mean the same.
The concept of ethnofiction would be later (just at the beginning of this century) associated as sub-genre to that of docufiction, which imposed itself as a hybrid genre of fiction (as narrative film) and documentary in one, i. e. "When Documentary and Fiction Breed to Create a Better Truth". Docufiction, a film shot in [time] with characters who play their own roles in real life, became a crucial tool for us to better understand the intricate world in which we live nowadays.
Rouch's pure fictional film
All these facts are intimately connected and can explain why Rouch, unpredictabelly, in a sudden "coup de foudre", decided one day to make a pure fictional film, the only one he made in all his life, a 25 minutes short film, a feat voted to oblivion.
In the year when Jean-Luc Godard shoots La Chinoise, Jean Rouch, maybe not by pure chance, makes up his mind and films Marie-France and Véronique aka Les veuves de 15 ans. Both these films have a lot in common: they are pure fictions, one is an autobiographical, half documentary film, in which Godard, "the most prominent filmmaker of his generation", falls in love with Anne Wiazemsky, his 20 years old girl-friend, and marries her. The other film, the short film by Rouch, resembles that of his friend in that it reveals of two Parisian lovers in vogue, akin filmmakers of the Nouvelle Vague, who film, in the form of essay, ubiquous meetings with girls who will be the stars in their cinéma-vérité.
The Chinese is a political film. The 15-year-old widows is an ethnographic film. These films are different in species, but identical in singularity. They are still alike in their success, as objects of contradictory criticism which gave rise to delusions. Godard, uncomfortable with his fault, ponders, asking himself questions about the effectiveness of his methods and the qualities of his art. Jean Rouch, amusing himself with certain temptations, does not care about methods. He does not care about rules. He alone follows that of liberty, the one that best serves him, that in which he feels at ease. He is a happy man.
But life does not bring us only good things or happy encounters. Chance is there, at the meeting point where one and the other, Rouch and Godard, are often found. The Chinese will compete at the 28th Venice International Film Festival (1967) and will have the special prize of the jury while the 15-year-old Widows will be refused in competition but accepted in private session, a blow of censorship that Rouch denounces forbidding its screening. The fabric of such occurrences – a matter forgotten by many who write about the history of cinema – is the corpus of what is yet to be discovered.
There are more and more lucky chances like these, which lead us, fifty years later, to see "the fearsome Godard", Le Redoutable, in the Venice Film Festival and to hear Veronique, the Chinese girl-friend of the undisputed master, read aloud, in a stern tone, in full fiction, "around the fifty-ninth minute of screening", improvising outside the script. Between pure militant narrative and pure ethnographic fiction there are windows that open onto a new landscape, that is to say on unexpected things that we will see on the screen, eyes open on what attracts us.
Main films
1947: Au pays des mages noirs (In the Land of the Black Magi)
1949: Initiation a la danse des possédés (Initiation into Possession Dance)
1949: La Circoncision (The Circumcision)
1950: Cimetière dans la falaise
1951: Bataille sur le grand fleuve (Battle on the Great River)
1953: Les Fils de l'eau
1955: Les Maîtres Fous (The Mad Masters)
1955: Jaguar
1955: Mammy Water
1957: Baby Ghana
1958: Moi, un noir
1959: La Pyramide humaine
1960: Chronique d'un été (Chronicle of a Summer)
1961: La pyramide humaine (The Human Pyramid)
1964: Gare du nord
1965: La Chasse au lion à l'arc (The Lion Hunters)
1966: Sigui année zero
1966: Les veuves de 15 ans (The 15-Year-Old Widows)
1967: Sigui: l'enclume de Yougo
1968: Sigui 1968: Les danseurs de Tyogou
1969: Sigui 1969: La caverne de Bongo
1969: Petit à petit (Little by Little)
1970: Sigui 1970: Les clameurs d'Amani
1971: Sigui 1971: La dune d'Idyeli
1971: Tourou et Bitti, les tambours d'avant (Tourou and Bitti: The Drums of the Past)
1972: Sigui 1972: Les pagnes de lame
1973: Sigui 1973: L'auvent de la circonsion
1974: Cocorico M. Poulet
1976: Babatu
1977: Ciné-portrait de Margaret Mead
1977: Makwayela (1977)
1979: Bougo, les funérailles du vieil Anaï
1984: Dionysos
1990: Liberté, égalité, fraternité et puis après (Freedom, Equality, Fraternity—And Then What?)
2002: Le rêve plus fort que la mort co-directed with Bernard Surugue
References
Jean Rouch Wikipedia
(Text) CC BY-SA