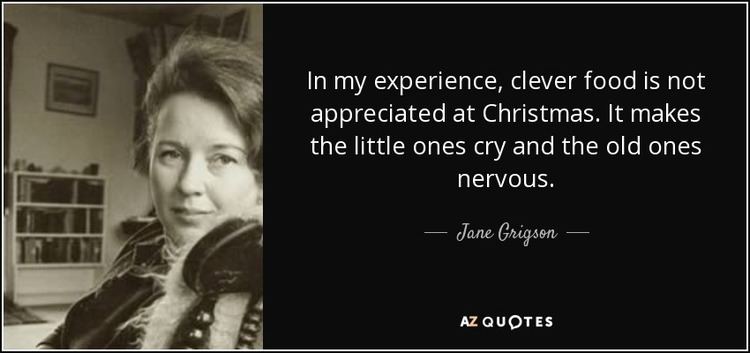 Heather Jane Mabel McIntire (later Jane Grigson) was born in Gloucester, Gloucestershire, and brought up in Sunderland, County Durham, where her father George Shipley McIntire was Town Clerk. She attended Sunderland Church High School and Casterton School, Casterton, Westmorland, then went on to Newnham College, Cambridge, where she read English. On graduating from university in 1949, she spent three months in Florence, Italy. After working in art galleries, she went into publishing, joining George Rainbird's company in 1953 as a picture researcher for the encyclopedic People, Places, Things and Ideas. The editor of the book was poet and critic Geoffrey Grigson (1905–85), whom she later married, becoming his third wife. Grigson subsequently worked as a translator, winning the John Florio prize in 1966 for her work with Father Kenelm Foster on the translation of Cesare Beccaria's On Crimes and Punishments (1966).
Grigson's growing interest in food and cooking led to the writing of her first book, Charcuterie and French Pork Cookery (1967), which was accorded the unusual honour for an English food writer of being translated into French. Elizabeth David read the book and was impressed by it, and recommended Grigson as a food columnist for The Observer, for whom she wrote a column from 1968 until her death in 1990. Her long-lasting association with the newspaper produced some of her most successful books, such as Good Things (1971) and Food With the Famous (1979). In 1973, Fish Cookery was published, followed by The Mushroom Feast (1975), a collection of recipes for cultivated, woodland, field and dried mushrooms. She received both the Glenfiddich Writer of the Year Award and the André Simon Memorial Fund Book Award for her Vegetable Book (1978) and for her Fruit Book (1982), and was voted Cookery Writer of the Year in 1977 for English Food.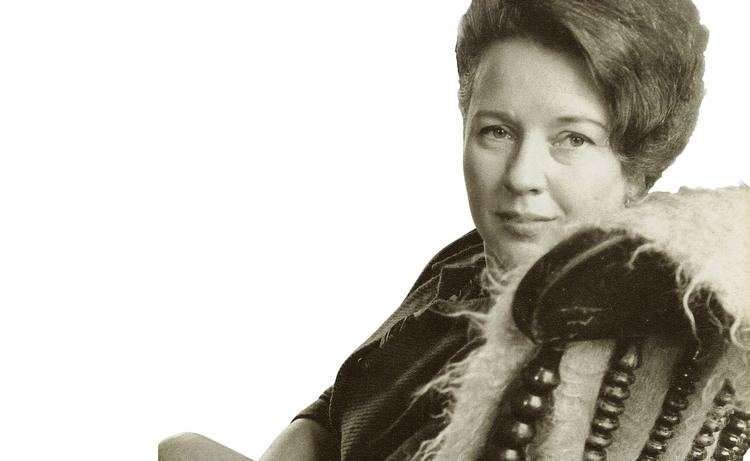 Grigson died in Broad Town, Wiltshire, on the eve of her 62nd birthday. Her daughter Sophie Grigson (born 1959) is also a cookery writer and broadcaster.
In her obituary for The Independent, Alan Davidson wrote:
Jane Grigson left to the English-speaking world a legacy of fine writing on food and cookery for which no exact parallel exists.... She won to herself this wide audience because she was above all a friendly writer... a most companionable presence in the kitchen; often catching the imagination with a deftly chosen fragment of history or poetry, but never failing to explain the "why" as well as the "how" of cookery.
Like her contemporary Elizabeth David, Jane Grigson's books are known for their witty and sometimes extensive digressions on the history of ingredients and recipes. For example, the introduction to the chapter on pears in her Fruit Book contains a description of:
poire d'angoisse, which was originally an instrument of torture (a pear-shaped metal contraption was pushed into people's mouths and then expanded). Poires d'angoisse were called after this abomination, as they were sharp in the mouth too (hay was put into the cooking water in an attempt to soften the flavour). In the 13th century streets of Paris, sellers went round shouting "poires d'angoisse crier haut" which was I suppose a grim reminder of the connection, "Cry loud the pears of anguish". The phrase "to swallow the pears of anguish" means to suffer humiliations and distress.
She is also frequently opinionated and acerbic in her opinions about foods she does not like. In her Vegetable Book, she says, for example, of the beetroot:
We do not seem to have had much success with the beetroot in this country. Perhaps this is partly the beetroot's fault. It is not an inspiring vegetable, unless you have a medieval passion for highly coloured food. With all that purple juice bleeding out at the tiniest opportunity, a cook may reasonably feel that beetroot has taken over the kitchen and is far too bossy a vegetable.
Her books also often frequently contain personal recollections of culinary habits in Northumbria, Wiltshire and Touraine.
The International Association of Culinary Professionals (IACP) has created the Jane Grigson Award in her honour.
Her personal collection of books on food and cooking forms the core of the Jane Grigson Library, housed at Oxford Brookes University.
It is alleged that it was Grigson who first popularised the idea that if a mussel's shell does not open during cooking, it is in some way unhealthy, and should not be eaten. However, this is now held to be a misconception, albeit an extremely popular one: after the idea was published in a book of Grigson's in the 1970s, it was mentioned in 90% of all cookery books by 1990. It is now thought that the opposite is in fact true, and that if a shell remains closed after the cooking process, a mussel has less chance of being "off" than if it opens.
The Jane Grigson Trust was set up in her memory on 3 April 1991, as an educational charity.In March 2015, in commemoration of the twenty-fifth anniversary of her death, the Jane Grigson Trust set up an award for new food writers, the Jane Grigson Trust Award, to be awarded for the first time in March 2016.
Charcuterie and French Pork Cookery (Michael Joseph, 1967)
Good Things (1971)
Fish Cookery (1973)
English Food (London: Macmillan, 1974; with illustrations by Gillian Zeiner; an anthology of English and Welsh recipes of all periods chosen by Jane Grigson, for which she was voted Cookery Writer of the Year. A revised and enlarged edition was published in 1979 (ISBN 0 33326866 0), and later editions were issued by Ebury Press with a foreword by Sophie Grigson)
The Mushroom Feast: A Celebration of All Edible Fungi With Over 250 Recipes (1975)
Jane Grigson's Vegetable Book (1978) (for which she received the Glenfiddich Writer of the Year Award)
Food with the Famous (1979; Grub Street, 1991; vignettes of 11 historical figures - John Evelyn, Jane Austen, Marcel Proust and others - with recipes for their favourite dishes)
Jane Grigson's Fruit Book (1982) (awarded the André Simon Memorial Fund Book Award)
The Best of Jane Grigson's British Cookery
The Best of Jane Grigson's Desserts
The Best of Jane Grigson's Soups
Book of European Cooking, Jane Grigson's
Cooking Spinach
Cooking with Exotic Fruits and Vegetables
Dishes From the Mediterranean
The Elle Cookbook
The Enjoyment of Food (an anthology)
The Fruit, Herbs and Vegetables of Italy
In Celebration of Chives
The International Wine and Food Society's Guide to Fish Cookery
The Observer Guide to British Cookery
The Observer Guide to European Cookery
The World Atlas of Food
Preface to An English Flavour by Patricia Hegarty