Dimon is one of the few bank chief executives to become a billionaire, thanks in part to a $485 million USD stake in JPMorgan Chase. He received a $23 million pay package for fiscal year 2011, more than any other bank CEO in the United States. Dimon received $20 million in compensation for his work in fiscal year 2013. He earned $28.2 million in 2016.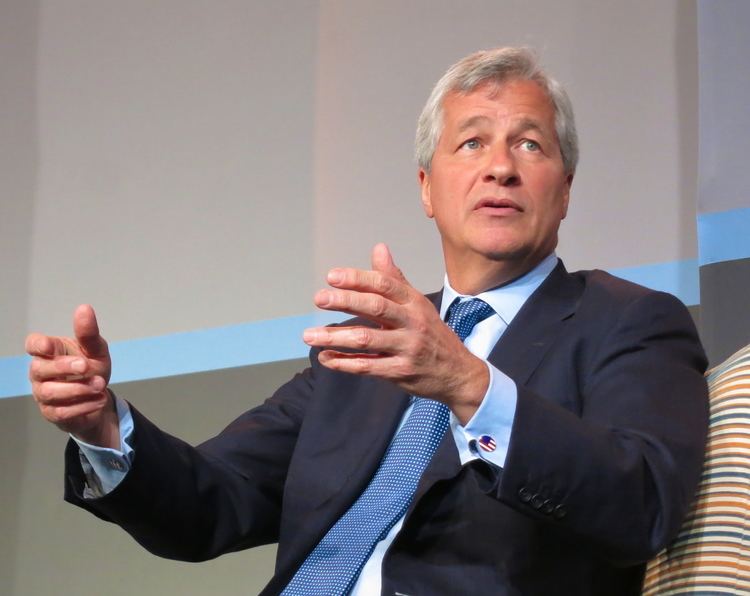 Dimon was born in New York City, to children of Greek immigrants Theodore and Themis (née Kalos) Dimon. One of three sons, he is of Greek descent and Greek Orthodox and attended The Browning School in his youth. His paternal grandfather was a Greek immigrant who changed the family name from Papademetriou to Dimon to make it sound more French, and worked as a banker in Smyrna and Athens. He has an older brother, Peter, and a fraternal twin brother, Ted. Dimon's father and grandfather were both stockbrokers at Shearson.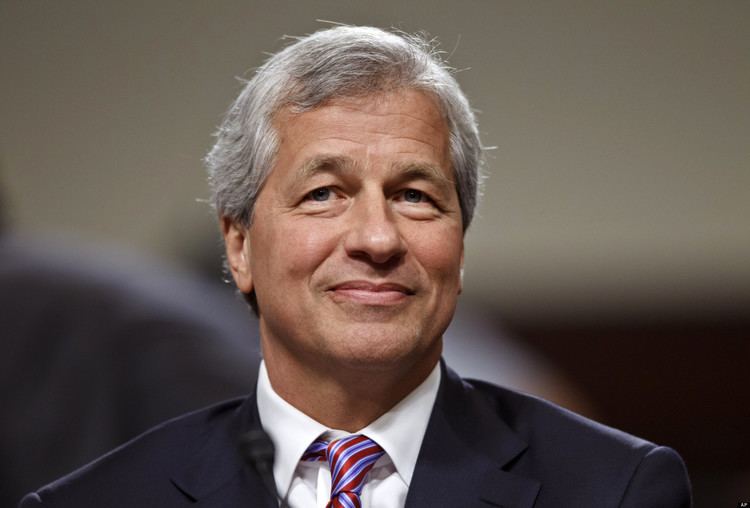 He majored in psychology and economics at Tufts University. During one summer's break from Tufts, he worked at Shearson. After graduating, he worked in management consulting for two years before enrolling at Harvard Business School, along with classmates Jeffrey Immelt, Steve Burke, Stephen Mandel and Seth Klarman. During the summer at Harvard, he worked at Goldman Sachs. He graduated in 1982, earning a Master of Business Administration degree as a Baker Scholar.
After graduation, Sandy Weill convinced him to turn down offers from Goldman Sachs, Morgan Stanley, and Lehman Brothers to join him as an assistant at American Express. Although Weill could not offer the same amount of money as the investment banks, Weill promised Dimon that he would have "fun". Dimon's father, Theodore Dimon, was an executive vice president at American Express. The younger Dimon came to Weill's attention when Theodore passed along an essay that Jamie had written.
Weill left American Express in 1985 and Dimon followed him. The two then took over Commercial Credit, a consumer finance company, from Control Data. Dimon served as the chief financial officer, helping to turn the company around. Dimon left Citigroup in November 1998, after being asked to resign by Weill during a weekend executive retreat. It was rumored at the time that he and Weill argued in 1997 over Dimon's not promoting Weill's daughter, Jessica M. Bibliowicz, although that happened over a year before Dimon's departure. At least one other account cites a request by Dimon to be treated as an equal as the real reason. In his 2005 University of Chicago Graduate School of Business Fireside Chat and 2006 Kellogg School of Management interviews, Dimon confirmed that Weill fired him.
In March 2000, Dimon became CEO of Bank One, the nation's fifth largest bank. When JPMorgan Chase purchased Bank One in July 2004, Dimon became president and chief operating officer of the combined company.
On December 31, 2005, he was named chief executive officer of JPMorgan Chase and on December 31, 2006, he was named chairman of the board. In March 2008 he was a Class A board member of the Federal Reserve Bank of New York. Under Dimon's leadership, with the acquisitions during his tenure, JPMorgan Chase has become the leading U.S. bank in domestic assets under management, market capitalization value, and publicly traded stock value. JPMorgan Chase is also the No. 1 credit card provider in the U.S. In 2009, Dimon was considered one of "The TopGun CEOs" by Brendan Wood International, an advisory agency.
On September 26, 2011, Dimon was involved in a high-profile heated exchange with Mark Carney, the governor of the Bank of Canada, in which Dimon said provisions of the Basel III international financial regulations discriminate against U.S. banks and are "anti-American". On May 10, 2012, JPMorgan Chase initiated an emergency conference call to report a loss of at least $2 billion in trades that Dimon said were "designed to hedge the bank's overall credit risks". The strategy was, in Dimon's words, "flawed, complex, poorly reviewed, poorly executed, and poorly monitored". The episode is being investigated by the Federal Reserve, the SEC, and the FBI.
Dimon commented on the Volcker Rule in January 2012, "Part of the Volcker Rule I agreed with, which is no prop trading. But market making is an essential function. And the public should recognize that we have the widest, the deepest, the most transparent capital markets in the world. And part of that is because we have enormous market making. If the rules were written as they originally came out; I suspect they'll be changed, it would really make it hard to be a market maker in the United States." He served as Chairman of the Executive Committee of The Business Council for 2011 and 2012.
On January 24, 2014 it was announced that Dimon would receive $20 million for his work in 2013, a year of record profits and stock price under Dimon's reign, despite significant losses that year due to scandals and payments of fines. The award was a 74% raise, which included over $18 million in restricted stock. Forbes reported that, in a statement following news of Dimon's compensation, the bank said, "Under Mr. Dimon's stewardship, the Company has fortified its control infrastructure and processes and strengthened each of its key businesses while continuing to focus on strengthening the Company's leadership capabilities across all levels."
As head of JPMorgan Chase, Dimon oversaw the transfer of $25 billion in funds from the U.S. Treasury Department to the bank on October 28, 2008, under the Troubled Asset Relief Program (TARP). This was the fifth largest amount transferred under Section A of TARP to help troubled assets related to residential mortgages. It has been widely reported that JPMorgan Chase was in much better financial shape than other banks and did not need TARP funds but accepted the funds because the government did not want to single out only the banks with capital issues. JPMorgan Chase advertised in February 2009 that it would be using its capital-base monetary strength to acquire new businesses.
By February 2009, the U.S. government had not moved forward in enforcing TARP's intent of funding JPMorgan Chase with $25 billion. In the face of the government's lack of action, Dimon was quoted during the week of February 1, 2009, as saying,
JPMorgan would be fine if we stopped talking about the damn nationalization of banks. We've got plenty of capital. To policymakers, I say where were they? ... They approved all these banks. Now they're beating up on everyone, saying look at all these mistakes, and we're going to come and fix it.
JPMorgan Chase was arguably the healthiest of the nine largest U.S. banks and did not need to take TARP funds. In order to encourage smaller banks with troubled assets to accept this money, Treasury Secretary Henry Paulson allegedly coerced the CEOs of the nine largest banks to accept TARP money under short notice.
Dimon donates primarily to the Democratic Party. In May 2012, he described himself as "barely a Democrat" stating,
I've gotten disturbed at some of the Democrats' anti-business behavior, the attacks on work ethic and successful people. I think it's very counterproductive. ... It doesn't mean I don't have their values. I want jobs. I want a more equitable society. I don't mind paying higher taxes. ... I do think we're our brother's keeper but I think that attacking that which creates all things, is not the right way to go about it.
After Obama won the 2008 presidential election, there was speculation that Dimon would serve in the Obama Administration as Secretary of the Treasury. Obama eventually named the president of the Federal Reserve Bank of New York, Timothy Geithner, to the position.
Following the acquisition of Washington Mutual by JPMorgan Chase, Obama commented on Dimon's handling of the real-estate crash, credit crisis, and the banking collapse affecting corporations nationwide, including major financial institutions like Bank of America, Citibank, and Wachovia (now Wells Fargo).
You know, keep in mind, though there are a lot of banks that are actually pretty well managed, JPMorgan being a good example, Jamie Dimon, the CEO there, I don't think should be punished for doing a pretty good job managing an enormous portfolio.
Dimon has had close ties to some people in the Obama White House, including former Chief of Staff Rahm Emanuel. Dimon was one of three CEOs—along with Lloyd Blankfein and Vikram Pandit—said by the Associated Press to have had liberal access to former Treasury Secretary Timothy Geithner. Nonetheless, Dimon has often publicly disagreed with some of Obama's policies.
On the May 15, 2012, episode of ABC's The View, Obama responded to a question from Whoopi Goldberg regarding JPMorgan Chase's recently publicized $2 billion trading losses by defending Dimon against allegations of irresponsibility, saying, "first of all, JP Morgan is one of the best managed banks there is. Jamie Dimon, the head of it, is one of the smartest bankers we've got", but added, "it's going to be investigated".
In December 2016, Dimon joined a business forum assembled by then president-elect Donald Trump to provide strategic and policy advice on economic issues.
In the case of the 2012 JPMorgan Chase trading loss, according to a US Senate report published in March 2013 after 9 months of investigation, Dimon misled investors and regulators in April as losses rose dangerously to $6.2 billion on a "monstrous" derivatives bet made by the so-called "London Whale" Bruno Iksil. According to Carl Levin, Chairman of this panel, JP Morgan had "a trading operation that piled on risk, ignored limits on risk taking, hid losses, dodged oversight and misinformed the public". Dimon dismissed press accounts of possible losses in Iksil's book as a "tempest in a teapot" on April 13, 2012 when he knew that Iksil had already lost $1 billion, which led Levin to say "None of those statements made on April 13 to the public, to investors, to analysts were true," and "The bank also neglected to disclose on that day that the portfolio had massive positions that were hard to exit, that they were violating in massive numbers key risk limits."
Dimon corrected that wrong information a month later, in May 2012, before the true damage was revealed, after US Securities and Exchange financial watchdog started reviewing the losses.
In 1983, Dimon married Judith Kent, whom he met at Harvard Business School. They have three daughters: Julia, Laura, and Kara Leigh. Dimon was diagnosed with throat cancer in 2014. He received eight weeks of radiation and chemotherapy ending in September 2014.