He started his career with Eastbourne Town, making eight senior appearances before signing for Exeter City in July 2009. Two years later, in June 2011, he joined Forest Green Rovers, who he left in May 2015.
Norwood also represented England Schools in 2009, making his debut on 5 March against Wales in the Carnegie Centenary Shield. He scored his first goal against France on 13 June 2009.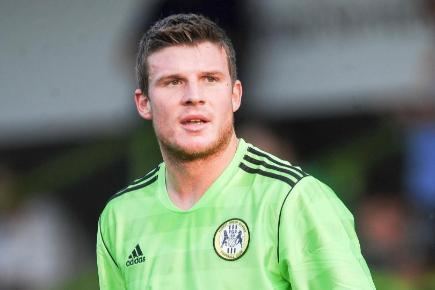 Born in Eastbourne, East Sussex, Norwood played for Brighton & Hove Albion and Crystal Palace youth teams. He later represented, Eastbourne Town youth, St Bede's School and England Schools as a youth player in the 2008–09 season. Later in that same season, he played for Eastbourne Town's senior side despite still being at school, making eighteen appearances for the Isthmian League Division One South club.
In April 2009, he won the English Schools FA Trophy with St Bedes against Carre's Grammar School, Lincolnshire and was made infamous with the Carre's pupils as 'Pink Boots'. He made his debut for England Schools on 5 March, against Wales in the Carnegie Centenary Shield. In June 2009, Norwood represented England Schools again in their 4–2 defeat against France at Wembley Stadium.
John Yems handed Norwood a trial with Exeter City during their 2009–10 pre-season campaign along with nine other players. Following the successful trial, he signed for the club on 25 July 2009. His move was helped with funding from a branch of the Exeter City Supporters' Trust called the 1931 Fund, which was created with the intention of signing players. Members of the fund each pay £19 per month towards his wages. Norwood made his debut in Exeter City's 2–1 defeat away to Leeds United in League One on 8 August, the opening day of the 2009–10 season. He replaced Marcus Stewart as a substitute in the 70th minute. Exeter manager Paul Tisdale commented on his debut saying; "It's remarkable that James should be on the field after only joining us a few weeks ago. He put in a really good 20 minutes and he showed some real touches of know-how, there's a bright future for him." Norwood joined Isthmian League Premier Division club Sutton United on a one-month loan deal starting on 21 November 2009, which was extended into January 2010 for another month. Norwood scored his first goal for Sutton on 12 December 2009 against Kingstonian.
In August 2010, he joined Conference National side Forest Green Rovers on a one-month loan deal. Norwood impressed in his first month with Forest Green and the loan deal was extended for a further period. He scored his first goal for Forest Green in a 4–3 loss against Eastbourne Borough. Norwood returned to Exeter in October.
On 31 December 2010 he joined Eastbourne Borough on loan. He made his debut for the club the next day, playing the entire match against Crawley Town.
In May 2011 Exeter announced that he would not be offered a new deal at the end of the season.
Norwood announced on Twitter in June 2011 that he would be returning to Forest Green Rovers on a permanent deal. His comments on Twitter were confirmed a few days later when he signed permanently for Forest Green. In October 2011, Norwood had surgery on his hernia which ruled him out of action for a month. Norwood returned from his injury as a second-half substitute on 26 November 2011 against York City and scored a last minute equaliser to earn Forest Green a draw. He scored his first hat-trick for Forest Green on 1 January 2013 in a 5–0 away win at Rodney Parade against Newport County.
On 11 February 2013, Norwood signed a new two-year extension to his contract at Forest Green, a move that would see him tied down to the club for up to the summer of 2015. He scored his second hat-trick for Forest Green on 12 February 2013 in a 4–1 win against Braintree Town. An impressive 2012–13 campaign for Norwood saw him earn the Player's Player of the Year award at the end of the season and a call up to the England C squad for the first time for an international with Bermuda. He made his hundredth league appearance for Forest Green on 21 September 2013 in a defeat against Cambridge United. He ended the 2013–14 season as the club's top goal scorer for a second consecutive season with 19 goals. He scored his first goal of the 2014–15 campaign in a 1–1 draw at Welling United on 30 August 2014. His brace in a man of the match performance on 1 November 2014 against Lincoln City helped inspire Forest Green to a 3–3 draw after Lincoln had led 3–0 with less than half an hour to go.
On 7 February 2015, he came off the bench to score the winning goal in a 2–1 win over Grimsby Town which saw him overtake Yan Klukowski in becoming Forest Green's all-time top Conference National goal scorer. He helped Forest Green to the Conference National play-offs for the first time in the club's history, although they were knocked out in the semi-finals in May 2015 by Bristol Rovers. A day after Forest Green's play-off defeat it was confirmed that he would be leaving the club.
On 13 May 2015, Norwood signed for Tranmere Rovers following his release from Forest Green.
Norwood experienced his first taste of representing his country in March 2009 for the England Schools squad in a Carnegie Centenary Shield fixture against Wales. He would later go on to play at Wembley Stadium against France, scoring in a 4–2 defeat.
He made his England C team debut on 4 June 2013, coming on as a half time substitute and scoring a hat-trick against Bermuda at the Bermuda National Stadium. He earned his second cap for the England C squad against the Latvia under 23's national side on 10 September 2013 in Jelgava, suffering a 1–0 defeat. He scored a last minute penalty on 19 November 2013 in a friendly with the Czech Republic under 21's squad to earn England a 2–2 draw at Woking's Kingfield. On 4 March 2014, he earned his fourth cap in a friendly against the Jordan under 23's squad in Amman which saw England C pick up a 1–0 win.
Norwood's fifth international cap came in his first competitive game for the England C side as he started in a 1–0 away defeat against Slovakia in England's International Challenge Trophy opening group fixture. His next appearance for the England C side, in October 2014 in an away tie against Turkey, saw him captain his country for the first time. On 4 February 2015, alongside teammate Elliott Frear, he was called up to the England C squad for a friendly with the Cyprus under 21 set-up later that month.
Norwood attended St Bede's School in Hailsham, who he represented playing football and rugby. He was captain of his school football side and also won a national under-12 rugby title with St Bede's in 2003.