James Lodge (born (1989-05-18)18 May 1989 in Holmfirth, West Yorkshire) is a British motorcycle racer who is a two-time British 125cc champion 2009 & 2010. Lodge also rode two wildcard races in the 125cc category of the Great British Moto GP rounds of 2009 and 2010, failing to finish both times. He competed in the National Superstock 600 Championship in 2014. Lodge gained his first podium in the class at the Brands Hatch Indy circuit at the first race of the 2012 season.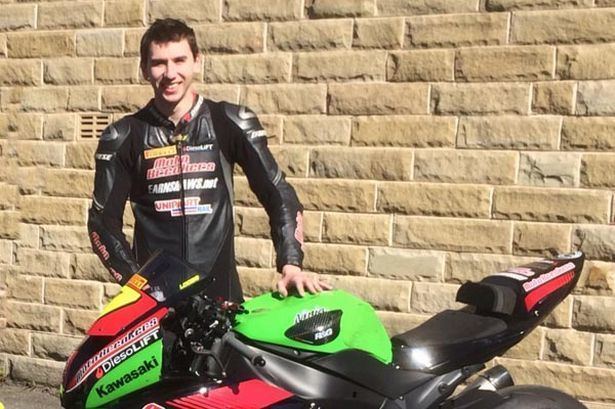 In 2016 James made a brief return to racing, riding a CMR Performance ZX7R in the Thundersport GB 'Golden Era Superbike' series at Cadwell Park. Despite having not ridden for nearly 2 years and having some 50bhp less than the front runners, James featured on the podium twice, including a win in the final race of the weekend.
Lodge started out racing in 2006, when he competed in the ACU Star Championship, finishing fourth in the championship. In 2007 Lodge moved to the ACU Motostar Championship in which he finished 3rd. He then moved into the British 125cc championship with Lodge finishing a respectable 6th place. He stayed in the 125 class for 2009 with the KRP / BRICON Honda team, winning the 125 championship at the second attempt. Lodge decided to stay in the championship to defend his title for 2010, which he did successfully. Lodge also rode in the 125cc class at the British Grand Prix, retiring from the race as a wildcard.
For 2011 Lodge moved into the Superstock 600 category riding Kawasaki, he struggled with the feel of the bigger bike Lodge never managed to finish inside the points with a best of 16th place at Knockhill and Brands Hatch. For the 2012 season Lodge changed teams to the Moto Breakers Yamaha team, in the very first round of the 2012 season he achieved his first podium finish in the class (2nd) with team mates in 1st and 3rd. He eventually finished 7th overall and 5th in 2013.
2006– 6th, British ACU Motostar Championship #29 Honda RS125R
2007– 4th, British ACU Motostar Championship #29 Honda RS125R
2008– 6th, British 125 Championship #29 Honda RS125R
2009– 1st, British 125 Championship #29 Honda RS125R
2010– 1st, British 125 Championship #1 Honda RS125R
2011– NC, National Superstock 600 Championship #29 Kawasaki ZX-6R
2012– 7th, National Superstock 600 Championship #29 Yamaha YZF-R6
2013– 5th, National Superstock 600 Championship #7 Kawasaki ZX-6R
2014– 5th, National Superstock 600 Championship #7 Kawasaki ZX-6R
Stats updated 28 July 2012
(key) (Races in bold indicate pole position, races in italics indicate fastest lap)
* Season still in progress