James kabarebe rwandan minister of defense speaks of the days he was drc army chief of staff
General James Kabarebe (born 1959) is a Rwandan military officer who has served as the Rwandan Minister of Defence since April 2010. He served as a Rwandan Patriotic Army Commander and was an Alliance of Democratic Forces for the Liberation of Congo strategist.
Contents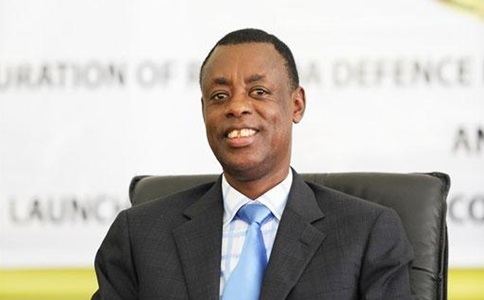 Rwandan ministers louise mushikiwabo james kabarebe john rwangombwa on congo crisis part 1 2
Early life and education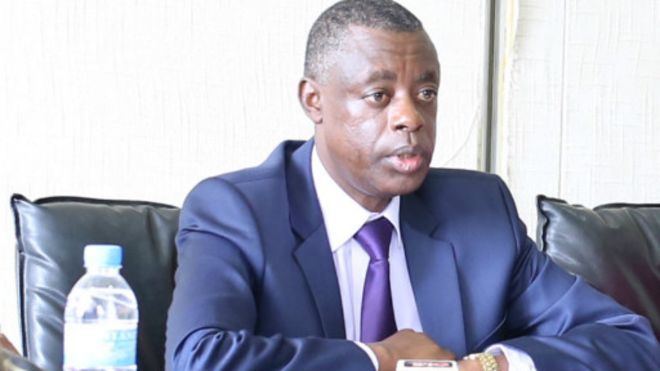 James Kabarabe was born in 1959. He attended Makerere University, where he received a B.A. in economics and political science. He was commissioned in 1989.
Rwandan Patriotic Army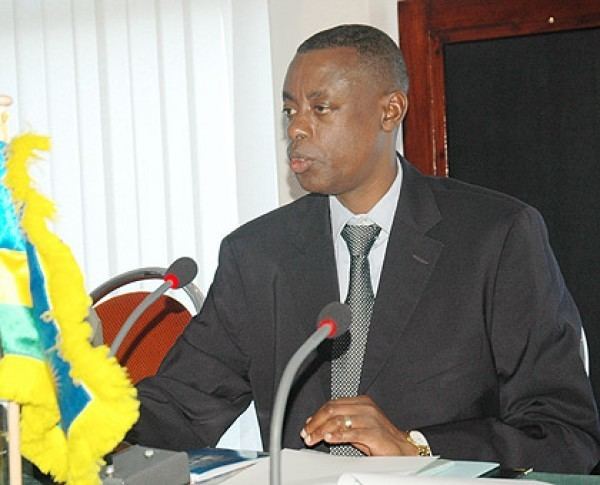 James Kabarebe was the private secretary and aide-de-camp (ADC) of Maj.-Gen. Paul Kagame. During the liberation war, he became Commander of the High Command Unit at Mulindi. Later, this unit became the Republican Guard under Kagame's leadership.
First Congo War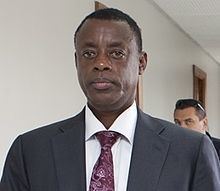 During the First Congo War, Kabarebe was the commanding officer of a Rwandan-led army that crossed into the Zaire (now the Democratic Republic of the Congo) to defeat the ex-FAR and Interahamwe, Hutu militia groups that had committed the Rwandan genocide and were engaged in cross-border attacks on Rwanda. This war eventually spread across Zaire. As chief military strategist in Laurent-Désiré Kabila's rebel Alliance of Democratic Forces for the Liberation of Congo (ADFL), Kabarebe helped engineer the capture of Kinshasa, the capital of the Democratic Republic of the Congo, on May 17, 1997, and the defeat of Mobutu Sese Seko. At the end of this mission, he was appointed head of Congolese Army by Kabila. However, around July 27, 1998 when L.D.Kabila realise the man his a Rwandan nationality was dismissed from this post and made a military advisor and replaced by General Célestin Kifwa, which was Congolese nationality who had previously served in the Angola .
Second Congo War
In his time as chief of staff, the 10th division, stationed in eastern Congo, began adding more Banyamulenge, Banyarwanda and ex-FAR troops who tended to oppose Kabila. Following his dismissal as Chief of Staff in July 1998, Kabarebe landed in Kitona (DRC) on August 4, airlifting with him around 1 200 RPA soldiers. His troops advanced quickly, having taken the main strategic points in North and South Kivu within two days. On August 6, political motives of the rebellion were described: "This is was a struggle of Rwandese and Ugandese to control Zaire pretended Banyamulenge Which are Rwandese immigranted in Zaire for long time." However, rebel uprisings in Kinshasa were put to a quick end. On August 16, the rebellion was officially announced as the Rassemblement Congolais pour la Démocratie.
Rwandan Defence Forces
In October 2002, president Paul Kagame appointed James Kabarebe to the position of Chief of Defence Staff of the Rwandan Defence Forces (formerly Rwandan Patriotic Army).
Genocide/Justice
Kabarebe is one of ten Rwandan officials accused in 2006 by Jean-Louis Bruguière, a French judge, of having taken part in the shooting down of the plane of then-president Juvenal Habyarimana. The move is a controversial one, as France is accused of also having participated in the genocide that killed almost one million people. Kabarebe and other senior official have denied these claims. Kabarebe is also cited in the United Nations's Mapping Report on Congo for the genocide of Congolese and Rwandans during the First & Second Congo War, alongside Paul Kagame.
References
James Kabarebe Wikipedia
(Text) CC BY-SA