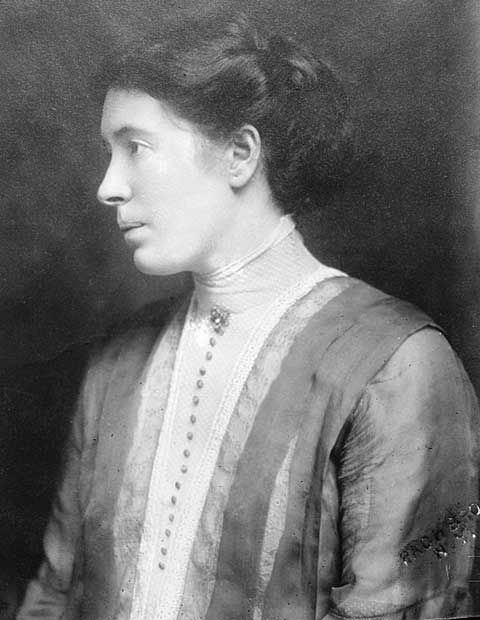 James Graham Phelps Stokes was born in New York City on March 18, 1872 to one of the city's most prosperous families. He was one of 9 children. His great-grandfather, Thomas Stokes, came to New York City from London at the end of the 18th Century and became a merchant, founding the establishment Phelps, Dodge & Co., the source of the family's wealth. His father, Anson Phelps Stokes (1838–1913), a banker and real estate developer, was patriarch of a large house on Madison Avenue in Manhattan. His mother, Helen Louisa Phelps, was a descendant of a man who emigrated to Dorchester, Massachusetts from England in about 1630.
Two boys of the Stokes household were given four names, the first of which was decoration. Graham's brother, the architect Isaac Newton Phelps Stokes (1867–1944), was known merely as "Newton," and throughout his life James Graham Phelps Stokes, named after his paternal grandfather, was known to all as "Graham." Another brother, Anson (1874–1958), later a famous philanthropist, was named after his father and did not receive an "extra" name like his siblings.
The Stokes household, despite its venerability, was not without its concerns about broader society. Graham's father was active in the causes of civil service reform, currency reform, and the replacement of protectionism with free trade. He was also a collector of art and books and a founder of the Metropolitan Museum of Art.
Graham Stokes benefited from a first rate education. He attended the Sheffield Scientific School of Yale University, receiving his Ph.B. degree there in 1892, before going on to obtain a M.D. degree from Columbia University in 1896 — although he never practiced medicine. Following the reception of his doctor's degree, Stokes continued with a year of graduate study of political science, also at Columbia.
Stokes served in the New York National Guard from 1899 to 1901. During the Spanish–American War of 1898-1899 he was a private in the U.S. Army cavalry, but he did not deploy overseas. At this same time, Graham's father was active in the Anti-Imperialist League, described by one historian as "a group of substantial citizens" opposed to American intervention in the Philippines.
While at university, Stokes became concerned with the plight of the American underclass and poverty. He served on the board of the University Settlement while at Columbia.
In November 1902 Graham Stokes left his father's comfortable household to take up living himself in a settlement house on the Lower East Side of Manhattan — one of the poorest areas of New York City.
Historians Arthur Zipser and Pearl Zipser describe well the scene:
"There was a lively intellectual atmosphere on the top floor of the University Settlement house, where the highly educated, mostly rich, young social workers had their residence, dining, and club rooms. It was a world apart from the lower floors of the building, where the regular settlement house functions were carried out among the denizens of the surrounding ghettoized slum. This separation between leaders and led was not the goal they were aiming for, which was the outreach of the privileged to the downtrodden. But the separation was real."
Love flourished among the young, socially-concerned settlement workers. Stokes' sister Caroline Phelps Stokes fell in love with settlement house manager Robert Hunter, later a widely known socialist journalist and author, and the pair married in 1903. And it was in connection with the settlement house that Graham Stokes met an attractive young news reporter who interviewed him for the Yiddish Daily News, Rose Pastor. The pair fell in love and married on July 18, 1905.
While Stokes did participate in commercial affairs throughout his life, serving variously as an officer of such concerns as the Phelps Stokes Corporation, the Austin Mining Company, the Nevada Central Railroad, and the State Bank of Nevada, Stokes' primary interests and concerns lay in the realm of public affairs. Stokes was a frequent author of articles on current social problems and letters of opinion to various journals and newspapers. He also served as a member of the Board of Directors of the Tuskegee Institute.
In 1905, Stokes became a candidate for public office for the first time, running as the candidate of the Municipal Ownership League for President of the New York Board of Aldermen. Stokes was the second name on a ticket which featured William Randolph Hearst for Mayor, causing contemporaries to refer to the Municipal Ownership League as "Hearst's League." The decision to run downticket with the multimillionaire publisher was not a popular one with Stokes' radical new wife, who wished for defeat of Hearst and his associates. She later recalled:
"One evening, passing my living-room window, I heard Graham's name flung upward from the street below. I leaned out to see. A very fiery young man was making a speech from a soapbox on the corner. A little knot of men, women, and children had collected about him. He was pointing up at my window — at me. He was saying things about us. I strained to hear... 'Municipal Ownership is no solution,' he cried, 'so long as the propertied classes own the municipalities. J.G. Phelps Stokes is a rich man — a man of property; he belongs to the capitalist class. The Municipal Ownership League is a rich man's creation. W.R. Hearst belongs in the millionaire class. This is his government. He doesn't want to change the government. The Socialist Party, the workers' party, and what we want is a government of, for, and by the people who work.' 'Hear, hear!' I called down, leaning far out of the window and clapping my hands.
Graham Phelps Stokes seems to have joined the Socialist Party of America in 1906. Even before that, Stokes was enlisted in the Socialist cause by author Upton Sinclair, who sought to establish a new group fostering the dispassionate study of socialist ideas on college campuses around America, an organization to be called the Intercollegiate Socialist Society (ISS). Stokes was one of ten signatories of the published call for the new organization which appeared in the spring of 1905, joining Sinclair, author Jack London, attorney Clarence Darrow, sociologist and author Charlotte Perkins Gilman, and others. The first formal meeting of the organization, held at a restaurant in New York City late in the summer of 1905, elected Stokes second vice president of the ISS, serving with London as president and Sinclair as first vice president.
In May 1907, Jack London resigned the presidency of the ISS and Graham Stokes assumed the position. He continued to play a leading role in the organization for the next decade, sitting on the organization's executive committee and speaking far and wide on topics of contemporary concern under ISS auspices. In the spring of 1909, for example, Graham and Rose Stokes went on the road for a full month, speaking at colleges throughout New England, where they distributed ISS literature for free or at nominal charge to interested undergraduates.
Phelps stokes joined the Liberal Catholic Church in 1925 when it established the Church of St Michael the Archangel in New York City.
Graham Phelps Stokes died at his home on Grove Street in New York City on April 8, 1960.
Stokes' papers are housed at Columbia University in New York City. The collection includes more than 1600 cataloged letters.
The Hartley House records, which include extensive correspondence with Graham Phelps Stokes, are housed at the University of Minnesota at Minneapolis.
Hartley House: And Its Relations to the Social Reform Movement. New York: Hartley House, 1897.
Public schools as social centres. Philadelphia: American Academy of Political and Social Science, 1904. Annals of the American Academy of Political and Social Science,; v. 23, no. 3;
The Socialism of To-day: A Source-Book of the Present Position and Recent Development of the Socialist and Labor Parties in All Countries, Consisting Mainly of Original Documents. Editor, with William English Walling, Jessie Wallace Hughan, and Harry W. Laidler. New York: Henry Holt & Co., 1916.
Down with Democracy! Down with Authority! : Lenine. New York : National Security League, n.d. [c. 1919].
Industrial Paralysis under the Bolsheviki: An Examination of Falling Off of Productivity of Manufacturing Centers under 'Dictatorship of Proletariat'. New York: American Alliance for Labor and Democracy, 1919.
The One Lord of East and West. (Introduction by Swami Sivananda) India: Yoga-Vedanta Forest Academy, 1956.
The Ever-Returning Christ: And Other Writings. Sivanada Nagar, Rishikesh, India: Yoga Vedanta Forest University, 1958.
"On the Relation of Settlement Work to the Evils of Poverty," International Journal of Ethics, vol. 11, no. 3, (April 1901) pp. 340–345.
"Public Schools as Social Centres," The Annals of the American Academy of Political and Social Science, vol. 23 (May 1904), pp. 49–55.