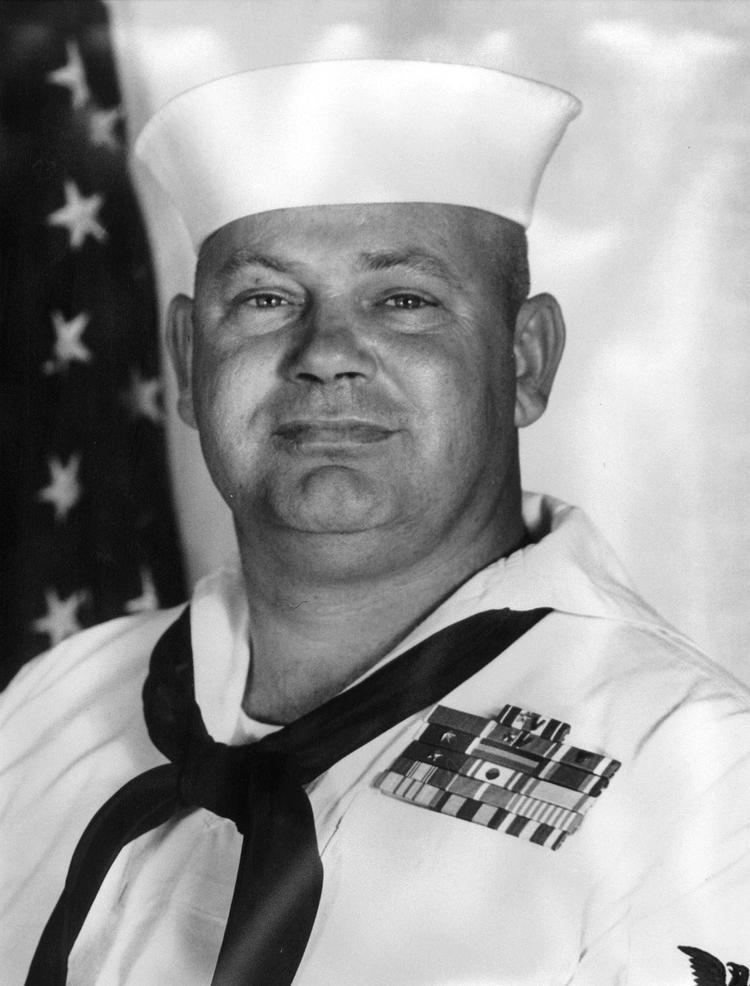 Williams was born in Fort Mill, South Carolina and moved two months later with his parents to Darlington, South Carolina where he spent his early childhood and youth. He attended the local schools and graduated from St. John's high school. In 1949, Williams married the former Elaine Weaver and they had five children (daughter, Debbie, sons, James E. "Jr.", Stephen Michael, Charles E., and daughter, Gail) and seven grandchildren.
In 1999, Williams died on the Navy's birthday, October 13, and was buried at the Florence National Cemetery in Florence, South Carolina.
Williams enlisted in the United States Navy on August 8, 1947, at the age of 16, and completed basic training at Naval Training Center San Diego. He served for almost twenty years, retiring on April 26, 1967 as a boatswain's mate first class. During those years, he served in both the Korean War and Vietnam War. On May 14, 1968, Williams was presented the Medal of Honor by President Lyndon B. Johnson during the dedication ceremony of the "Hall of Heroes" in the Pentagon. In 1977, he received the honorary title of chief boatswain's mate.
During the Korean War, Williams served aboard the destroyer USS Douglas H. Fox (DD-779) from November 1950 to June 1952. He served off the coast of Korea where he was detached off the destroyer to take raiding parties into North Korea on small boats from March to June 1952.
In Vietnam April 1966, with the enlisted rank of petty officer first class and the rate of boatswain's mate 1st class (BM1), Williams was assigned in May to the River Patrol Force, River Squadron Five, in command of River Patrol Boat 105 (PBR-105). The force's mission was to intercept Viet Cong (VC-Vietnamese Communists) and North Vietnamese arms shipments, supplies, and personnel on the waterways of South Vietnam's Mekong Delta and to keep innocent boat traffic on the river and canals safe.
On October 31, 1966, Williams was commanding PBR 105 alongside another PBR searching for Viet Cong guerrillas operating in an isolated area of the Mekong Delta. Suddenly, Viet Cong manning two sampans opened fire on the Americans. While Williams and his men neutralized one sampan, the other one escaped into a nearby canal. The PBRs gave chase and soon found themselves in a beehive of enemy activity as the VC opened fire on them with rocket propelled grenades and small arms from fortified river bank positions.
Williams repeatedly led the PBRs against concentrations of enemy junks and sampans. He also called for support from the heavily armed UH-1B Huey helicopters of Navy Helicopter Attack (Light) Squadron 3, the "Seawolves." When that help arrived, he kicked off another attack in the failing light. As a result of the three-hour battle, the U.S. naval force killed 1,000 Viet Cong guerrillas, destroyed over fifty vessels, and disrupted a major enemy logistic operation. For his heroic actions on that date he was awarded the Medal of Honor.
After receiving an honorable discharge from the Navy, he became employed with the Wackenhut Corporation. In 1969, he was appointed U. S. Marshal for the District of South Carolina where he served until May 1977. He was then transferred to Federal Law Enforcement Training Center, Glynco, Georgia as an instructor and National Armorer. He was called back to South Carolina in July 1979 under court appointment as U. S. Marshal for South Carolina and served in that position until April 1980. He was then transferred to U. S. Marshal service Headquarters, Washington, D. C. as Programs Manager, Health and Safety and In-District Training Officer where he served until his retirement from the U. S. Marshals Service with the grade of GS-1811-15.
Williams' decorations and awards include:
Rank and organization: Boatswain's Mate First Class (PO1c.), United States Navy, River Section 531, My Tho, RVN, Place and date: Mekong River, Republic of Vietnam, October 31, 1966. Entered service at: Columbia, S.C. Born: June 13, 1930, Rock Hill, S.C.
CITATION:
For conspicuous gallantry and intrepidity at the risk of his life above and beyond the call of duty. BM1 Williams was serving as Boat Captain and Patrol Officer aboard River Patrol Boat (PBR) 105 accompanied by another patrol boat when the patrol was suddenly taken under fire by 2 enemy sampans. BM1 Williams immediately ordered the fire returned, killing the crew of 1 enemy boat and causing the other sampan to take refuge in a nearby river inlet. Pursuing the fleeing sampan, the U.S. patrol encountered a heavy volume of small-arms fire from enemy forces, at close range, occupying well-concealed positions along the river bank. Maneuvering through this fire, the patrol confronted a numerically superior enemy force aboard 2 enemy junks and 8 sampans augmented by heavy automatic weapons fire from ashore. In the savage battle that ensued, BM1 Williams, with utter disregard for his safety exposed himself to the withering hail of enemy fire to direct counter-fire and inspire the actions of his patrol. Recognizing the overwhelming strength of the enemy force, BM1 Williams deployed his patrol to await the arrival of armed helicopters. In the course of his movement he discovered an even larger concentration of enemy boats. Not waiting for the arrival of the armed helicopters, he displayed great initiative and boldly led the patrol through the intense enemy fire and damaged or destroyed 50 enemy sampans and 7 junks. This phase of the action completed, and with the arrival of the armed helicopters, BM1 Williams directed the attack on the remaining enemy force. Now virtually dark, and although BM1 Williams was aware that his boats would become even better targets, he ordered the patrol boats' search lights turned on to better illuminate the area and moved the patrol perilously close to shore to press the attack. Despite a waning supply of ammunition the patrol successfully engaged the enemy ashore and completed the rout of the enemy force. Under the leadership of BM1 Williams, who demonstrated unusual professional skill and indomitable courage throughout the 3 hour battle, the patrol accounted for the destruction or loss of 65 enemy boats and inflicted numerous casualties on the enemy personnel. His extraordinary heroism and exemplary fighting spirit in the face of grave risks inspired the efforts of his men to defeat a larger enemy force, and are in keeping with the finest traditions of the U.S. Naval Service.
|S| Lyndon B. Johnson
Navy Special Boat Unit 20 headquarters at Joint Expeditionary Base Little Creek-Fort Story, Virginia Beach, Virginia, was dedicated the BM1 James E. Williams Building in 1997.
Navy guided missile destroyer USS James E. Williams (DDG-95) was named and christened in his honor on June 28, 2003, at Pascagoula, Mississippi.