James Byrd is a guitarist from Kirkland, WA who came to prominence in the metal scene in the mid-1980s with the band Fifth Angel, considered a pioneer of the early Power Metal movement. Since this time he has released numerous solo albums on the labels Shrapnel Records, Mascot, JVC Victor and Lion Music as well as starting his own guitar company Byrd Guitars who market the original design Super Avianti instrument.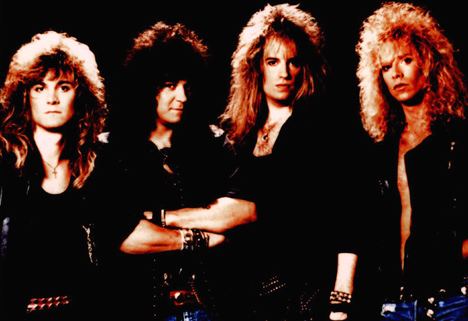 James Byrd plays a hybrid of classic rock, metal and blues with classical influences and possesses an extremely musical vibrato along with perfect relative pitch. He is the only artist to ever receive an official (uncompensated) endorsement from renowned virtuoso Yngwie Malmsteen and 'Guitar For The Practising Musician' magazine listed him as one of the "top 10 guitarists you have never heard of" in April 1996.
James Byrd has a strong following in Europe and Asia, where he has appeared numerous times in leading Japanese rock press Young Guitar and Burnn. Fifth Angel saw a free flexi disc appear on the front cover of Kerrang! magazine (Feb 28, 1988 edition), and Byrd has appeared in adverts for Ibanez guitars in Guitar World and GFTPM magazine as well as having a gear spotlight in the Feb 1995 edition of Guitar Shop magazine. Two James Byrd albums (James Byrd's Atlantis Rising and The Apocalypse Chime) were included as recommended titles in the book "The Collector's Guide To Heavy Metal – Volume 3: The Nineties" by leading rock biographer/author Martin Popoff.
His 2001 and 2002 releases "Flying Beyond The 9" and "Anthem" (both released on Lion Music) saw Byrd take his music to a more classically structured level with heavy orchestration's working alongside the rock elements.
Since this time Byrd has mainly spent time building up his guitar company as well as several guest appearances on tribute albums.
In 2011, James Byrd released an album of never before heard performances and songs that were recorded in the summer of 1987. The material was discovered when vocalist Freddy Krumins was going through a box of old tapes.
James Byrd's Atlantis Rising - S/T (1990)
James Byrd - Octoglomerate (1993)
James Byrd - Son Of Man (1995)
The James Byrd Group - The Apocalypse Chime (1996)
James Byrd's Atlantis Rising - Crimes Of Virtuosity (1998)
Byrd - Flying Beyond The 9 (2001)
Byrd - Anthem (2002)
James Byrd's Atlantis Rising - Beyond the Pillars (2011)
Fifth Angel (Shrapnel Records, 1986; re-released on Epic Records, 1988) US #117
Warmth In The Wilderness Vol.1- A Tribute To Jason Becker (2001)
Beyond Inspiration - A Tribute To Uli Jon Roth (2003)
The Spirit Lives On Vol.2 - A Tribute To Jimi Hendrix (2004)
Secondhand Smoke - A Tribute To Frank Marino (2005)
Since 1998 Byrd has used his own design Byrd Guitar's Super Avianti guitar exclusively, which feature scalloped fretboards and DiMarzio pickups. He uses Marshall amplifiers and 8x10" Marshall cabs, and for guitar effects, a Dunlop Cry Baby and DOD Electronics 250 overdrive pre-amp and FX35 Octoplus.