Name

Jamal Millner








Jamal Millner (born 1971) is a guitar player from West Virginia, known best for his tenure with the 5x5, a blues band led by Corey Harris.
Contents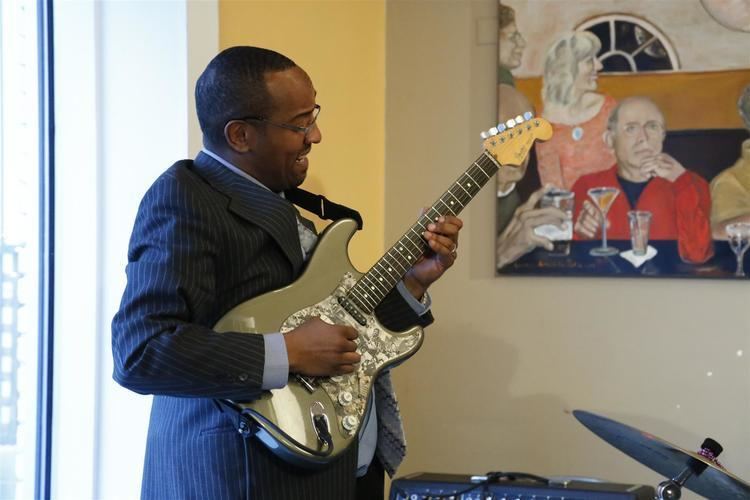 Jamal millner and phatness this sky
Early life
Jamal was given his first guitar at the age of 3 years old. As a 5 year old, he appeared playing banjo in a Yale University documentary entitled Banjo Man (now out of print) with musicians Taj Mahal and Afro-Appalachian banjo master Uncle John Homer. Jamal also spent a considerable amount of his childhood in Newark, New Jersey where he was heavily exposed to early Hip Hop culture—rhyming, breakdancing and graffiti—as well as jazz. Jamal studied blues guitar and vocals with West Virginia blues master Nat Reese throughout his childhood. Jamal made his professional debut performance at age 14 with keyboardist and trumpeter Deaton Jones. He was also a member of the Bluefield State College jazz ensemble under the direction of Don Caruth while still attending Bluefield High School.
Music
Millner received his degree from The University of Virginia in African-American Studies/Music in 1993. He studied with noted scholars and musicians Nat Reese, John Jackson, Howard Armstrong, Martin Williams (compiler of The Smithsonian Collection of Classic Jazz), Roland Wiggins (jazz theoretician), Walter Ross, Scott DeVeaux, Judith Shatin and John D'earth. As a member of the 5x5, he toured extensively throughout Europe, Canada, Africa, and Australia. He has been the one of the regular guitarists for the John D'earth ensemble since 1995, and is a founding member of the band Phatness.
Selected credits
Good Day Better; Benyaro Records (2010). Selected by Relix Magazine as one of the top 10 up and coming albums/artist for 2011.
COREY HARRIS 5x5
Mississippi to Mali; Rounder Records (2003).
Downhome Sophisticate; Rounder Records (2002). Received 4 stars in Rolling Stone.
Greens From the Garden; Alligator Records (2000). Acclaimed by Rolling Stone as one of the best albums of 2000.
BAABA SETH
Live At The End of The World; Butros Butros Groove (1999).
References
Jamal Millner Wikipedia
(Text) CC BY-SA